Hannity Most-Watched Basic Cable Program In July, Fox News Sees Year-To-Year Growth In Primetime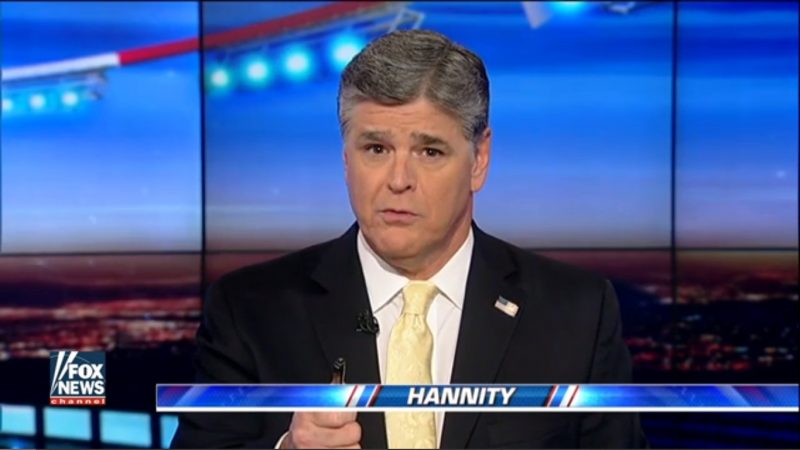 For the month of July, Fox News was the clear victory in the cable news ratings war as it led across the board in both primetime and total day viewership while boasting the most-watched program in all of basic cable. The former Fair and Balanced channel also experienced double-digit year-to-year growth in primetime as the other news networks saw minimal or no gains.
According to Nielsen, Fox News averaged 2.406 million viewers overall and 443,000 in the key 25-54 demographic during the 8 PM to 11 PM primetime hours. MSNBC placed second in both metrics, pulling in 1.663 million total viewers and 309,000 in the demo. CNN attracted 297,000 in the key demo and a total audience of 891,000.
Compared to July 2017, Fox saw 16 percent growth in primetime total viewership and 12 percent in the key demo. CNN was up one percent in both the demo and total viewers. Meanwhile, MSNBC saw no growth in overall viewership and was down 17 percent in the demographic.
In total day, Fox News drew 1.368 million total viewers (up five percent compared to July '17) and 265,000 in the key demo (down four percent). MSNBC nabbed 921,000 viewers overall (up two percent) and 177,000 in the demographic (down 14 percent). CNN captured 192,000 demo viewers (down 11 percent) and a total audience of 638,000 (down five percent).
Fox News' Hannity was the most-watched regularly scheduled program in basic cable for the month, drawing 3.365 million total viewers. It also led cable news in the key demo with 623,000. Hannity's lead-in show, Tucker Carlson Tonight, placed second in cable news in total viewership (2.695 million) and the demographic (524,000). MSNBC's The Rachel Maddow Show finished third in the 25-54 demo (511,000) and total viewers (2.670 million).
Hannity also easily defeated the heavily-promoted Shark Week on Discovery, which averaged 1.7 million total viewers. This included beating the 30th anniversary special hosted by Shaquille O'Neal head-to-head.
CNN's newest addition to its primetime lineup, Cuomo Prime Time, delivered promising numbers after debuting just last month. It was CNN's top-rated news program in both total viewers (1.147 million) and the demo (380,000). Cuomo's ratings were up 16 percent in total viewers and 17 percent in the key demo compared to CNN's 9 PM time slot last year. In comparison, Maddow — which also airs at 9 — was down 21 percent in the demo and six percent in total viewership.
Over on the business news networks, Fox Business dominated CNBC in business day total viewers as it attracted 203,000 to its rival's 147,000, which was CNBC's lowest-rated month in business day since 1995. CNBC barely topped Fox Business in the key demo in business day, drawing 24,000 to FBN's 23,000.
In total day, Fox Business pulled in 142,000 viewers overall and 18,000 in the 25-54 demographic. CNBC averaged 132,000 viewers overall and 37,000 in the key demo. For the 27th straight month, the top-rated business news program FBN's Lou Dobbs Tonight, which averaged 319,000 total viewers.