Rudy Giuliani Is Now Desperately Taking The 'Collusion Is Not A Crime' Route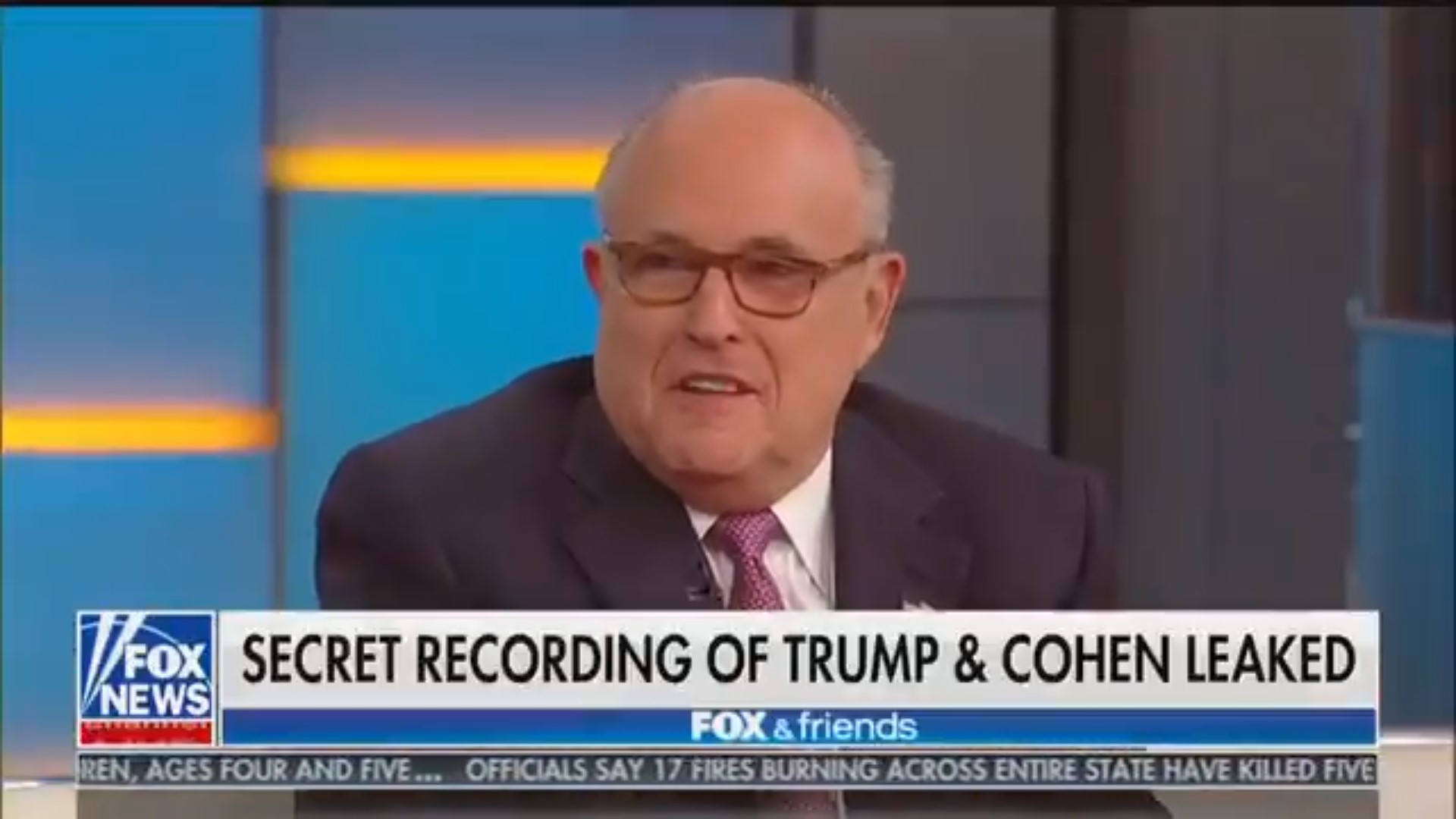 Looks like Trump lawyer Rudy Giuliani is moving the goalposts yet again.
President Donald Trump spent much of his Sunday rage-tweeting about the Mueller investigation, claiming Special Counsel Robert Mueller had "conflicts of interest" while calling the probe into Russian election interference and possible cooperation with the Trump campaign a "Rigged Witch Hunt" and "illegal Scam." This all comes after last week's bombshell news that former Trump attorney and fixer Michael Cohen is willing to tell Mueller that Trump knew in advance about the infamous Trump Tower meeting to gather dirt on Hillary Clinton from the Russians.
In a pair of cable news interview Monday morning, Giuliani decided to float out a new strategy in publicly defending his client — just say there's nothing illegal about collusion.
Appearing on Trump's favorite morning program Fox & Friends, the ex-NYC mayor immediately informed the curvy couch crew that he just couldn't find any federal statute that said collusion was a criminal act.
"I have been sitting here looking in the federal code trying to find collusion as a crime," he said as co-host Steve Doocy agreed with him. "Collusion is not a crime."
WOW — @RudyGiuliani begins @foxandfriends interview by downplaying the significance of collusion.

"I have been sitting here looking in the federal code trying to find collusion as a crime. Collusion is not a crime." 👀 pic.twitter.com/fD1MdS6T29

— Aaron Rupar (@atrupar) July 30, 2018
Later on, Giuliani popped up on CNN's New Day to do what Brian Stelter has called a "kind of sad" and "desperate spin." And he confirmed that the "collusion is not a crime" angle is now officially part of his talking points when it comes to the Russia probe.
Asked by host Alisyn Camerota about former Trump campaign chief Paul Manafort's upcoming trial, Giuliani pointed out that Manafort was never "involved with intimate business relationships with Donald Trump" before bringing up collusion.
"Four months, they're not going to be colluding with Russia, which I don't even know if that's a crime, colluding about Russians," he declared. "You start analyzing the crime — the hacking is the crime…the President didn't hack."
While Team Trump has constantly claimed that there was no collusion with Russia during the 2016 presidential election — it is a catchphrase of Trump's — the president and his allies have also floated out the notion that there is nothing criminal or ethically wrong with cooperating with a foreign government to impact an election. Late last year, Trump said there wasn't any collusion "and even if there was it's not a crime" while his attorney Jay Sekulow added that "there is not a statute that refers to criminal collusion."
Since then, sycophantic Fox News host Sean Hannity and his guests have at times embraced this particular angle. Recently, with it becoming more and more evident that there was a concerted effort by the Trump campaign to work with Russian officials during the election, Fox's Tucker Carlson just shrugged off the possibility that collusion occurred, saying "so what" if it did indeed happen.
Meanwhile, even if collusion in and of itself isn't a crime, Mueller will likely be looking at a whole slew of other federal law violations associated when it comes to cooperation between the Trump campaign and Russian officials.
Watch Giuliani's New Day appearance at the top of the page, via CNN.