Hannity Leads Cable News In Total Viewers Monday, Maddow Tops Key Demo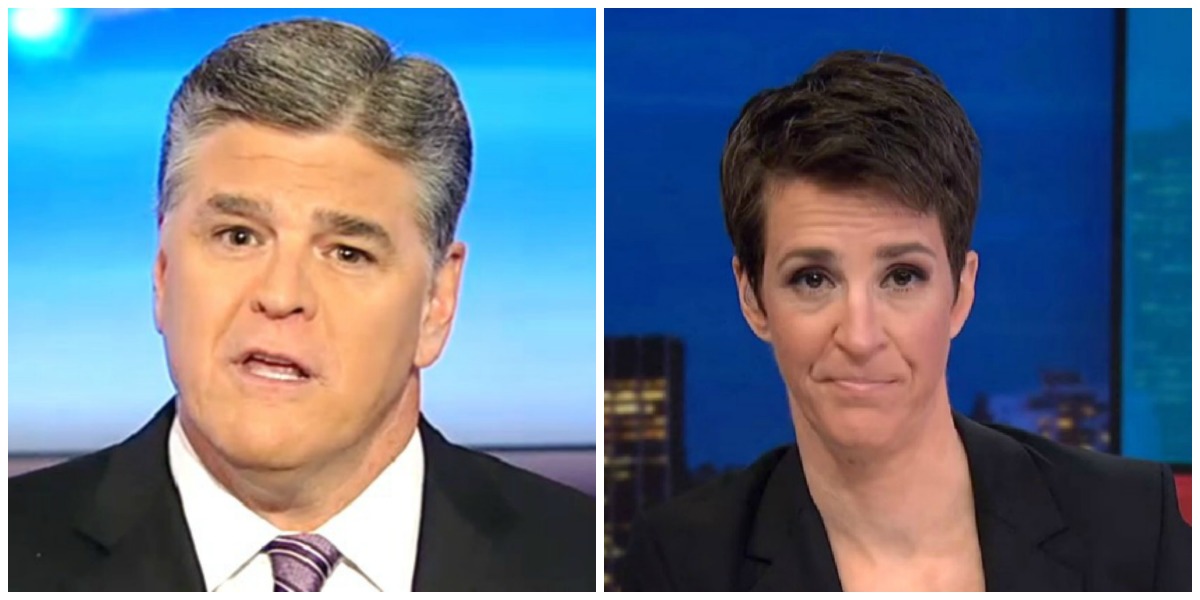 Fox News largely dominated the cable news landscape on Monday as it led across the board in total day and primetime viewership. It also had four of the top five most-watched programs of the day. At the same time, MSNBC's The Rachel Maddow Show was the top cable news show in the key 25-54 demographic.
According to Nielsen, Fox News averaged 517,000 demo viewers and 2.873 million viewers overall in the 8 PM to 11 PM primetime hours. MSNBC placed second in both metrics, attracting 2.212 million total viewers and 418,000 in the key demographic. CNN drew 984,000 total viewers and 321,000 in the demo.
Fox News' Hannity led all of cable news in total viewership with 3.134 million while placing second in the key demo with 548,000. Maddow, which goes head-to-head with Hannity at the 9 PM hour, was number one in cable news in the demographic (552,000) while taking the silver in total audience (2.800 million). Fox's Tucker Carlson Tonight finished third in both total viewers (2.782 million) and the 25-54 demo (514,000).
The top-rated program on CNN was the 10 PM broadcast of CNN Tonight, which pulled in 1.046 million total viewers and 348,000 in the key demo.
Ratings also came in on Tuesday for the previous week, and Fox News marked its 28th consecutive week as the number one network in basic cable for total day viewership, averaging 1.371 million total viewers. Fox News also topped all of cable in primetime total viewership as it nabbed 2.446 million. MSNBC placed second in overall viewership in basic cable in both primetime (1.955 million) and total day (1.092 million). CNN placed ninth in primetime (1.103 million) and fifth in total day (771,000).
For the business news network, Fox Business topped CNBC last week in total viewers for business day (213,000 to 137,000) and total day (150,000 to 129,000). Fox Business led in the demo for business day (24,000 to 20,000) while CNBC led in total day (34,000 to 19,000).