Don Lemon On Trump's Security Clearance Threats: 'We're In Distraction And Diversion Territory'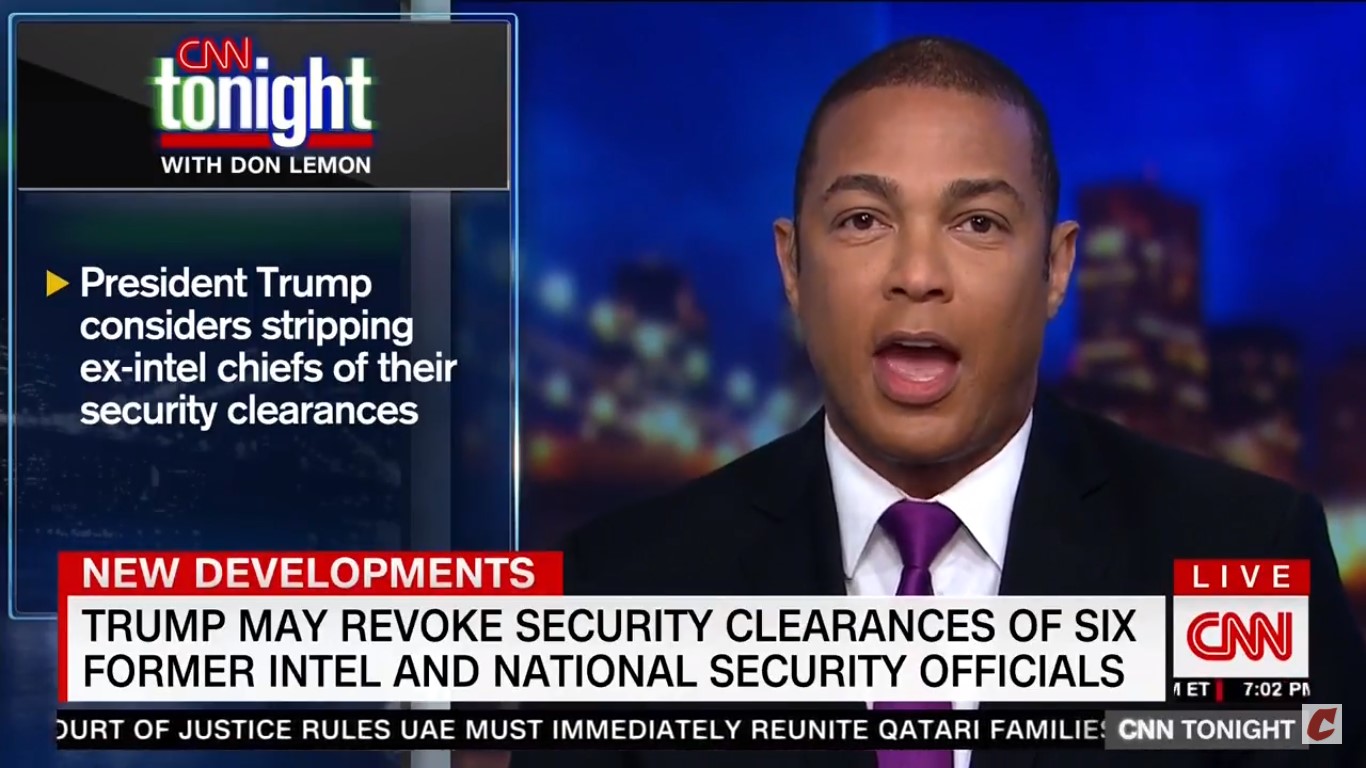 The White House tossed a big shiny object at the press Monday when Press Secretary Sarah Huckabee Sanders announced that President Donald Trump is considering revoking security clearances from half-a-dozen former national security officials. Sanders noted that Trump, who met with Sen. Rand Paul (R-KY) about the issue, felt the officials were monetizing their previous public service by criticizing the president over Russia.
At the top of his program Monday night, CNN anchor Don Lemon wanted to remind his audience that this was a clear case of the president attempting to distract the public from his disastrous Helsinki performance and the White House's highly-ridiculed attempts to walk it back.
"Kind of what we're talking about right now when i said regressive, right?" Lemon noted. "His distraction and reverse strategy. Don't get it twisted. We're in distraction and diversion territory."
After pointing out that he had told fellow anchor Chris Cuomo that they'd be talking about something else this week rather than Trump siding with Russian President Vladimir Putin in Helsinki and had Cuomo disagreed, Lemon explained that is exactly what is happening now.
Lemon went on to cover Trump's threat to take away security clearances from his critics because it is still worth mentioning, stating that we're only used to seeing this from "dictators and wannabe strongmen." The CNN host also brought up the fact that two of the former officials Trump wanted to pull credentials from — James Comey and Andrew McCabe — currently don't have security clearances.
"So the threat is moot," the anchor declared. "So there you go. Distraction. Probably should have done a little homework. Maybe they already knew it but just wanted to put it out there."
He continued, "See, that's the point. Just making the threat to take action changes the subject from serious issues facing the country like the fallout from Helsinki or the upcoming trial of Paul Manafort or the Michael Cohen tapes or, let's see, lack of progress on North Korea and its nukes or heightened tensions with Iran or the separation of migrant families, children in cages. The list goes on and on and on."
Lemon ended his monologue by bringing up reports that Trump sees the security clearance issue as a way to satisfy his base by making a new Deep State argument, stating that it once again proves that is it all about "me me me me me me" for the president.
Watch the clip above, via CNN.