Trump Buddy Chris Ruddy Begs CNN's Stelter To Devote A Show To Boasting About Trump's Successes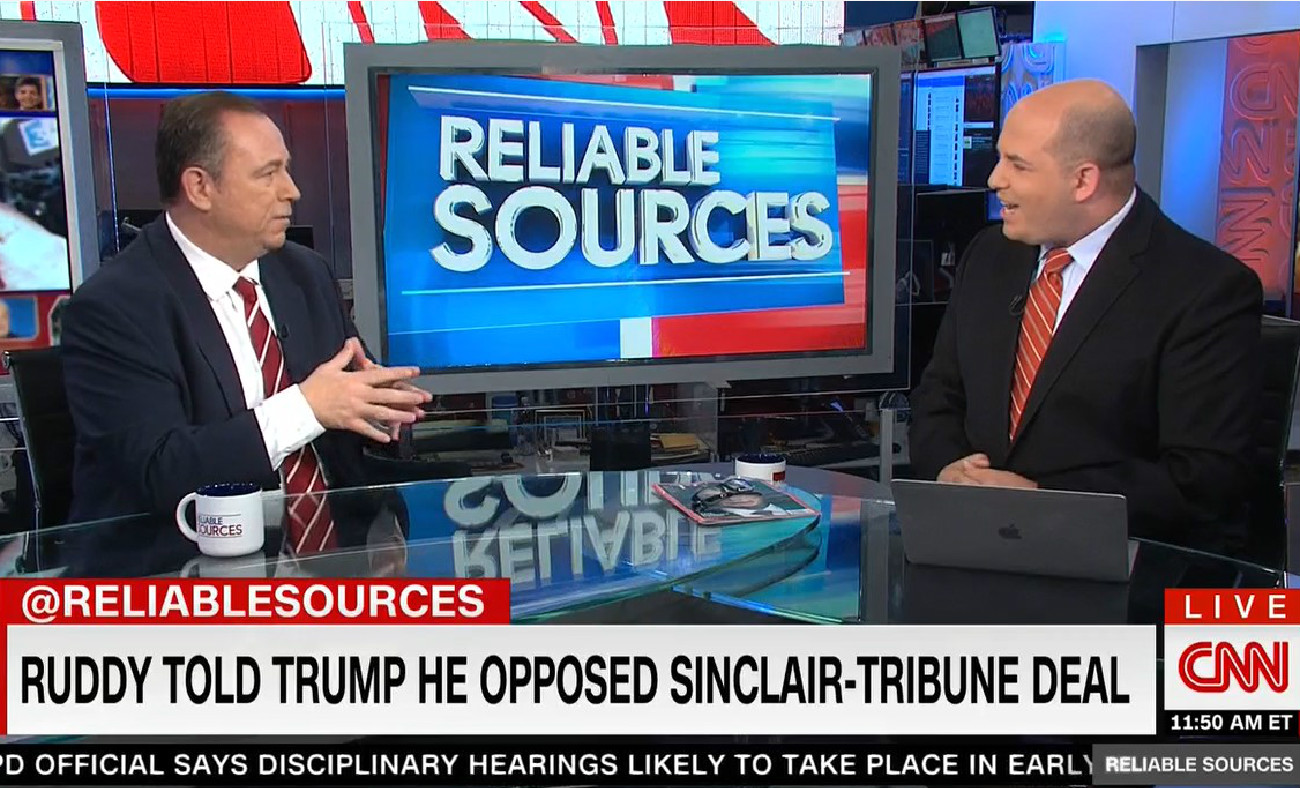 Throughout his Sunday morning interview on CNN's Reliable Sources, Newsmax CEO and Trump friend Chris Ruddy chastised host Brian Stelter and the mainstream media for not reporting enough on the president's so-called economic successes. And at the end of the segment, he requested that Stelter devote an hour to boasting about the Trump administration's success, claiming he could even possibly get President Trump to be a guest if he did so.
After beginning the hit by telling Stelter that while he's a buddy of the president's he's also "a member of the enemy of the people…a member of the press," Ruddy almost immediately began referring to the media as "you guys" as he complained Trump wasn't getting enough credit for the strong economy.
"When he inherited that job, Obama had economic growth rates of 1.5%," Ruddy declared. "This past quarter they think it's going to be 4.4, the president thinks 4.8. But it's a 300% increase in about 18 months, I don't think in history we've had anything like this. You never talk about any of the positives."
For the record, Ruddy is pointing to a second-quarter projection by the Atlanta Fed while simultaneously — and misleadingly — conflating yearly growth rates with quarterly. Obama's GDP growth in 2016 was 1.5 percent, but also 2.9 percent in 2015 and 2.6 percent in 2014. Trump's GDP growth in 2017 was 2.3 percent and 2.0 percent in the first quarter of 2018.
Ruddy would then go on to claim that the president is "new at his job" while defending Trump's performance at Helsinki, causing Stelter to rightly ask him why Trump should get credit for the economy if he's still a new president. Ruddy responded by calling Trump a "business guy" before wildly speculating that POTUS got "huge concessions" from Vladimir Putin and that's why he was "overly nice" the Russian autocrat following the meeting.
The two men went on to discuss the recent demise of the Sinclair-Tribune merger — a deal Ruddy told Trump he opposed — before wrapping it up with the conservative media chief making his proposal to Stelter.
"I hope you'll suggest to the president to make more Trump aides available for interviews on CNN," the senior media correspondent told Ruddy, referencing an earlier back-and-forth the two had in the interview.
"Next week, can we do a program about all of the president's economic successes?" Ruddy asked in return. "Can we do that?"
As Stelter deferred, stating that he just gets one hour a week to focus on the media, Ruddy appeared to be speaking through the camera and directly to chief economic advisor Larry Kudlow and the president.
"If I could get Larry Kudlow to come on and just talk about that, would you be open to it?" Ruddy stated as Stelter said many others at CNN would love to interview Kudlow. "Larry, Larry, he'd love to — maybe the president will come on if you just talked about his economic. Would you, Mr. President?"
Watch the clip above, via CNN.