Jake Tapper To Marco Rubio: Aren't 'You Being Remarkably Forgiving' Of Trump's Behavior Towards Putin?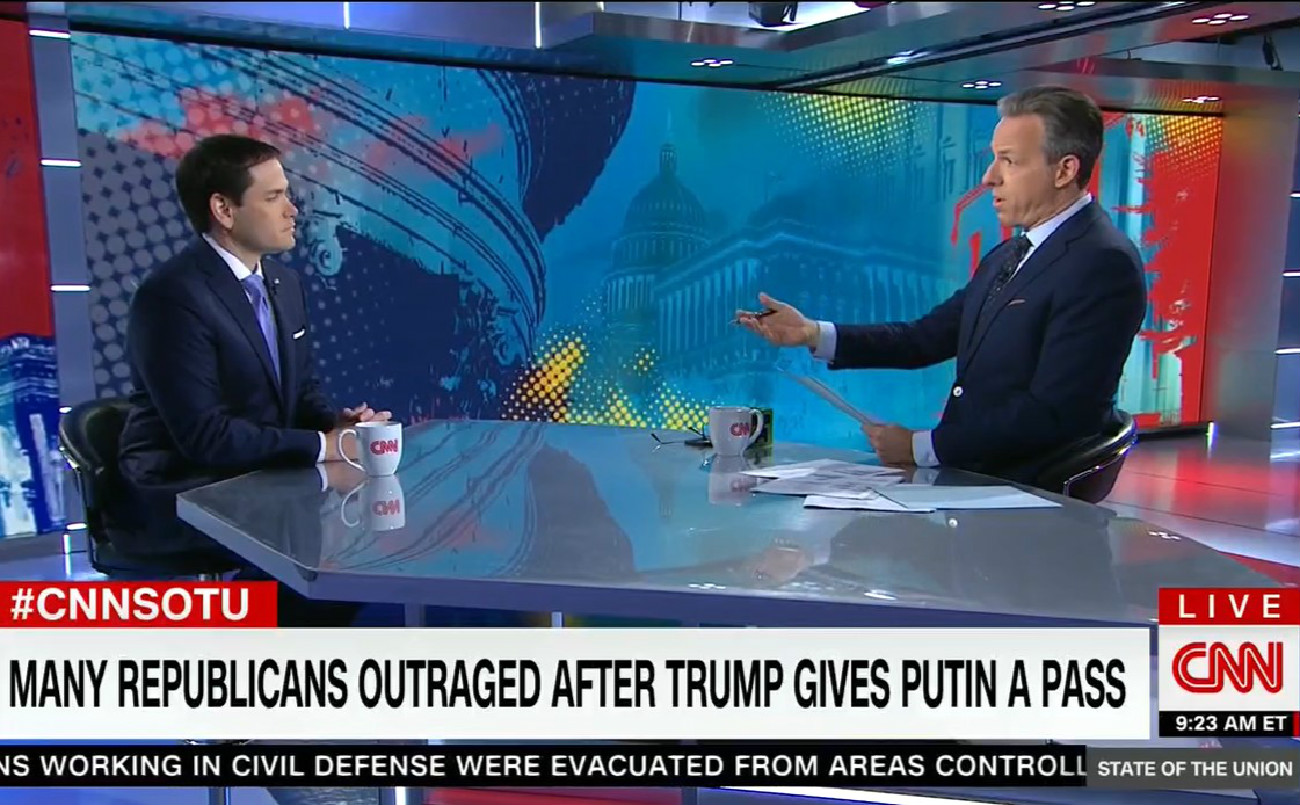 In the immediate aftermath of President Donald Trump's disastrous joint press conference with Russian President Vladimir Putin, Sen. Marco Rubio (R-FL) joined in the loud bipartisan criticism of the president siding with Russia over the American intelligence community. However, once Trump issued his ludicrous walk back in which he blamed a "double negative" for his comments, Rubio said that he was "just glad he clarified it" and he "can't read his intentions."
Appearing on CNN's State of the Union, the Florida lawmaker and Trump's rival during the GOP presidential primary was pressed by anchor Jake Tapper over his willingness to let Trump's pro-Putin rhetoric slide.
"I don't have any doubt that president trump is aware of the things Vladimir Putin has done," Rubio noted. "I'm not sure the rhetoric reflects that but the policies do."
Tapper shot back, "Don't you think you're being remarkably forgiving of President Trump's behavior towards Putin? If a Democratic president had done all those same things, I can't imagine that you wouldn't be really outraged and express it."
The Republican senator responded that he thinks the difference is he's "interacted" with Trump for the past 18 months and that while the rhetoric matters Trump's policies matter even more. He then stated that he was concerned when Trump undermined the intelligence agencies in Helsinki and that's why he's glad Trump "came back the next day and walked that back."
"Sort of," Tapper noted.
"Well, it's certainly better than the impression that had been left after Helsinki," Rubio retorted.
Tapper would go on to grill Rubio over Trump's initial openness to sending former Ambassador Michael McFaul to Russia to be questioned by the Kremlin and the White House eventually rejecting the idea. The CNN host also pushed Rubio on his acceptance of Trump's walk-back, pointing out that it came after 27 hours, five tweets, two television interviews, and Mike Pompeo telling Trump he needed to clean it up.
"I don't know what to believe about it," Rubio replied. "I know what he said and I don't think it was a good moment for the administration and disagree with it. He came back the next day and said something to clean that up. And I'm glad he did it."
Watch the clip above, via CNN.