Maddow Most-Watched Show In All Of Cable Wednesday, Hannity Finishes Second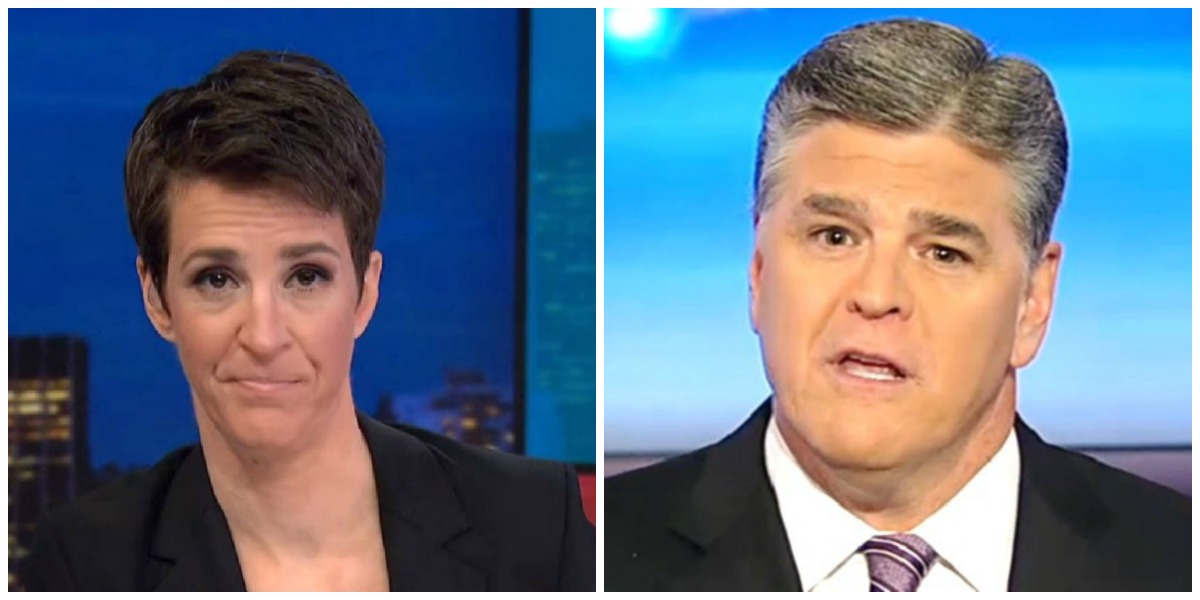 During a jampacked political news week, MSNBC and CNN have seen their audiences rise in comparison to recent months. Wednesday continued that trend as MSNBC boasted the top show in all of basic cable and two of the top three. At the same time, Fox News led across the board and ratings juggernaut Hannity barely missed the top spot.
According to Nielsen, Fox News averaged 2.809 million total viewers and 566,000 in the key 25-54 demographic during the 8 PM to 11 PM primetime hours. MSNBC placed second in both metrics, pulling in a total viewership of 2.552 million and 496,000 in the demo. CNN attracted 1.167 million viewers overall and 397,000 in the key demographic.
In total day, Fox drew 1.477 million total viewers and 295,000 in the demographic. MSNBC pulled in a total audience of 1.284 million and 243,000 demo viewers. CNN's overall viewership was 811,000 while it averaged 256,000 in the demo.
MSNBC's The Rachel Maddow Show topped the cable news heap in both total viewers (3.141 million) and the key demo (630,000). Maddow's 9 PM competitor, Hannity, came in second in both metrics, drawing 3.136 million viewers overall and 612,000 in the demographic. MSNBC's The Last Word with Lawrence O'Donnell finished third in total audience (2.689 million) and fifth in the 25-54 demo (498,000). Fox's The Ingraham Angle placed third in the demographic (547,000) and fourth in total viewers (2.647 million).
The top-rated program on CNN was Anderson Cooper 360, which drew 1.209 million total viewers. Cuomo Prime Time led the way in the demo with 417,000.
CNN's 4 PM program, The Lead with Jake Tapper, led its hour in the key demo, pulling in 314,000.