Jeanine Pirro Says Whoopi Goldberg Told Her To 'Get The F*ck Out' After Heated View Segment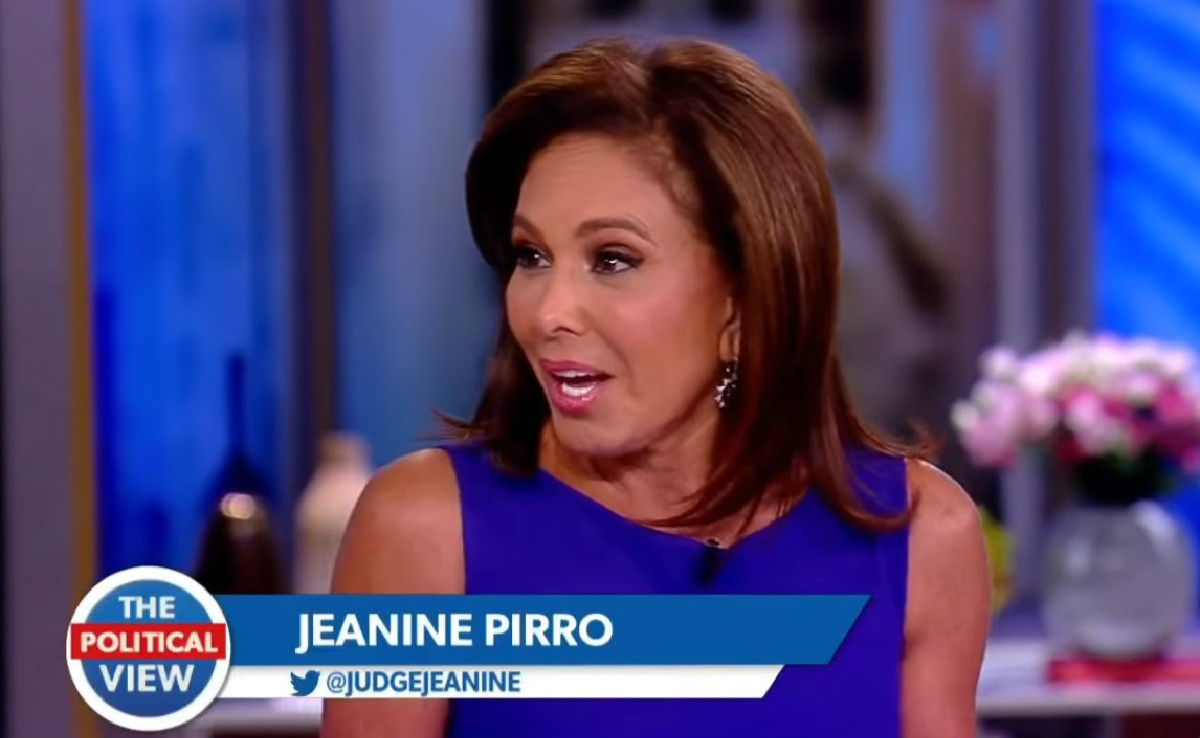 In case you missed it, things got nuts during Thursday's broadcast of The View as host Whoopi Goldberg and Fox News' Jeanine Pirro went at it over, you guessed it, Donald Trump. The heated confrontation culminated in Goldberg cutting the segment off early while shouting "goodbye" and "I'm done!"
Following the explosive TV moment that quickly went viral, Pirro went on her friend Sean Hannity's radio show to discuss her side of things. And according to her, the fireworks didn't stop after they went off the air.
"I'm still reeling from it, to be honest with you," Pirro told Hannity. "I went on thinking that we would have a discussion about the book. The truth is, that it was an attack on Donald Trump, and then on me."
Stating that she sat there while Goldberg "pontificated about how terrible Donald Trump was" until Pirro said she was there to talk about her book, which is when the View host went "ballistic." (Reviewing the video, it would appear that Goldberg became angry that Pirro accused her of having "Trump Derangement Syndrome" and that it went downhill from there, leading to Goldberg ending the segment after the Fox host said Goldberg should be more concerned "when people who shouldn't be here end up murdering the children of American citizens.")
Pirro then divulged what happened behind the scenes after they went off the air. Stating that she told Goldberg that "I fought for victims my whole life," Pirro claimed that the veteran comedian came at her when she was leaving and cursed her out.
"She said 'F you' in my face," Pirro declared. "Literally spitting at me, 'F you, get the F out of this building.' And I said to her, 'Did you just say that?' She said that's what I said, 'get the F out of this building' and she was screaming at me and I'm walking out of the building like a dog who was just kicked off."
The pro-Trump commentator went on to say it was "typical of what is going on in this country" and that "the left" will invite you on to talk but "they then won't let you talk."
"And here's the problem Sean," she stated. "The problem is once one starts doing it, the rest of them are going to start doing it."
At the end of the View broadcast, Goldberg apologized to the audience for losing her cool, explaining that she got upset because she didn't like being accused of being hysterical.
According to Page Six, sources told them that Pirro was "looking for a fight" when she came on the show because anti-Trump CNN pundit Ana Navarro was filling in for regular host Joy Behar. They also reported on the off-air confrontation between Pirro and Goldberg and it largely matched what Pirro told Hannity.
Goldberg left the stage, but the fireworks went off again with the cameras off: Backstage when the two crossed paths, a source told us, "Jeanine tried telling her she's fought for victims her whole life." That's when "Whoopi got in her face and said that they've known each other a long time, but still, 'F–k you, get the f–k out of this building.' Jeanine looked stunned."
Another source told us, "Jeanine could have walked by her. There was one more segment to do. She could have walked by her easily, she put her finger in her face and said, 'I've done more for abused women than you will ever do' and that's when Whoopi said, 'You and I have never had a problem,' before everything else was said."
Page Six also reported that Goldberg and The View's producers have reached out to Pirro to discuss the situation.
Anyway, yeah, this is gonna be a THING, especially in the conservative media sphere.
Listen to the interview above.