Hannity And Maddow Finish One-Two In Ratings Monday, O'Donnell Leads Time Slot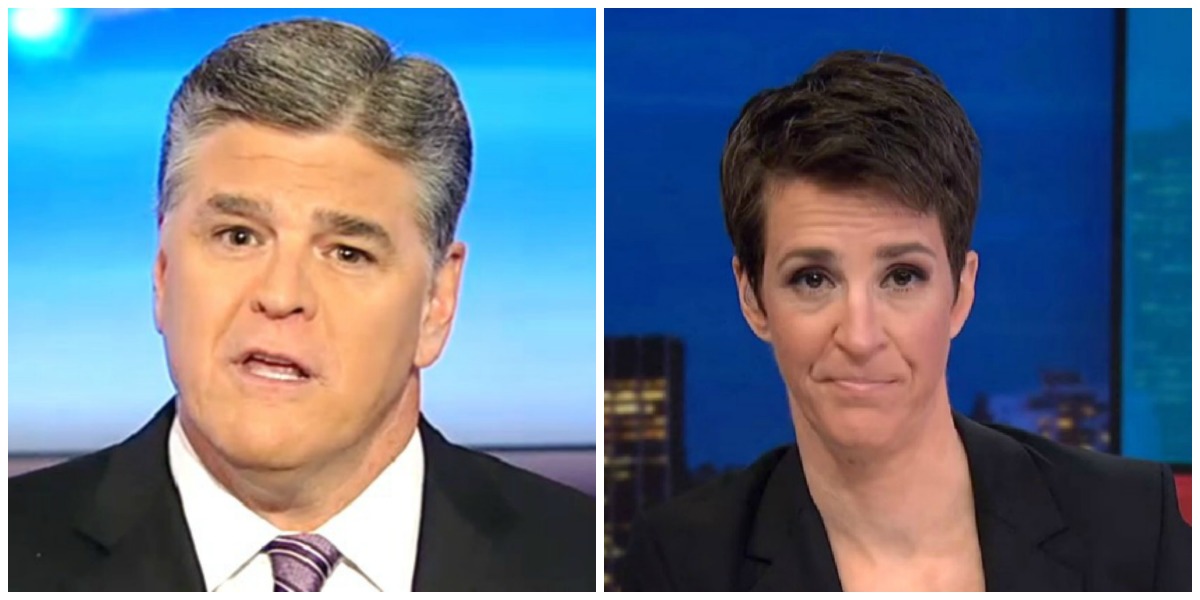 Monday was already figuring to be a big day for cable news due to the highly anticipated and controversial Helsinki summit between President Donald Trump and Russian President Vladimir Putin. After Trump sided with Putin over the intelligence community regarding Russian election interference, news coverage went into overdrive regarding the fallout of the president's performance and the three cable news networks saw millions tune in throughout the day.
According to Nielsen, Fox News led across the board in total day viewership, pulling in 1.922 million viewers overall and 388,000 in the key 25-54 demographic. MSNBC averaged 1.397 million total viewers and 279,000 in the demo. CNN had one of its best weekdays in a while by attracting 307,000 in the demographic and 1.009 million total viewers.
In the primetime 8 PM to 11 PM time slot, Fox News came out on top in both the demo (684,000) and total viewership (3.337 million). MSNBC came in second with 2.954 million viewers overall and 625,000 in the demo. CNN overachieved with 593,000 demographic viewers and a total audience of 1.751 million.
Fox News' Hannity, which featured a post-summit interview with Trump, was the most-watched cable news program of the day with 3.963 million total viewers and 807,000 in the demo. Hannity's 9 PM competition, MSNBC's The Rachel Maddow Show, also had a big day, placing second overall in both the demo (765,000) and total viewers (3.538 million).
The other big Fox News' interview of the day, Chris Wallace's critically acclaimed face-off with Putin, attracted 3.185 million total viewers and 542,000 in the demo during the 6 PM broadcast of Special Report with Bret Baier, easily leading its hour and placing fourth overall in total viewership.
During the 10 PM hour, The Last Word with Lawrence O'Donnell finished ahead of Fox's The Ingraham Angle, averaging 2.984 million total viewers (fifth overall) and 622,000 in the demographic (fourth overall). FNC's 8 PM broadcast, Tucker Carlson Tonight, drew 3.219 million total viewers (third) and 672,000 in the demo (third).
CNN's top-rated program on Monday was CNN's Cuomo Prime Time, which averaged 601,000 demo viewers (fifth overall) and 1.848 million viewers overall. Also, in a very rare occurrence, all three hours of CNN's primetime coverage placed higher than Ingraham (573,000) in the key demo, with Anderson Cooper 360 pulling in 594,000 and the 10 PM broadcast of CNN Tonight drawing 583,000.