Trump Wrote 'THERE WAS NO COLUSION' In Black Marker On Prepared Walk-Back Remarks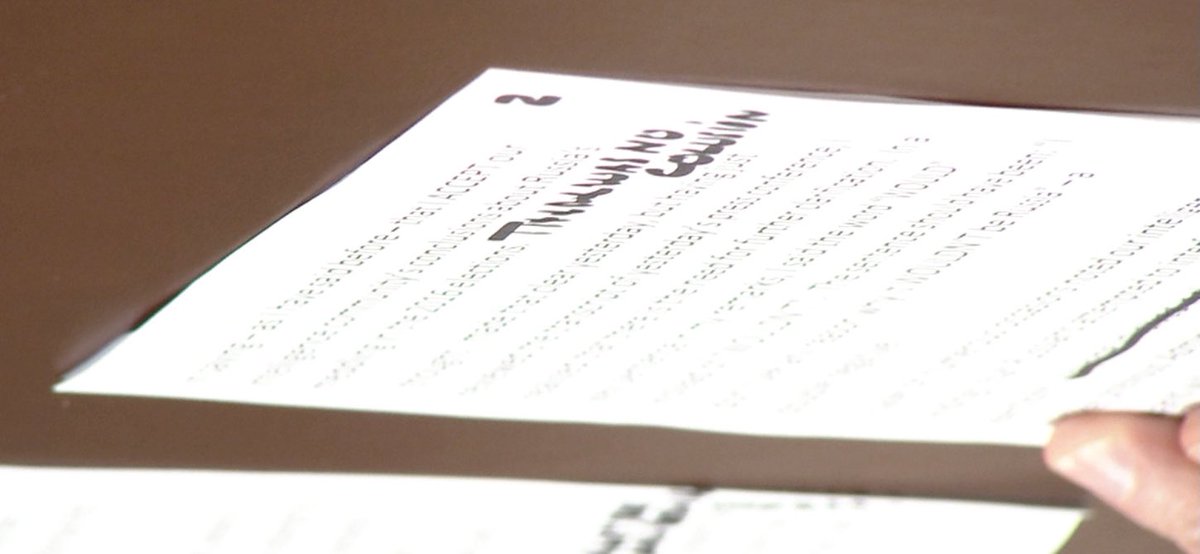 Since his election, one thing we've heard non-stop from President Donald Trump is "NO COLLUSION." Anytime the subject of Russian election interference is raised, the president makes sure everyone knows that there was absolutely and positively no collusion between Russian officials and the Trump campaign to impact the outcome of the election.
On Tuesday afternoon, the president delivered a statement in an effort to clean up and walk back his comments at his joint press conference, settling on the excuse that he meant to say "wouldn't" instead of "would" because he didn't want to use a double negative in a sentence. (Yes, this was the 'clarification' the White House settled on.)
Some sharp-eyed reporters noticed that on the printout of his prepared statement, the president made some notes. And, yep, it was the whole "NO COLLUSION" declaration that he always has to make.
Trump was reading for a typewritten script during his "clarification" moment but he made some handwritten additions, including: "THERE WAS NO COLLUSION" pic.twitter.com/0IfleZm8yJ

— Kevin Liptak (@Kevinliptakcnn) July 17, 2018
Trump wrote in big black Sharpie on his printed remarks: "THERE WAS NO COLLUSION" pic.twitter.com/5wiG4ukGce

— David P Gelles (@gelles) July 17, 2018
Caught by WH pool photographer, Trump's handwritten addition to his prepared remarks today: "There was no collusion" pic.twitter.com/KqjXfgVDSD

— Jim Sciutto (@jimsciutto) July 17, 2018
The President wrote in sharpie "THERE WAS NO COLUSION" during a meeting with congressional members. pic.twitter.com/dYk88Ot9h8

— Tom Brenner (@tom__brenner) July 17, 2018
Listening to his comments on Tuesday, you heard the president specifically note that while he accepts the intelligence agencies assessment that Russia interfered in the election, he wanted it known that there were no votes changed and his campaign did not collude with Russia. Of course, while claiming he accepted the intelligence community's findings, he also reiterated that others could have meddled, stepping all over the message he was supposed to deliver.
JUST IN: Trump says he misspoke during Putin press conference: "I said the word 'would' instead of 'wouldn't'" https://t.co/ra3tHSnxXa

— CNN Politics (@CNNPolitics) July 17, 2018
Anyway, once again, the president wants to make sure everyone knows one thing — NO COLLUSION.
UPDATE: Upon closer observation, the president misspelled the word collusion, using only one L. So, yeah, he messed up one of his favorite catchphrases.