CNN's Jim Sciutto: We Asked Dozens Of GOP Lawmakers To Appear And Only One Said Yes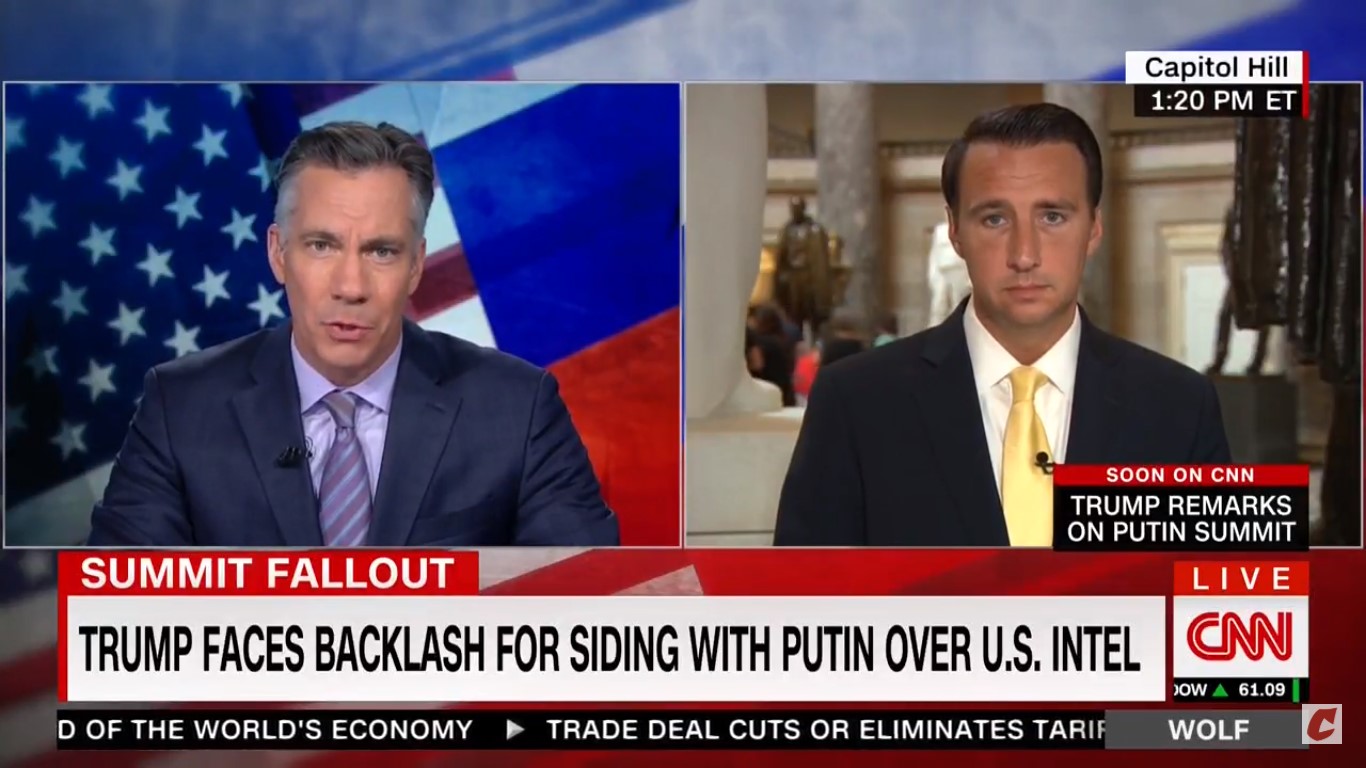 A day after President Donald Trump caused widespread and global outrage for standing next to Russian President Vladimir Putin and siding with the authoritarian ruler on the issue of Russian election interference, many Republicans on Capitol Hill have issued statements expressing criticism and disappointment over the remarks. At the same time, GOP politicians have preferred to avoid the press if at all possible amid the fallout over the disastrous summit.
Just ahead of a CNN interview with Rep. Ryan Costello (R-PA), correspondent Jim Sciutto pointed out just how difficult it was to get Republican lawmakers to show up to discuss the president throwing his intelligence community under the bus in order to provide cover for Putin.
"So our viewers know, we reached out to dozens of Republican lawmakers today to speak — to react to the president's comments," Sciutto said. "I want to thank you for being the only one who said yes."
Asked for his reaction to the president's joint press conference, Costello didn't mince words, saying he was "embarrassed."
"I think that I was outraged because I think that in all my years of having a tremendous respect for the institution of the presidency and its role around our globe," Costello explained. "I'd never seen a more pathetic and weak display of American leadership as a president."
He continued, "And it's not explainable. It's not defensible. and it's something we should view, I think, with outrage and ask serious questions as to why our president would somehow cast doubt or create some equivalency between Vladimir Putin's denial and the very substantive investigative powers of our law enforcement and intelligence communities, which made a determination and issued an indictment that Russia did interfere in the 2016 election."
Sciutto's note that GOPers avoided coming on the air today comes after CNN's Erin Burnett pointed out that former NSC spokesman Michael Anton canceled his appearance because he said he couldn't defend the president's actions.
"Michael Anton was going to be here … he canceled, and he knows I'm going to tell you this, because he said he could not defend the president on his actions today." – Erin Burnett explains the absence of Trump's fmr. National Security Council spokesman https://t.co/VYnxxVD4Je pic.twitter.com/nveQk3mvTy

— OutFrontCNN (@OutFrontCNN) July 16, 2018
Watch the clip above, via CNN.