Applause Breaks Out After Peter Strzok Scolds House Republicans For 'Deeply Destructive' FBI Attacks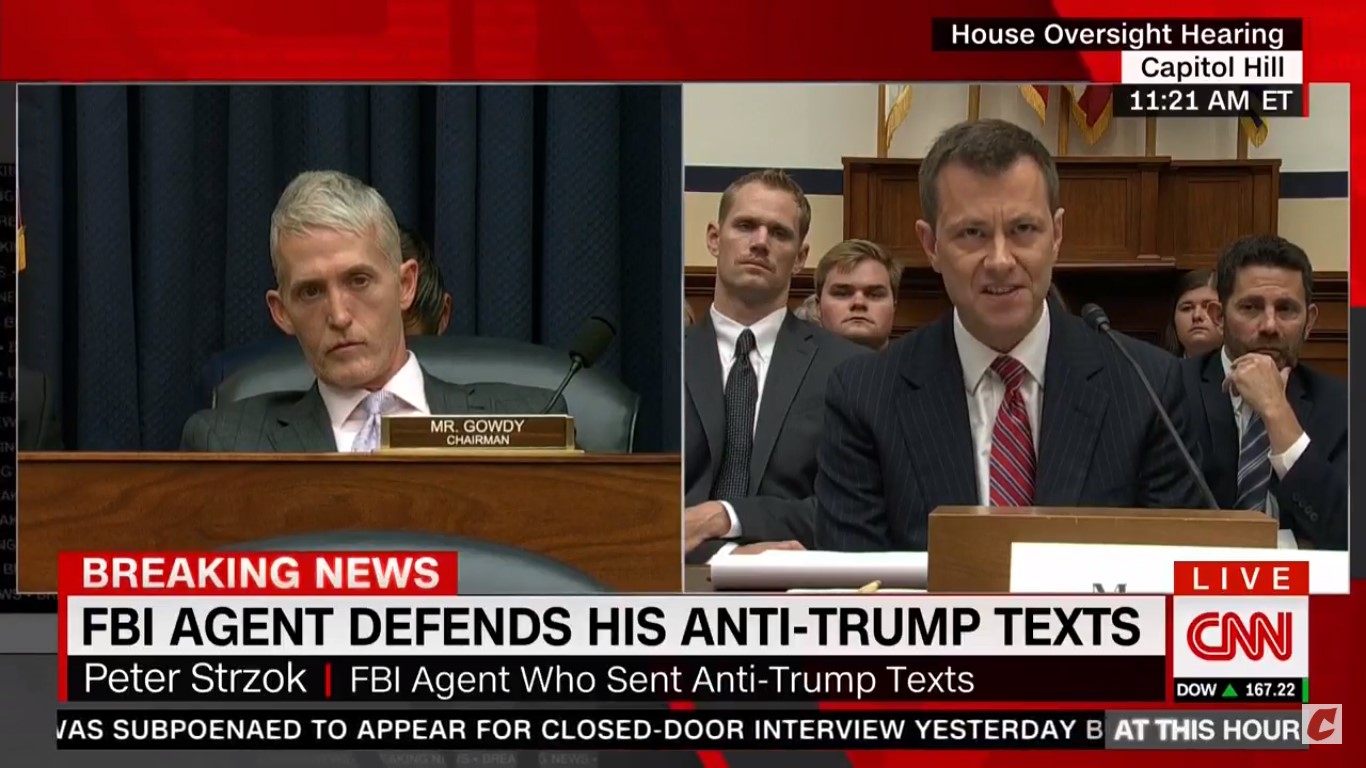 It was apparent before embattled FBI agent Peter Strzok appeared before the House on Thursday that Congressional Republicans would take the opportunity to grandstand and turn the whole proceeding into a Stalinist show trial, feeding off the months of overheated right-wing rhetoric and Deep State conspiracies centered on Strzok's texts.
And while folks like House Judiciary Chair Bob Goodlatte and House Oversight Chair Trey Gowdy played to the cameras and tried to force the hearing to devolve into a dog and pony show meant to satisfy an audience of one, Strzok took the opportunity to turn the tables on his showboating tormentors.
After Gowdy took roughly 30 minutes (of what was supposed to be five) to badger Strzok and tell him he doesn't "give a damn" what the FBI agent thinks, all while Goodlatte kept extending his time to the objections of several Democrats, Strzok unleashed on the soon-to-be retiring South Carolina lawmaker.
"Sir, I think it's important, when you look at those texts, that you understand the context in which they were made and the things that were going on across America," the FBI agent declared. "In terms of the texts that — 'we will stop it.' You need to understand that was written late at night, off-the-cuff, and in response it to a series of events that included candidate Trump insulting the immigrant family of a fallen war hero, and my presumption, based on that horrible, disgusting behavior that population would not elect somebody demonstrating that behavior to be President of the United States."
Pointing out that he was in no way that he was looking to have the FBI improperly impact the election process while noting other personal texts about Trump's electoral chances were hyperbolic and made in jest, Strzok then laid into Gowdy and other GOPers who have smeared the FBI and DOJ.
"Furthermore, this isn't just me sitting here telling you, you don't have to take my word for it," he noted. "At every step, at every investigative decision, there are multiple layers of people above me, the assistant director, executive assistant director, deputy director and director of the FBI and multiple layers of people below, section chief, supervisors, unit chiefs, case agents and analysts, all of whom were involved in all of these decisions."
Strzok continued, his voice rising, "They would not tolerate any improper behavior in me. That is who we are as the FBI. and the suggestion that I in some dark chamber somewhere in the FBI would somehow cast aside all of these procedures, all of these safeguards, and somehow be able to do this is astounding to me. It simply couldn't happen. And the proposition that that is going on, that it might occur anywhere in the FBI, deeply corrodes what the FBI is in American society. The effectiveness of their mission. And it is deeply destructive!"
With Gowdy looking on with a sour look on his face, many in the chamber applauded over Strzok's forceful remarks.
Watch the clip above, via CNN.