MSNBC's 'AM Joy' Has Lost Over 20 Percent Of Its Audience Following Blog Controversy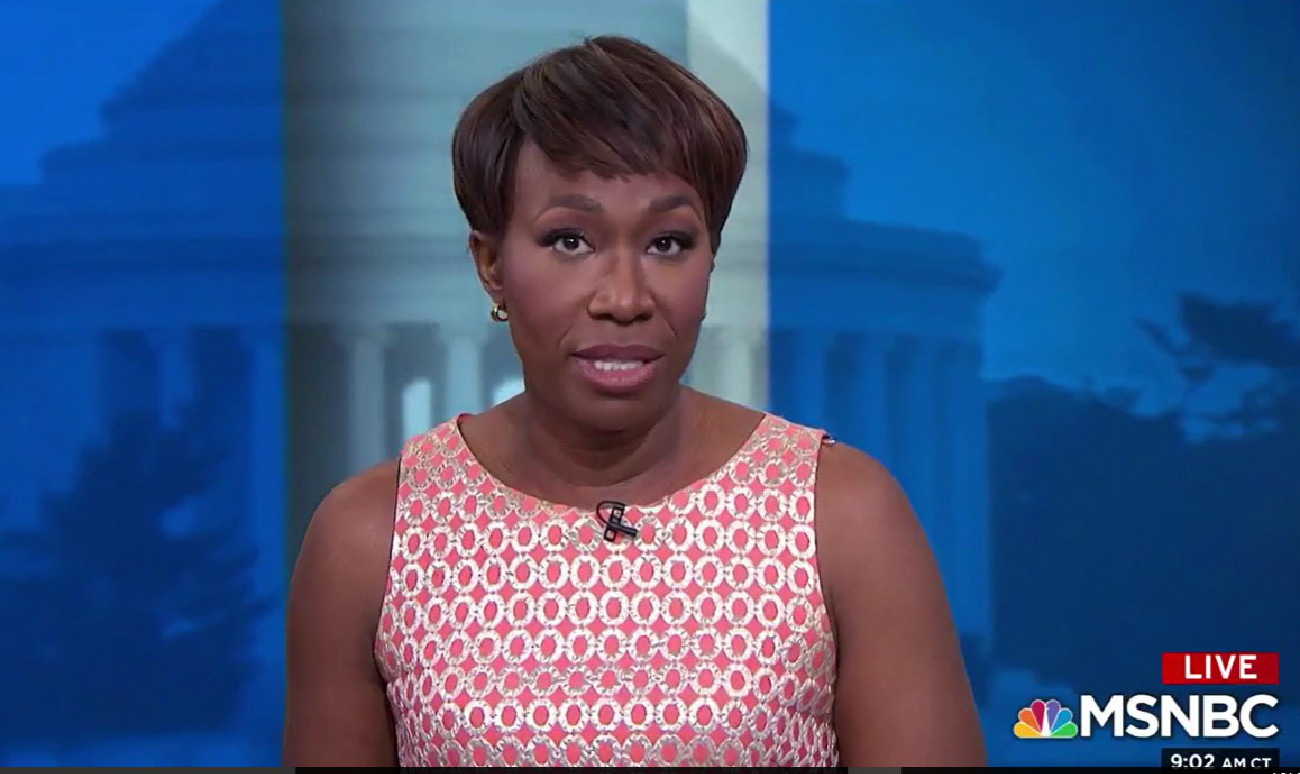 It has been almost three months since a slew of homophobic and culturally insensitive posts from MSNBC host Joy Reid's old blog were unearthed, resulting in a lengthy controversy that embroiled the Resistance hero and not only damaged her credibility as a journalist but also caused internal turmoil at her network. Weeks after she issued a semi-apology over the posts while insisting she didn't remember writing them, more embarrassing entries resurfaced, leading both MSNBC and Reid to issue statements in which Reid "sincerely" apologized and the network said she has grown and evolved over the years.
While MSNBC has stood by Reid in the wake of the scandal — something she originally claimed was the result of hacking and fabrication — has her audience stuck with her? Well…
A review of the 12 weeks prior to Mediaite breaking the story on her old blog posts and the broadcasts through this past weekend show that Reid's weekend program AM Joy has lost a significant portion of her viewership across the board. The two-hour news discussion show, which airs 10 AM-12 PM Saturday and Sunday, has experienced double-digit losses in both total viewership and the key 25-54 demographic across all four hours.
Overall, AM Joy averaged 238,000 in the key demo and 1.113 million total viewers from early February to late April, according to Nielsen. Those numbers reflect both the Saturday and Sunday broadcasts. In comparison, her combined ratings since April 28 (her first post-controversy broadcast) are down 23 percent in the demographic (172,000) and 21 percent in total audience (876,000). (These numbers also include the May 19 broadcast during the Royal Wedding which brought in over a million total viewers and a quarter million in the demo and a June 3 broadcast in which Jonathan Capehart guest-hosted.)
If you look at just the last month, following the most recent resurfaced blog posts that included her promoting 9/11 trutherism and comparing John McCain to the Virginia Tech shooter, the numbers have fallen even more. In the demo during June and July, AM Joy has averaged only 155,000 viewers while drawing 831,000 viewers overall.
Breaking it down by day and hour, we see that Saturday has been where Reid has really seen major erosion of her audience, something we first noticed when we did a snapshot of AM Joy's ratings a couple of weeks after the controversy first hit. Since late April, Reid's show has dropped 31 percent in the demo (174,000) and 24 percent in total viewership (928,000) during Saturday's 10 AM hour compared to the pre-controversy period. At 11 AM on Saturday, the drops are 30 percent in the demographic (178,000) and 25 percent in total audience (926,000).
Meanwhile, Sunday's ratings have also seen double-digit decreases in both hours and metrics. In the 10 AM demo, AM Joy is down 24 percent (161,000) while dropping 16 percent in viewers overall (795,000). At 11 AM, Reid is down 23 percent in the key demo (175,000) and 18 percent in total viewers (844,000).
Pre-controversy Saturday numbers were as follows:
255,000 in the demo for Saturday 10 AM
1.225 million total viewers for Saturday 10 AM
256,000 in the demo for Saturday 11 AM
1.241 million total viewers for Saturday 11 AM
213,000 in the demo for Sunday 10 AM
953,000 total viewers for Sunday 10 AM
229,000 in the demo for Sunday 11 AM
1.033 million total viewers for Sunday 11 AM
Considering that this is over a period of more than two months, this would appear to be more than a blip or statistical anomaly. Is the situation revolving around Reid's inflammatory blog posts and her claims that they were the result of hacking from those looking to damage her reputation — something she still hasn't adequately addressed even after her cybersecurity expert's findings fell apart — something that has caused some viewers to abandon her? Or is her show just experiencing an unrelated downswing based on other factors unrelated to the controversy? (It should be noted that CNN has also experienced double-digit losses over the same time period during those time slots.)
Regardless, it is clear that AM Joy has suffered a sustained softening of its ratings over the past couple of months and you have to think the MSNBC brass has noticed. We've reached out to the network for comment and will update if we hear back.