Dinesh D'Souza Retweets Post That Says #BurnTheJews, Claims He 'Did Not See The Hashtag'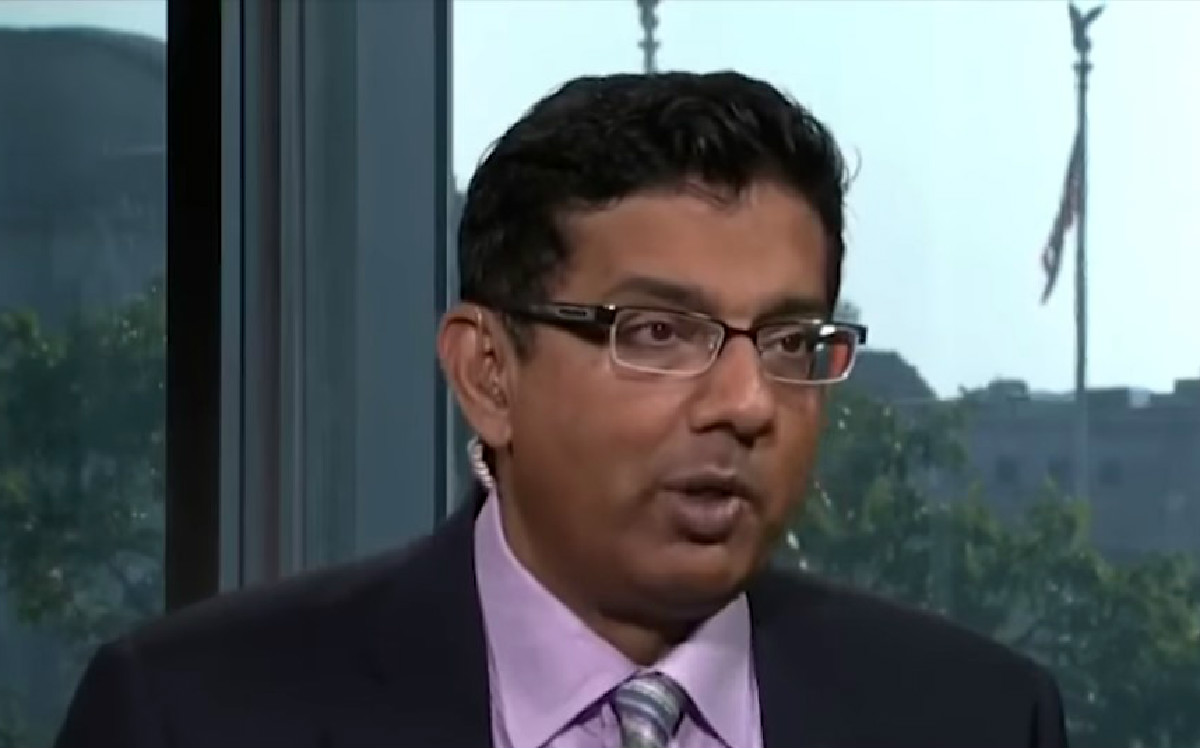 Right-wing 'documentary' filmmaker and internet shitposter Dinesh D'Souza has once again done something incredibly dumb on Twitter.
Fresh off his presidential pardon, D'Souza has been spending the past few weeks using his renewed notoriety to promote his upcoming pro-Trump film, Death of a Nation. Based on the trailer of the movie, which comes out in August, the conservative author favorably compares President Donald Trump to Abraham Lincoln while arguing that it is up to Trump to save America a "second time." If you are familiar with D'Souza's past work, you can ascertain who the real enemy is:
"Lincoln was elected to unite a country and stop slavery. Democrats smeared him; went to war against him; assassinated him. Now, their target is Trump," he says in the Death of a Nation trailer.
Anyway, while retweeting admirers and fans of his upcoming film, the America: Imagine a World Without Her artiste sent out a tweet that read "#burnthejews" to his nearly one million followers.
The retweet was captured by a sharp-eyed Twitter user who grabbed a screenshot:
@DineshDSouza literally retweeted a post with #burnthejews pic.twitter.com/mYr2Vaxt7q

— smoobydog (@smoobydog) June 30, 2018
How did D'Souza react when it was pointed out he spread a grossly anti-Semitic message? He said he was just trying to use social media to raise awareness of his film and he didn't see what it said.
I did not see the hashtag. Just trying to share the trailer on social media https://t.co/u1Wn2JPKLe

— Dinesh D'Souza (@DineshDSouza) June 30, 2018
"I did not see the hashtag," he wrote. "Just trying to share the trailer on social media."
Yeah, why share the official trailer when you can just retweet bigoted trolls?
There was quite a bit of reaction to D'Souza Twitter activity, as you'd imagine:
"Sorry about tweeting 'burn the Jews.' Just one of my fans…" https://t.co/cbY4ESPLYL

— Will Sommer (@willsommer) June 30, 2018
Dinesh D'Souza quotes tweet with the hashtag burn the Jews. https://t.co/vLjuEWnSb5

— Amy Siskind (@Amy_Siskind) June 30, 2018
Dinesh D'Souza has been retweeting some pretty vile hashtags while trying to promote his film. pic.twitter.com/EamljeWC6c

— Brian Klaas (@brianklaas) June 30, 2018
2 people the prez has pardoned:

Dinesh, who retweets a fan's tweet with the hashtag #burnthejews

& @RealSheriffJoe, who referred to his Tent City for Latino inmates as a"concentration camp" & gives interviews to anti-Semitic Holocaust-denying newspaper https://t.co/mtulHabmPC https://t.co/TCENb4iDUp

— Christopher Mathias (@letsgomathias) June 30, 2018
And, oh yeah, he apparently retweeted another post taged with #bringblackslavery because of course he did.
My man Dinesh going strong today pic.twitter.com/NbW9ToUTKw

— An unironic Brocialist 🌹🏳️‍🌈🇺🇸 (@thisisbeesyo) June 30, 2018