Mike Huckabee Compares His Daughter's Red Hen Experience To 'What We Saw At Lunch Counters In The '60s'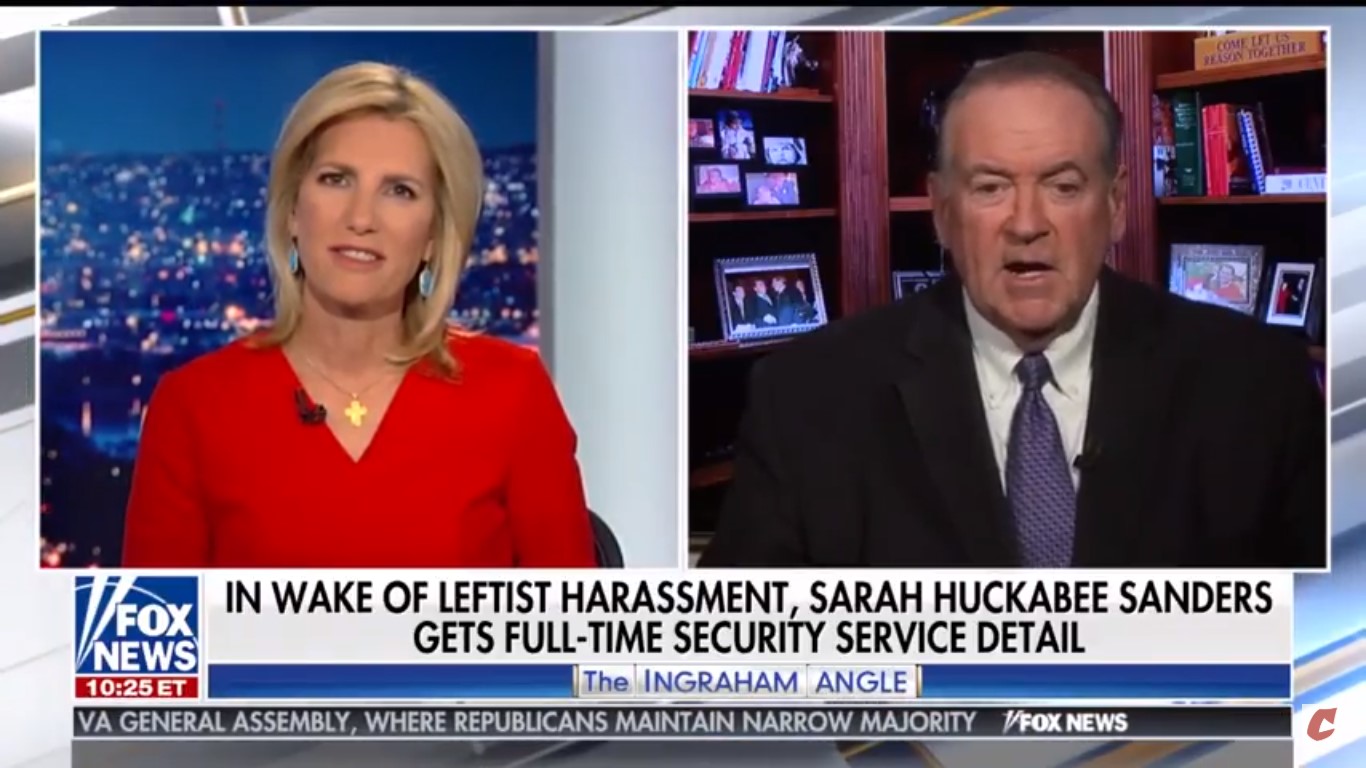 It looks like there's a new MAGA talking point evolving when it comes to Trump folks facing public harassment over the administration's "zero tolerance" immigration policy — Team Trump is being treated just like African-Americans were during Jim Crow.
Appearing on The Ingraham Angle Tuesday night, former Arkansas governor and one-time Republican presidential candidate Mike Huckabee brought up the recent incident involving his daughter, White House Press Secretary Sarah Huckabee Sanders. As you may recall, having already received cheese plates and drinks, Sanders was asked to leave rural Virginia restaurant Red Hen due to her working for the president.
After referencing a situation involving White House senior advisor Stephen Miller — he called Miller a "very nerdy policy guy" who doesn't do a lot of "screaming" — Huckabee lamented that Trump allies are facing public pushback.
"When this becomes personal and people take it away from the public venues of a town hall or a speech in public and take it into people's homes and make it so a person like Pam Bondi can't go see a Mr. Rogers movie and my daughter can't get to the appetizer because the manager tosses her out and tells her to leave," Huckabee exclaimed.
Then he said this: "That's the kind of thing we saw at lunch counters in the '60s. I thought we were never going to see that again. It's sad."
Yep, that was Mike Huckabee referencing the civil rights demonstrations at Woolworth's lunch counters while talking about his daughter getting a free cheese plate.
Ingraham wondered aloud if Huckabee Sanders thought about sitting there and waiting for the police to get involved "like the African-American men at Starbucks," only for Huckabee to say that he didn't think so because she "was raised not to be disruptive."
The ex-governor's comments came on the same broadcast in which Ingraham said that the recent public harassment of Trump administration figures was just like what we saw in the "racist South."
Watch the clip above, via Fox News.