Media In Disbelief Over Melania Wearing 'I Really Don't Care' Jacket During Border Visit: 'I…What…How?'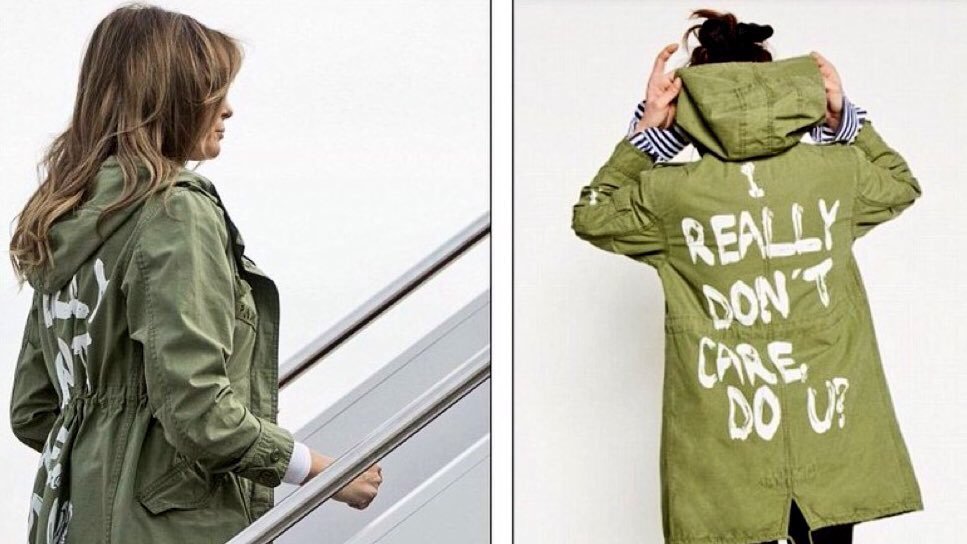 Sometimes, it really does feel like we're living in a bad YA dystopian novel.
In the midst of a humanitarian crisis completely created by her husband, First Lady Melania Trump traveled down to the Texas border on Thursday to visit some of the facilities holding migrant children that have been separated from their families. The unannounced trip came a day after the president signed an executive order that would allow migrant families to be held together in federal custody while awaiting prosecution for illegal border crossing.
While boarding the plane so she could visit with traumatized children, the first lady decided to throw on a stylish little number — a jacket that read "I Don't Really Care, Do U?"
For realz.
Daily Mail reports that Melania Trump boarded her plane to Texas wearing a jacket that said on the back, "I really don't care, do u?"https://t.co/SeNGeux5jB pic.twitter.com/owHqTAyPdO

— Tim Mak (@timkmak) June 21, 2018
The jacket that FLOTUS had on as she boarded the plane for Texas: a $39 Zara military jacket that said in large print on the back, "I really don't care, do u?" https://t.co/kNYAIGcdlm

— Francesca Chambers (@fran_chambers) June 21, 2018
Reporters, journalists and other members of the media were obviously slack-jawed and in disbelief over Mrs. Trump's choice of fashion.
I have some questions. https://t.co/qkBwjyQ6s9

— Kaitlan Collins (@kaitlancollins) June 21, 2018
This is very odd. https://t.co/OjzGzlntuf

— Philip Bump (@pbump) June 21, 2018
uh, according to the Daily Mail, FLOTUS wore a $39 Zara jacket with the phrase, 'I REALLY DON'T CARE, DO U?' scrawled across the back when boarding a plane to visit immigrant children in Texas

?https://t.co/sKRT7MtG5Q pic.twitter.com/AAKU6pX3S4

— J.D. Durkin (@jiveDurkey) June 21, 2018
Somebody pls explain!! ⁦@RobinGivhan⁩ https://t.co/etEesZ4QaF

— Annie Gowen (@anniegowen) June 21, 2018
"I REALLY DON'T CARE, DO U?"
was the jacket the first lady wore as she headed to visit a detention center today. https://t.co/f5X3w3sNOm

— Edward-Isaac Dovere (@IsaacDovere) June 21, 2018
It's a jacket that says "I really don't care." She was on her way to visit children at the border. We're going to talk about it. https://t.co/0sFbL8cqC5

— Ali Rogin (@AliABCNews) June 21, 2018
I…what…how? https://t.co/Ko4D7WIJXT

— Julia Ioffe (@juliaioffe) June 21, 2018
The Daily Mail is reporting that Melania Trump wore a jacket that says "I really don't care" on her way to visit immigrant children, as in a jacket that LITERALLY HAS THE WORDS "I REALLY DON'T CARE" WRITTEN ON THE BACK WHAT THE FUCK pic.twitter.com/vKkUFZDhpQ

— Lauren Duca (@laurenduca) June 21, 2018
"I really don't care, do u?" is an affront to the English language, as is "be best". I sense a theme.

— Philip Crowther (@PhilipinDC) June 21, 2018
Wait, wait, wait. I just got wifi to work on my flight. This Melania jacket thing cannot be real. Can't. I'm choosing to not believe it.

— Chris Hayes (@chrislhayes) June 21, 2018
The time from "This can't be real" to "Jesus Christ what is even happening?" was swift with this one.

— Schooley (@Rschooley) June 21, 2018
You'd think some staffer would have mustered the courage to recommend a wardrobe adjustment before allowing something like this to happen. https://t.co/k2SUf3RtT1

— Kenneth P. Vogel (@kenvogel) June 21, 2018
Melania Trump's spokeswoman, via pool: "It's a jacket. There was no hidden message."

That is true. The jacket literally said in giant letters, "I really don't care. Do you?"

— Jennifer Bendery (@jbendery) June 21, 2018