Maddow Breaks Down As She Delivers News That Migrant Babies Have Been Sent To 'Tender Age' Shelters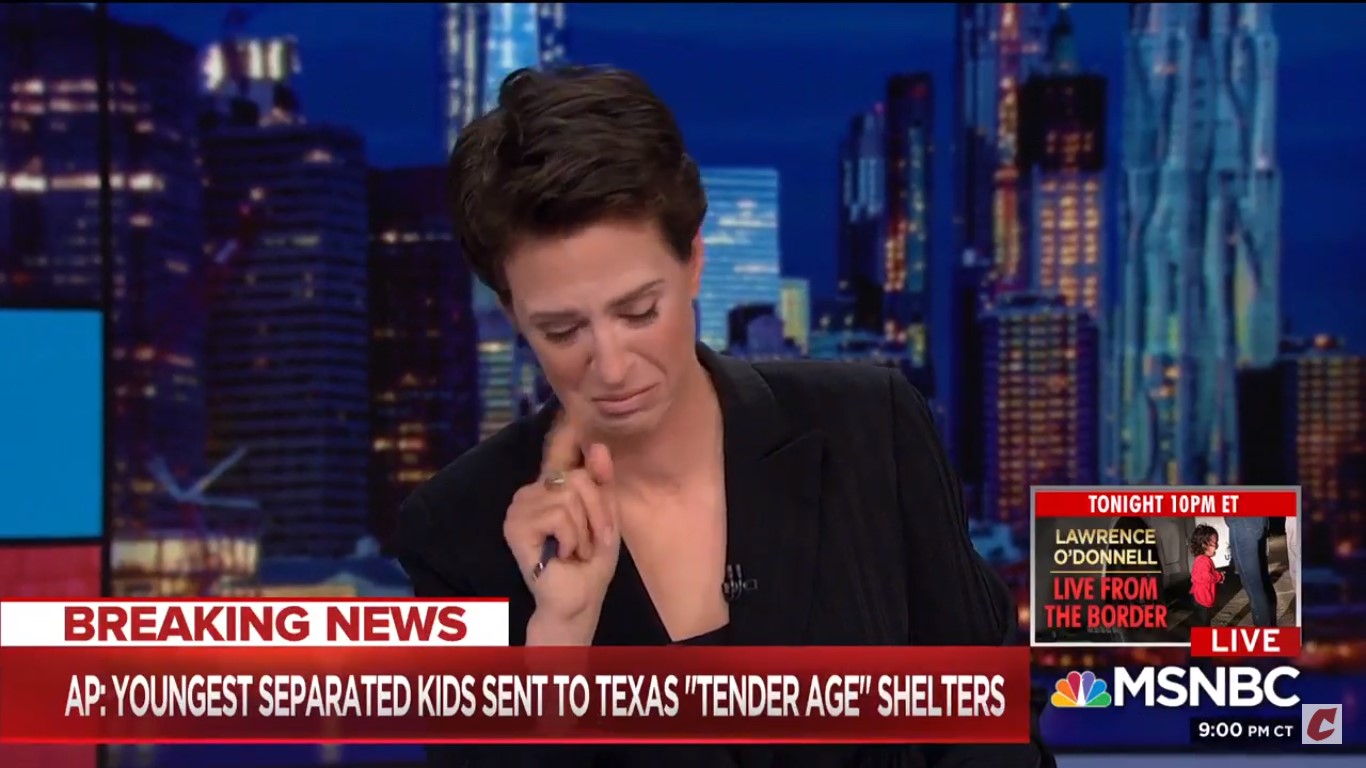 Normally, MSNBC anchor Rachel Maddow is unflappable, even during the most horrific news events. That is why what occurred Tuesday night is remarkable.
At the end of her broadcast, Maddow was handed an Associated Press report that the Trump administration has been "sending babies and other young children forcibly separated from their parents at the U.S.-Mexico border to at least three "tender age" shelters in South Texas."
So, yeah, unaccompanied babies and toddlers, having just been ripped from their parents, are being sent to jails. There's no other way to describe it.
"Lawyers and medical providers who have visited the Rio Grande Valley shelters described play rooms of crying preschool-age children in crisis," the AP report noted. "The government also plans to open a fourth shelter to house hundreds of young migrant children in Houston, where city leaders denounced the move Tuesday."
The news apparently hit Maddow like a ton of bricks, and she was unable to maintain her composure on air. Eventually, she asked that a graphic be shown so viewers could read it on their screen. Unfortunately, it wasn't available and she tried to read the rest of the report, all with tears in her eyes and her voice wavering. She was unable to finish it.
"I think I'm going to have to hand this off," an emotional Maddow told her control room.
Tossing it over to Lawrence O'Donnell, she quickly went through her closing rap before waving off to her colleague, letting him know that she was done and couldn't go on any further.
Minutes after her broadcast, Maddow took to Twitter to apologize for her inability to get through the devastating report on air.
Ugh, I'm sorry.

If nothing else, it is my job to actually be able to speak while I'm on TV.

What I was trying to do — when I suddenly couldn't say/do anything — was read this lede:

1/6

— Rachel Maddow MSNBC (@maddow) June 20, 2018
All from this Associated Press story that broke while I was on the air tonight, but which I was unable to read on the air:https://t.co/2VBLTVxvQq

Again, I apologize for losing it there for a moment. Not the way I intended that to go, not by a mile.

— Rachel Maddow MSNBC (@maddow) June 20, 2018
Now, compare and contrast Maddow breaking down in tears to the news that babies are being imprisoned by our government to one-time Trump campaign manager Corey Lewandowski mockingly saying "womp womp" a couple hours earlier when a guest mentioned the report of a 10-year-old girl with Down Syndrome being separated from her mother.
Lewandowski, as of this publication, has not apologized for his remarks.
Watch the clip above, via MSNBC.