Geraldo Blows Up On Hannity And Guest Over Migrant Child Crisis: 'This Is Child Abuse!'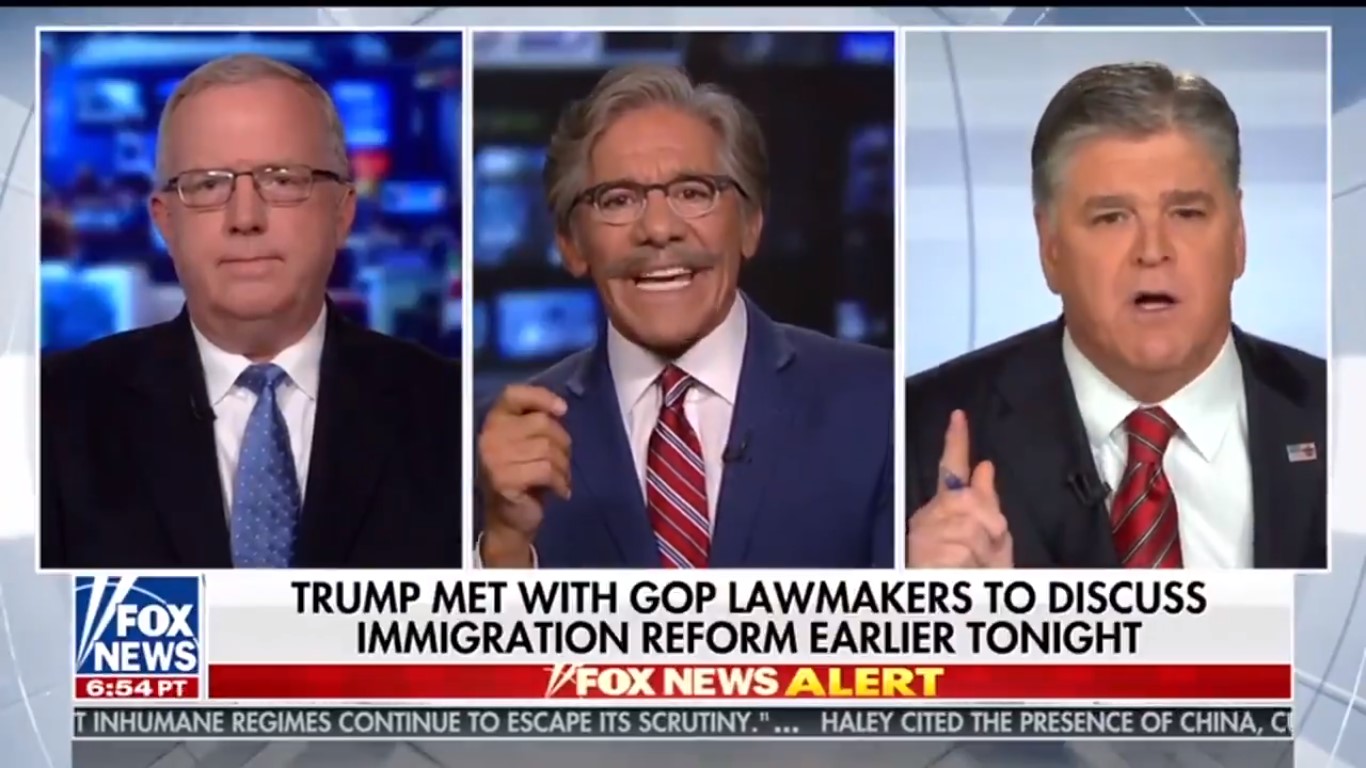 At roughly the same time the Associated Press was dropping its report that the Trump administration was sending migrant babies and toddlers that had been separated from their parents to detention facilities known as "tender age shelters," Fox News' Sean Hannity was hosting a panel discussion on the humanitarian crisis. It ended with friend, colleague, and fellow Trump supporter Geraldo Rivera blasting both Hannity and fellow panelist, Judicial Watch's Chris Farrell.
With Hannity predictably parroting the Trump administration's talking points that Democrats in Congress could end the "zero tolerance" policy that has resulted in the separation of children from their parents if they just worked with Trump on immigration, Rivera pushed back.
"The Republicans are the party of faith and family," Rivera exclaimed. "When did we become the party of child abuse!?"
While things were heated between Hannity and Rivera, it was when Farrell jumped in when things really broke down. The Judicial Watch guy claimed that the "demagoguery and virtue posturing are repulsive," referring to the outrage expressed across the political spectrum over the breaking up of families and detention of children. He then claimed that Rivera and others were being "hysterical," which set the Fox News correspondent off.
On FOX News, Chris Farrell from Judicial Watch defends the Trump Administration family separation immigration policy:
The demagoguery and virtue posturing are repulsive.

Geraldo Rivera fires back after Farrell accuses him and others of being hysterical. pic.twitter.com/1RU0NJh7ia

— Contemptor (@TheContemptor) June 20, 2018
"This is not hysterical!" Rivera shouted. "This is not hysterical! This is child abuse! How dare you?! How dare you?!"
Hannity interjected, saying he wanted to "reason with his friend" while Farrell told Geraldo that this all centered on criminals exploiting children. Meanwhile, Hannity asked Rivera he would support an emergency session of Congress so they could pass a compromise deal that would include funding for the wall and DACA protections. Rivera shot back that Trump could end this policy tonight.
As the segment came to an end, Rivera got one last parting shot at Farrell.
"You know just because you don't have sincere emotions, don't say I don't!" Geraldo exclaimed while pointing a finger Farrell's way.