John Oliver Tears Into Sean Hannity For Pushing The 'Sh*ttiest Conspiracy Theory Ever'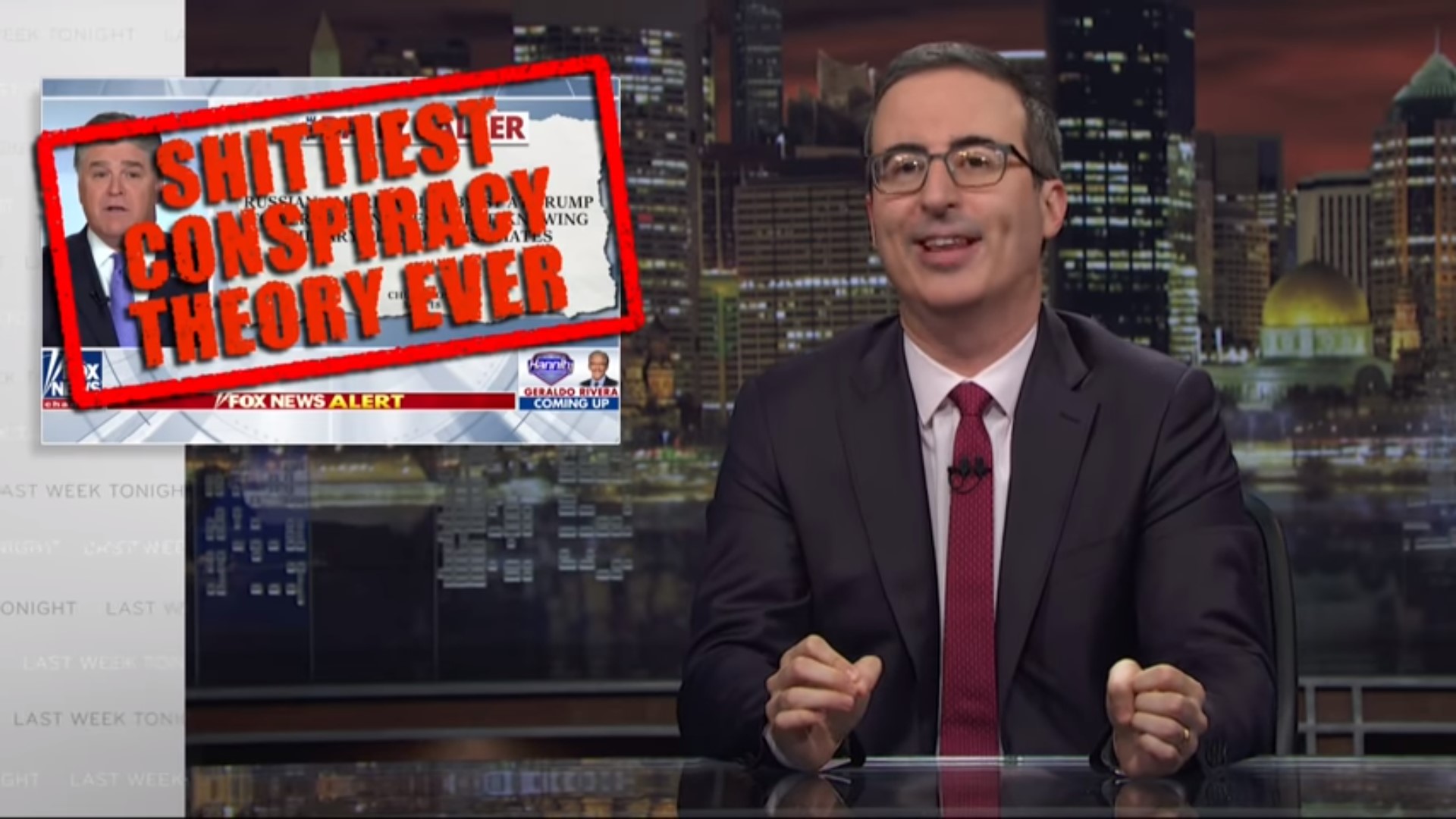 Since Special Counsel Robert Mueller was appointed to investigate Russian election meddling and any ties to the Trump administration, Fox News' Sean Hannity has made it his mission to undermine the probe while simultaneously building up a counternarrative that Trump supporters can embrace and disseminate. Since last May, the conservative commentator and White House shadow chief of staff has devoted hundreds of segments to slamming the investigation and hammering away at the mainstream media's coverage of the Russia probe.
During his Sunday broadcast of Last Week Tonight, HBO's John Oliver decided to give us an update to what he has called "Stupid Watergate," this time focusing on how the opinion/entertainment side of Fox News is using straight-up propaganda techniques to convince its audience that Mueller's investigation is nothing more than a "witch hunt" perpetrated by the Deep State.
Framing the segment within the context that more and more American voters are now saying the probe should be shut down, Oliver pointed to Hannity and other pro-Trump voices at Fox as a major reason the public has become less supportive of the investigation. The comedian highlighted three main tactics — redefine, whataboutism, and counternarrative — that Hannity and Co. have used to muddy the waters and make their viewers more likely to believe there is a malevolent conspiracy to take down the president.
After noting that Fox News' sycophantic hosts have redefined the terms of the Mueller probe by saying it is about finding collusion even though the word "collusion" isn't found in Mueller's appointment letter, Oliver went on to point out how much Hannity utilizes whataboutism in his broadcasts.
"Hannity's point there is that other people did bad things so Trump's bad things don't count," Oliver explained. "And let me be clear on this — Whether or not someone else did something shitty has no bearing over whether you did something shitty. If that were true, every movie that got a bad review could say, 'What about From Justin to Kelly?'"
Eventually, Oliver got to how Hannity has built a counternarrative in an effort to "delegitimize the investigation" by claiming it is all part of a Deep State conspiracy. As an example, Oliver brought up the Donald Trump Jr. Trump Tower meeting with a Russian lawyer to dig up dirt on Hillary Clinton, noting that we know about much of the details of the meeting because Don Jr. actually tweeted out the emails.
Oliver then highlighted how Hannity has somehow been able to twist the meeting to be a framejob by Hillary Clinton by pointing to an article that revealed a lobbyist who attended the meeting has claimed to personally know Hillary.
"So let me get this straight — you seem to be implying Hillary Clinton sent someone into Trump Tower to offer her opponent dirt on herself," Oliver exclaimed. "You know what?! Congratulations, Sean Hannity, you've officially come up with the Shittiest Conspiracy Theory Ever!"
So, say there was definitive and irrefutable evidence that showed there was coordination between the Trump campaign and the Russian government to sway the election? Would Hannity believe it? As Oliver revealed, no, no he won't.
"And by the way, if the media, if you have more proof that this is not a witch hunt, OK, I don't believe you," Hannity said in a clip Oliver played.
A stunned Oliver noted that Hannity was "basically bragging that he's proof-proof, which is a superpower that no one should want to have."
Watch the clip above, via HBO.