Hannity Backs Joy Reid: 'Her Apology Should Be Accepted' And She Shouldn't Be Fired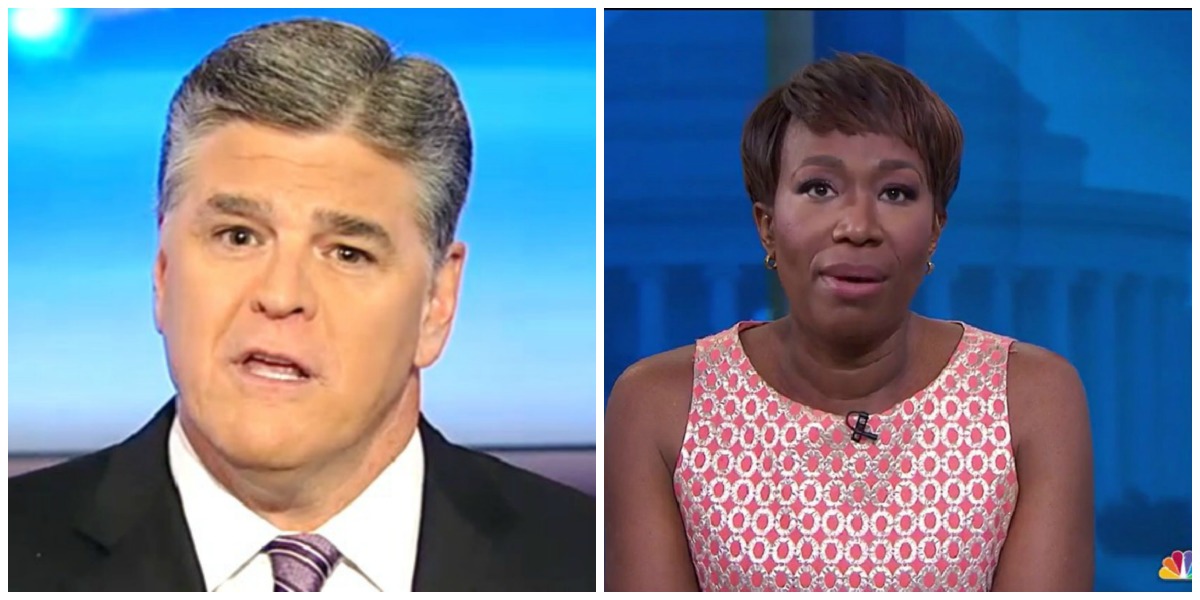 On Friday afternoon, MSNBC weekend host and rising liberal star Joy Reid broke her silence over controversial posts for her now-defunct blog that had resurfaced, apologizing for depicting John McCain as the Virginia Tech shooter and encouraging her readers to watch a 9/11 truther film. Following her apologetic statement, a strange bedfellow came out in support of her — Fox News' Sean Hannity.
Hannity, who spends much of his daily radio and television broadcasts portraying MSNBC as "Conspiracy TV," published a post on his website saying "her apology should be accepted" and she should be allowed to keep her job at MSNBC.
Framing the post within the context of TV personalities recently being scrutinized for comments they've made — Reid's old blog received renewed attention in the wake of Roseanne Barr's racist tweets — Hannity wrote it's "good to see Joy (who is no fan of mine) starting to take responsibility for her past remarks." He added that he suggests she follow up "with the groups and people who she offended, and learn from all of this."
After writing that Reid shouldn't be fired, Hannity noted that someone "needs to take the lead in cable news and stop the "crush, fire them, and destroy hosts you may disagree with" environment," humbly offering up his services to start it up as the "number one rated host in cable."
He ended his post by stating that "we have all fallen short" when it comes to forgiveness.
So will we no longer see Hannity "destroy hosts" he doesn't agree with, something he seemingly does on a nightly basis in primetime? Or will he heed the advice that he's taking the lead in dispensing?