Jake Tapper: Roseanne And Trump 'Both Regularly Traffic In Bigotry' And 'Conspiracy Theories'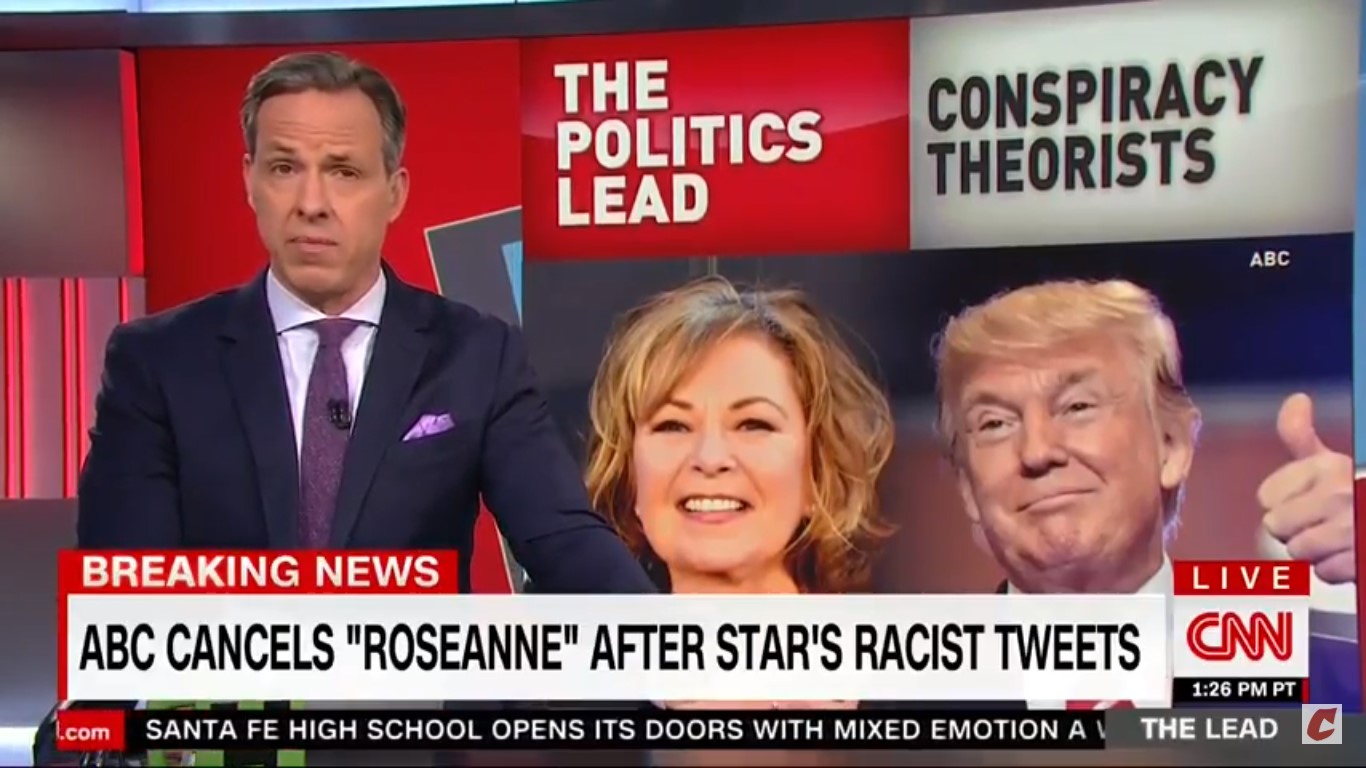 During Tuesday's broadcast of CNN's The Lead, anchor Jake Tapper compared embattled comedian Roseanne Barr and President Donald Trump, pointing out both have a tendency to use social media to spread bigotry and conspiracy theories to their audiences.
Noting that in the wake of ABC canceling Roseanne, many critics have wondered why the network even hired her in the first place due to her history of being a fringe conspiracist, Tapper explained that while it may be "uncomfortable to acknowledge," unhinged conspiracies "are now often being shared by the most powerful person in the country." With that, the CNN host highlighted President Donald Trump's latest widely-shared theory — Special Counsel Robert Mueller is going to meddle in the midterm election.
The 13 Angry Democrats (plus people who worked 8 years for Obama) working on the rigged Russia Witch Hunt, will be MEDDLING with the mid-term elections, especially now that Republicans (stay tough!) are taking the lead in Polls. There was no Collusion, except by the Democrats!

— Donald J. Trump (@realDonaldTrump) May 29, 2018
He would then bring on the New York Times' Maggie Haberman to discuss Trump's recent strategy of peddling conspiracy theories about the Mueller probe in an effort to discredit the investigation. During the discussion, he brought it back around to Roseanne, pointing out there was a connecting theme there with Trump regarding the peddling of right-wing conspiracies.
"Roseanne Barr and President Trump — there's an obvious through line here — both traffic in conspiracy theories," Tapper stated. "They both regularly traffic in bigotry. And it's unmistakable. ABC Entertainment, whatever you think of them hiring her in the first place, they did what a lot of Republican leaders aren't willing to do. They said that's it. Too much."
Haberman agreed with Tapper, stating that during the 2016 campaign other GOP candidates and politicians expressed concern that Trump would bring rise to the "kooks." But now, those same Republicans will say they need to look into the president's "wildly outlandish statements," showing how much the party has shifted towards Trump.
Watch the clip above, via CNN.