Fox's Harris Faulkner On Roseanne's Racist Tweet: 'I Don't Understand It To Be Anything Other Than Free Speech'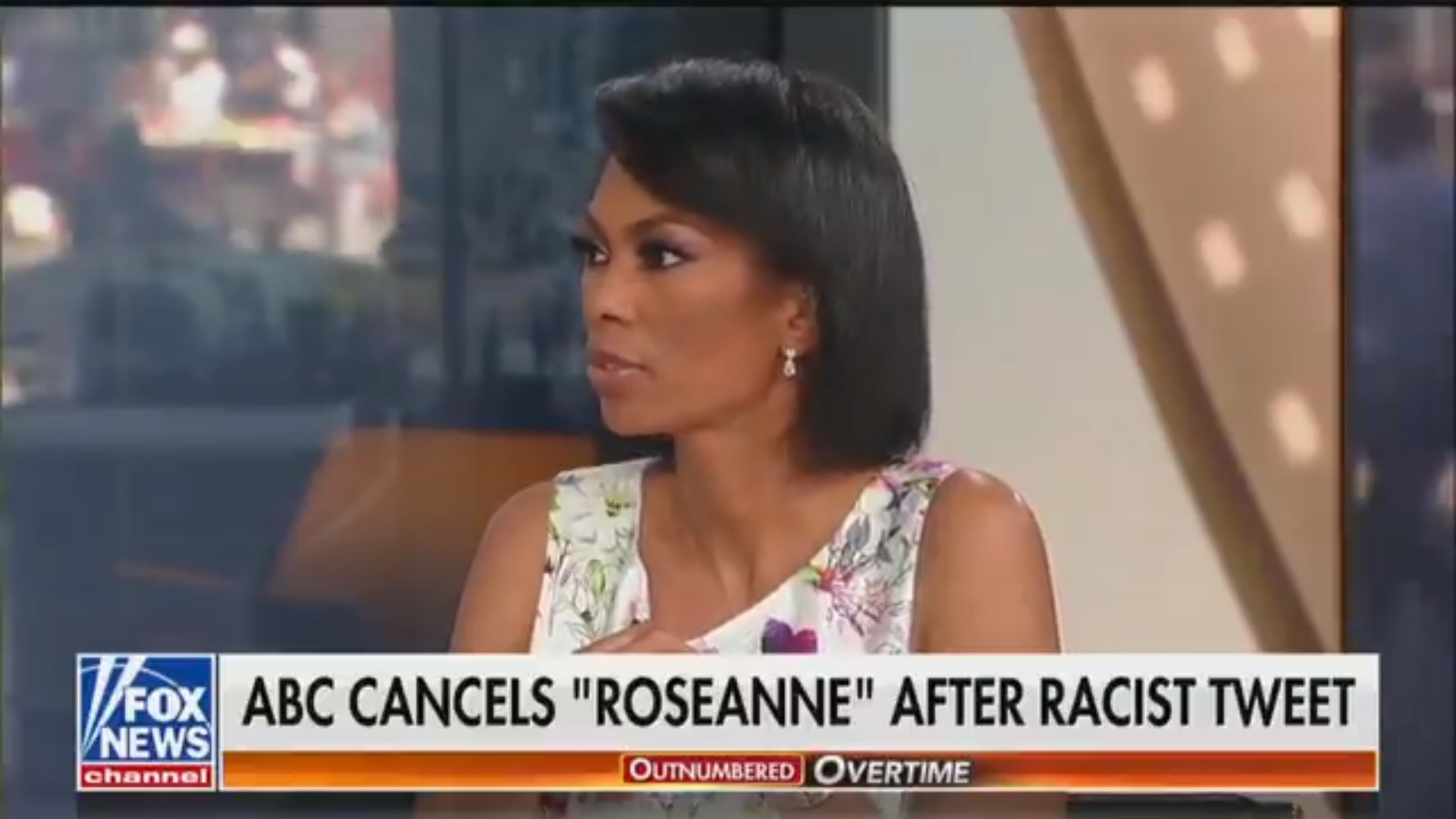 Right after ABC announced it had canceled its hit sitcom revival Roseanne after star Roseanne Barr sent out a racist tweet comparing former Obama senior advisor Valerie Jarrett to an ape, Fox News host Harris Faulkner presented Barr's comments within the context of "free speech."
Moderating a panel discussion on Outnumbered Overtime, Faulkner noted that ABC had just canceled the series. Democratic strategist Jessica Tarlov said that Barr's tweet was "racist to the nth degree," leading Republican strategist Noelle Nikpour to state that we live in "politically correct world now" and it just isn't "nice" to say things like that.
This led to the two kinda battling a bit, with Tarlov insisting that it was "racism" and Nikpour largely refusing to describe it as such, instead declaring that it was "mean-spirited" and "ugly." Faulkner then jumped in with this observation:
"I don't understand it to be anything other than free speech…It is extremely offensive but it is just that. So she says in one of her tweets — there were three rapid-fire today — 'it was a joke. It was a miscalculated joke.'"
Nikpour agreed with Faulkner, adding that Barr is a "comedian" and that she has a "very wicked, twisted sense of humor."
"Everybody knows her to be a little raunchy and a little rough," Nikpour added.
Taking the show to break, Faulkner then concluded the segment by stating that Roseanne's show had been "canceled by ABC after she put out a racist tweet."
Watch the segment below, via ThinkProgress's Aaron Rupar:
On Fox News — the network that is still very mad at Michelle Wolf! — host @HARRISFAULKNER offers this defense of Roseanne's racist tweets: "I don't understand it to be anything other than free speech." pic.twitter.com/F0P4hNcbDG

— Aaron Rupar (@atrupar) May 29, 2018