Michael Avenatti Locks Twitter Account, Claims It's To 'Control' Access To 'Sensitive Info'
A day after he got into a spat with CNN political analyst Ryan Lizza after Lizza called him out for blocking him on Twitter, Stormy Daniels attorney Michael Avenatti decided to completely lock his Twitter account, meaning only those who had already followed him could read his tweets.
According to the omnipresent cable news figure, he took his social media account private in order to not just stop "bots" and "abusive trolls," but to also "control" the access to "sensitive info" that he will be releasing in the near future.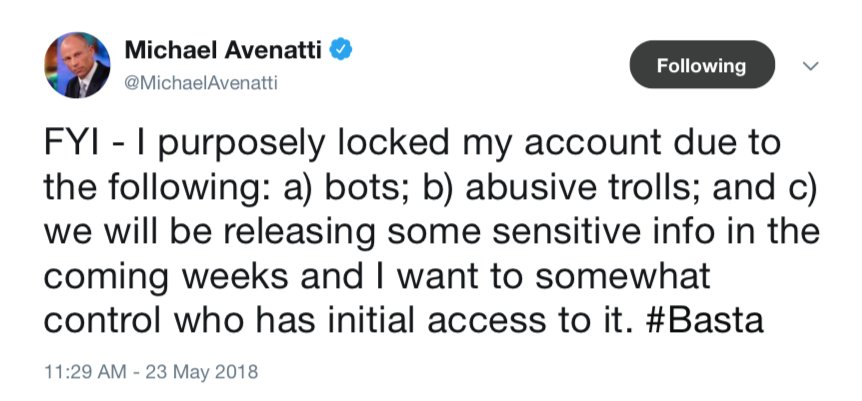 Besides getting into a tiff with Lizza, Avenatti has lashed out at reporters at numerous outlets recently over what he has perceived as unfair and defamatory coverage. He threatened to personally sue reporters at conservative news site The Daily Caller, called a Hollywood Reporter writer an "asshole" for tallying his media appearances, and trolled a Law and Crime reporter on Twitter while sending him a legal threat over a critical column.
Interestingly, Avenatti's decision to lock his Twitter account and limit access to his tweets comes one the same day that a federal judge ruled that it is illegal for President Donald Trump to block critics of his on Twitter. The judge stated that the president, as a government official, could restrict access to his Twitter account because it is deemed a "designated public forum."
Of course, Avenatti is a private citizen, so he can do whatever he wants with his Twitter account, including locking it or blocking whoever he sees fit. At the same time, as one of the most vocal (and public) critics of the president and a so-called free-press champion, one would think Avenatti would see the potential hypocrisy of this action.