Fox and Friends Guest Repeatedly Claims ESPN's Jemele Hill Is 'Unemployed' (She's Not)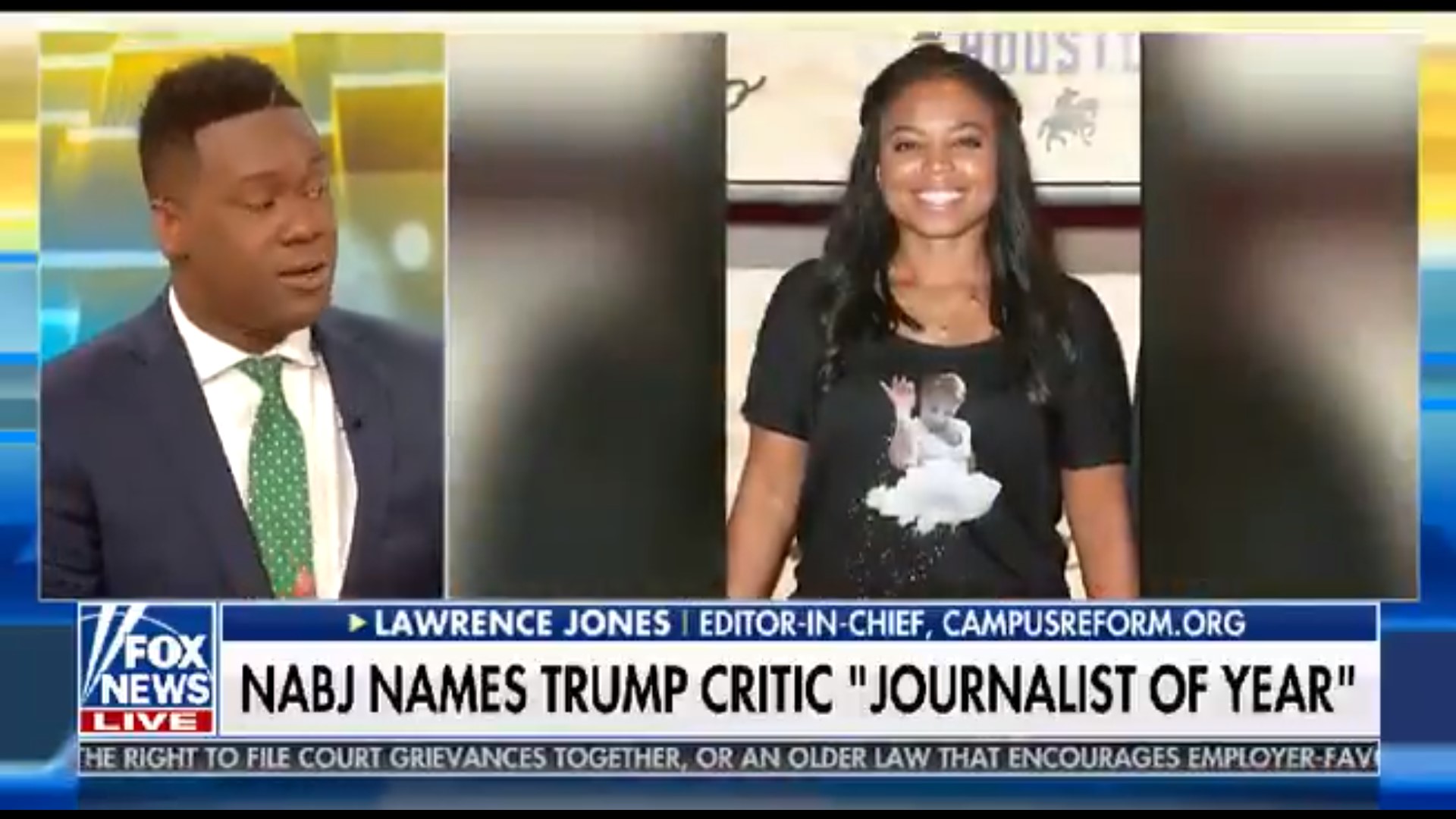 Earlier this week, the National Association of Black Journalists named ESPN's Jemele Hill the recipient of their highest honor — Journalist of the Year. The organization cited Hill using her platforms to address issues such as racism, the NFL's national anthem protests and police brutality as a key reason for their decision to give her the award.
Naturally, considering Hill's highly critical stance towards President Trump, this announcement was met with sneers from conservatives and right-wing media. In that vein, we got Tuesday morning's Fox and Friends segment in which the hosts and guest Lawrence Jones slammed the NABJ for handing its most prestigious honor to an anti-Trump "activist." And, according to Jones, Hill apparently doesn't even have a job anymore.
This would, of course, be news to Hill, who is currently a columnist for ESPN's vertical The Undefeated and utilized as a contributor on numerous programs.
"Lawrence, I always thought journalists broke stories," co-host Brian Kilmeade asked Jones. "She has commentary. Whether you agree with it or not, that's a brand new nuance to that category."
Jones, who is the editor-in-chief of outrage factory Campus Reform, noted that "the bottom line is that she's unemployed from hosting her own TV show," referencing Hill's departure from SportsCenter earlier this year. The frequent Fox guest added that "this is not something we should be promoting."
"I want people that look like me, people that looked up to her, to have someone on TV that is going to — forever show them that they can do it," Jones declared. "Now she can't do that. Now she's unemployed. The National Black Association of Journalism is literally saying now, 'we're going to applaud unemployment,' and that's not something I stand for."
Later in the conversation, Jones stated that Hill no longer had a "platform" to address cultural issues, obviously ignoring not only her column space and regular ESPN on-air contributions, but the fact that she has a huge social media presence.
"I want to, if I had a little girl, to say, hey, if she wanted to go into sports, she could look up to Jemele," Jones concluded. "Well, there is no Jemele anymore."
Following the segment, Hill responded to Ainsley Earhardt's tweet — which was quickly deleted — promoting Jones' remarks, letting her followers know that she was not unemployed.
"(NABJ) is celebrating unemployment." 😂😂😂😂😂😂😂

I'm not unemployed, people. I left ONE show. But thank you guys for giving me my laugh of the day. I needed this. https://t.co/ux1xh15NEx

— Jemele Hill (@jemelehill) May 22, 2018
Hill followed that up with a couple other tweets in which he had fun at Jones' expense.
Well I had a good run. https://t.co/goUUJkW18Y

— Jemele Hill (@jemelehill) May 22, 2018
Thanos snapped his finger and took me clean out https://t.co/SXsPerPwtO

— Jemele Hill (@jemelehill) May 22, 2018
UPDATE: Fox and Friend's Twitter account issued a correction, noting that Jones erroneously said Hill was unemployed.
On the show this morning a guest stated Jemele Hill was unemployed. Correction: Hill is currently employed by ESPN.

— FOX & friends (@foxandfriends) May 22, 2018
Watch the clip below, via Fox News.
.@espn's anti-Trump @jemelehill named NABJ's 'Journalist of the Year' @LawrenceBJones3 weighs in on @foxandfriends. What do you think? pic.twitter.com/9LnJg6dMmH

— Ainsley Earhardt (@ainsleyearhardt) May 22, 2018