Pro-Trump Pastor: Just A 'Figure Of Speech' When I Said All Palestinians Want To Slaughter Jews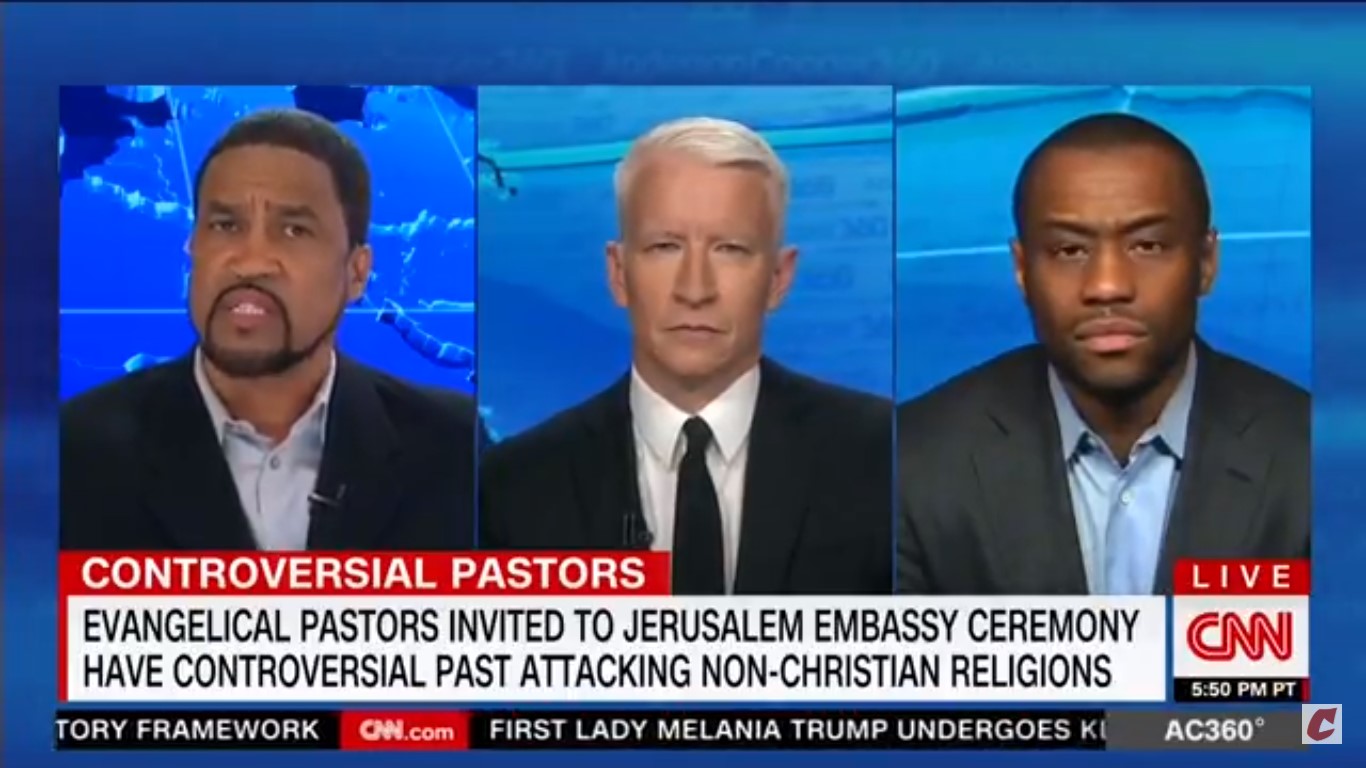 During a Monday night CNN panel discussion on the controversy surrounding a pair of evangelical leaders who delivered blessings at the opening of the US Embassy in Jerusalem, Pastor Darrell Scott found himself backtracking at the end when he definitely declared that Palestinians and Muslims in general want to eradicate Israel and slaughter "every single Jew."
Debating with liberal political commentator Marc Lamont Hill, the pro-Trump preacher agreed with Hill that when you "look at anti-Semitism in the United States, and in Europe, it is often animated by people who purport to be Christians." But Scott didn't endorse Hill's observation that some of these Christian religious narratives help contribute to Israel's oppression of Palestinians.
"I don't see it as persecuting," Scott said. "If it was up to the Palestinians, every single Jew in Israel would be slaughtered. If it was up to Israel, it would be peaceful co-existence."
Mind you, Scott said this on a day when dozens of demonstrating Palestinians were shot dead by Israelis, and over two thousand were injured.
"Let's not get it twisted," Scott continued. "The goal of Judaism is not to wipe out Islam. The goal of Islam is to wipe out Israel. And you can't say that Israel is persecuting Palestinians simply because they're protecting themselves."
"Reverend Scott, you said that all Palestinians want to wipe out all Israelis," anchor Anderson Cooper said in response. "Do you stand by that?"
Scott explained that he only meant it in a "limited sense" and that it was merely a "figure of speech." This caused Cooper to note that the pastor also said all Muslims wanted to destroy Israel.
The good reverend replied that there is a "faction" of Muslims that want to "completely and totally remove Israel's presence from Jerusalem and from Israel." He then ended by saying he's not "denying the reality" of the discriminatory practices against Palestinians, but instead just thinks it is something they need to work out between themselves.
Watch the clip above, via CNN.