Fox's Pete Hegseth Dings Media (Again) For Not Covering ISIS Story, Doesn't Mention His NYT Gaffe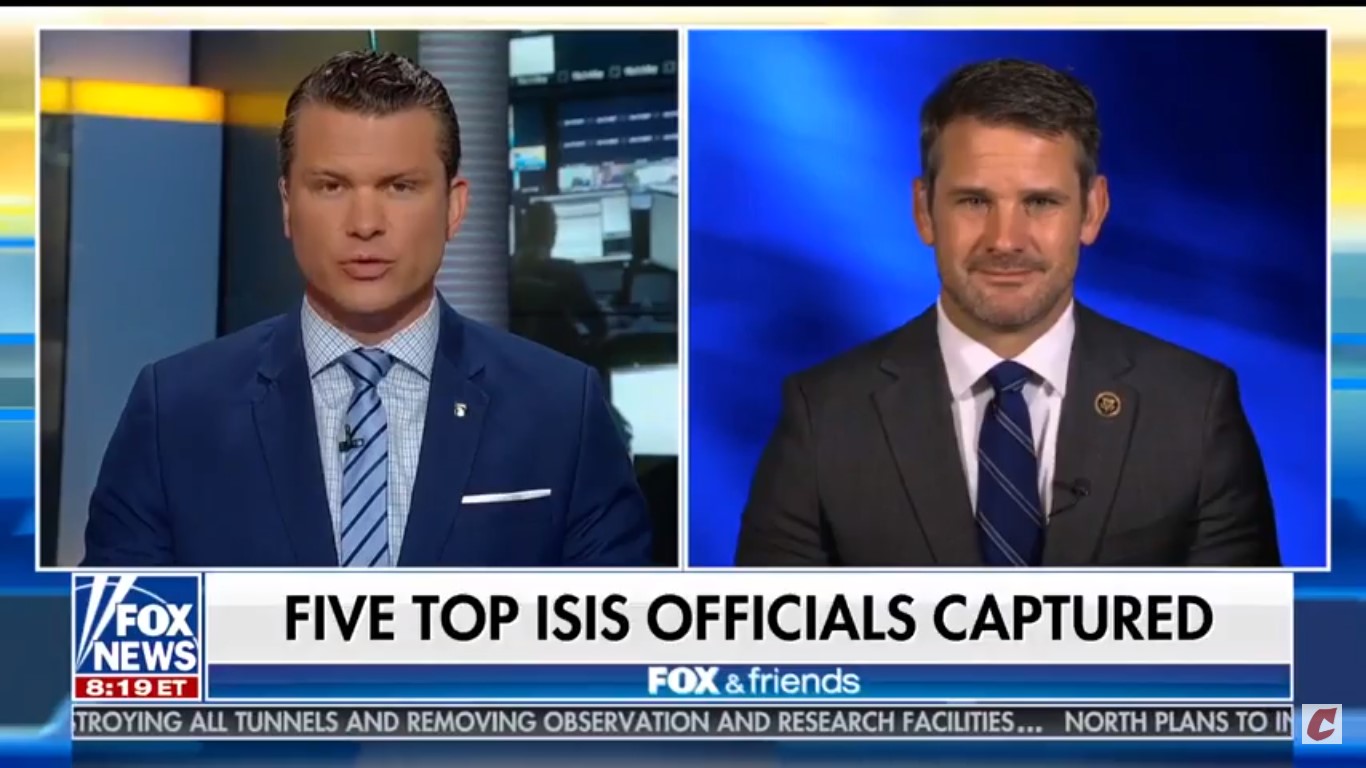 During a Sunday morning interview with Rep. Adam Kinzinger (R-IL), Fox & Friends co-host Pete Hegseth once again took aim at mainstream media outlets for providing scant coverage of last week's report that five senior ISIS officials had been captured in a joint Iraqi-American sting operation. In doing so, Hegseth conveniently left out that he previously attempted to ding the New York Times for not reporting on the story that the paper first broke.
Just to recap. Back on Friday, the F&F crew brought up the president's Thursday morning tweet declaring that "Five Most Wanted leaders of ISIS just captured!" Hegseth then noted on air that he flipped through that morning's print edition of the "Failing New York Times" and explained that he did not see it in there. Of course, the reason it wasn't in Friday's edition is that the paper was the first to report on the capture, posting it online Wednesday night and featuring it in its Thursday print edition.
Fast forward to Sunday morning and Hegseth was again beating the drum of media bias over the ISIS story.
"As a veteran of Iraq and Afghanistan you'll appreciate this," Hegseth told Kinzinger. "Top ISIS commanders were captured by Iraqi and US forces, but some in the media barely seemed to notice. In fact, a couple of nightly news shows, ABC, NBC when it happened gave zero minutes to the actual coverage."
He continued, "Now other places have covered it. There hasn't been a whole lot of emphasis. So it's one thing to mention it as a news item, it's another thing to talk about we've dismantled this terror group and captured five of its top leaders. What do you make of the sort of overall lack of coverage about it?"
After Kinzinger said stories like that take away from the "palace intrigue" ones the networks want to cover, Hegseth took a shot at Fox's competitors, saying it interrupts their "regular programming of Resistance."
This segment offered up a perfect opportunity for Hegseth to update his viewers and note that he erroneously mocked the Times for failing to cover a story it broke. Yet, Hegseth decided not to take advantage of that opportunity to deliver a mea culpa and instead continued to beat the drum of Liberal Media Bias from the Destroy Trump Media.
Oh well. Maybe next time.
Watch the clip above, via Fox News.