Seth Meyers: Trump Wanted Me To Publicly Apologize For Making Fun Of Him At WHCD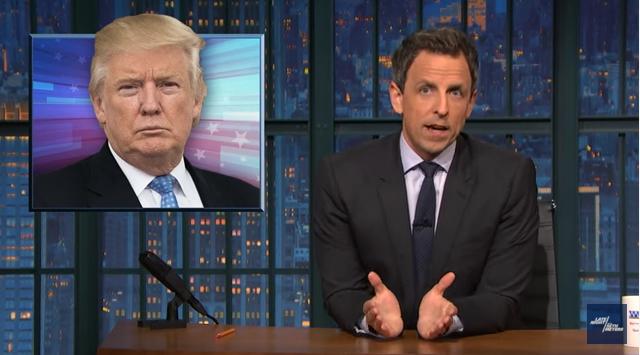 Remember back in 2011 when Late Night host Seth Meyers and President Barack Obama tag-teamed on then-Apprentice host Donald Trump during the White House Correspondents' Dinner, ruthlessly mocking business mogul to the point that Trump used the episode as revenge fuel to spark his ultimately successful 2016 presidential campaign? Of course you do.
In a recent interview with Politico, Meyers noted that he attempted to bring Trump on to his show months after Trump announced he was running for president. The then-GOP candidate refused to make an appearance unless Meyers did something. What was that? Took the knee and said he was sorry, that's what.
From Politico's write-up of the podcast interview:
"Trump, Meyers told me in an interview for POLITICO's Off Message podcast, started out receptive to appearing on "Late Night," but the conversation ended once Meyers refused a demand Cohen relayed that was non-negotiable to Trump: He wanted Meyers to go on air and publicly apologize for making fun of Trump at the dinner four years earlier.
Neither a White House spokesman nor Cohen responded when asked what happened."
During the infamous dinner that eventually brought us a Trump White House, Meyers needled Trump for thinking about jumping in the 2012 race by saying Trump would be "running as a joke." There were also obvious jabs at Trump's hair.
It's apparent that seven years later, the dinner still eats at Trump. Following Michelle Wolf's raunchy set in which she took aim at White House Press Secretary Sarah Huckabee Sanders while calling the absent Trump a "pussy," the president brought up Meyers in his tweet condemning Wolf.
The White House Correspondents' Dinner was a failure last year, but this year was an embarrassment to everyone associated with it. The filthy "comedian" totally bombed (couldn't even deliver her lines-much like the Seth Meyers weak performance). Put Dinner to rest, or start over!

— Donald J. Trump (@realDonaldTrump) April 30, 2018