Joy Reid Is MSNBC's Sean Hannity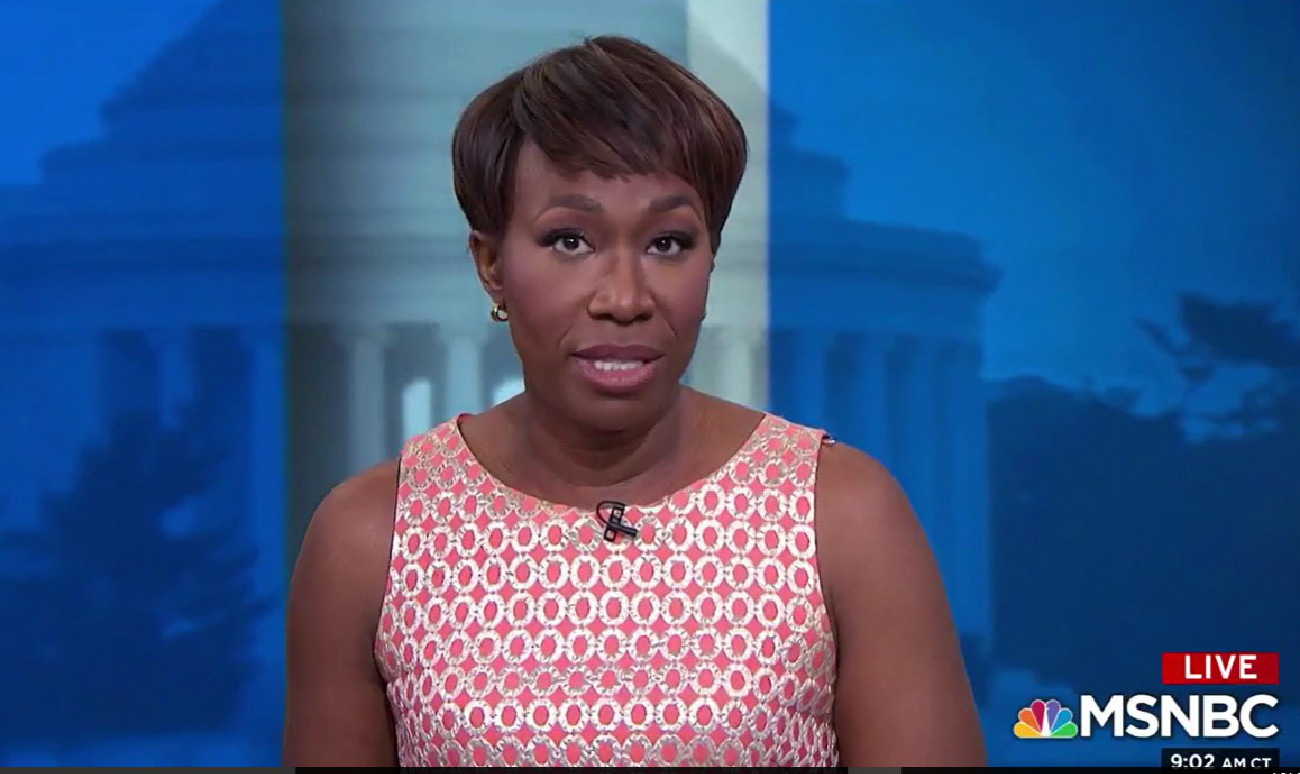 It has been nearly a week since MSNBC host Joy Reid took to the air to address the controversy over homophobic posts that had been unearthed from her now-defunct blog The Reid Report. Prior to that Saturday morning broadcast of AM Joy, Reid had claimed that the posts had been "fabricated" by an "external party" to "include hateful and offensive references." She also noted that she was working with a cyber-security expert and had contacted law enforcement about the issue.
By the time she delivered her emotional monologue, though, it had become apparent to the majority of observers that no hacking had taken place. Her security consultant's methodology and findings had been blown apart, and he announced he'd no longer talk to the press. And this was something she acknowledged in her opening remarks to her viewers. All while still maintaining that she genuinely didn't believe she had written them.
Following her quasi-apology — Reid said she was sorry for old tweets she sent and for views she had held in the past — and a lengthy discussion on LGBT issues in which the panelists mostly let her off the hook on her hacking claims while commending her for taking ownership, Reid was met with widespread adulation from her colleagues and prominent liberals. MSNBC megastar Rachel Maddow, who was a target of some of the resurfaced posts, tweeted that she had "never been prouder to work with [Reid] than I am now."
And that, as they say, was that.
Prior to Reid hitting the air, an MSNBC spokesperson had told Contemptor that regarding the situation with Reid, the host's team had brought the matter to law enforcement and the network was letting that process play out. Reid's lawyer would also state that the FBI was looking into "potential criminal activities" revolving around Reid's blog. But after Reid's Saturday broadcast and the circling of the wagons that resulted, a network source told us that MSNBC executives remained supportive of Reid and were pleased with her statement. They also noticed the praise Reid had received for addressing the issue.
MSNBC has publicly stayed mum about this whole ordeal. But we can all see that they just want this to fade away into oblivion. The hope appears to be that by Reid apologizing for some of the things she said and written in the past while carving out airtime for an open discussion on LGBT matters is enough to shut the door on the whole bizarre saga. But that is the thing. The real controversy surrounding all of this actually hasn't been settled. And the message that's being sent is that if you are a big enough star with a fervent fanbase, then you can get away with deception and duplicity.
Just a few weeks ago, MSNBC hosts and commentators were lighting up Fox News and top-rated host Sean Hannity following the bombshell revelation that Hannity was Trump attorney Michael Cohen's secret third client. Hannity was mentioned dozens of times on MSNBC shows right after the Cohen relationship came to light, with much of the discussion revolving around Hannity's failure to disclose Cohen was his lawyer as he devoted coverage to tearing onto the FBI's raid of Cohen's office and home. Meanwhile, Fox News stood by their host, stating they were "surprised" by the announcement but they "reviewed the matter and spoken to Sean and he continues to have our full support."
And that is what makes this whole Reid thing so obnoxious. While folks on MSNBC, as well as Reid's core group of #Resistance viewers, were wagging their fingers at Hannity for lacking journalistic ethics and shaking their heads at Fox News for letting him get off scot-free, they've decided that Reid should be left alone. The feeling now is that since Reid expressed regret over past views — while still not owning up to the worst posts on her old blog — and that she is currently a trustworthy ally of the LGBT community, she should be given a pass.
And thus we see the rank hypocrisy at play here. Because her loyal viewers are standing by her, and she is bringing the network good ratings during the weekend, MSNBC is content not to address this matter. Especially as Reid is only on the air Saturday and Sunday and they can choose not to utilize her as a guest on its weekday programming, all as they 'await' the FBI to conclude its investigation.
Presented without comment: the MSNBC PR account (@MSNBCPR) tweeted and then deleted this pic.twitter.com/9lenyPvv2T

— Jeremy Barr (@jeremymbarr) April 30, 2018
The thing is, the issue was never about old blog posts full of gay jokes and homophobia that look particularly galling a decade-plus later. No, all it would take for Reid to have made this a one-day story was for her to say she was sorry and that it doesn't represent her views now. Case closed. Move on.
But instead, she pushed a ludicrous hacking story and held tight to it. Worse, knowing that one couldn't 100% prove that she absolutely wrote the posts — though all rational evidence points to her being the author — Reid is able to say she honestly doesn't remember writing the posts and her adherents will believe her. The folks that tune into her program will loyally defend her while proclaiming that skeptics and critics should focus on more important issues. Liberal pundits and politicians who have embraced and befriended her will continue to close ranks around Joy.
Reid sweeping this all under the rug and treating her program — a show in which she tends to call out conservative media and politicians for hypocrisy — the same as before will expose her as a puerile hack, a la Hannity. She'll be ensconced in a safe space while lobbing out criticism, all while not taking responsibility for her own shortcomings. And MSNBC's credibility as a news network will take a hit as long as she's able to get away with the charade.
Joy Reid is MSNBC's Sean Hannity. And the network has ceded any moral and ethical high ground following this whole brouhaha.