Son Of GOP Presidential Nominee Directly Compares Syrian Refugees To Skittles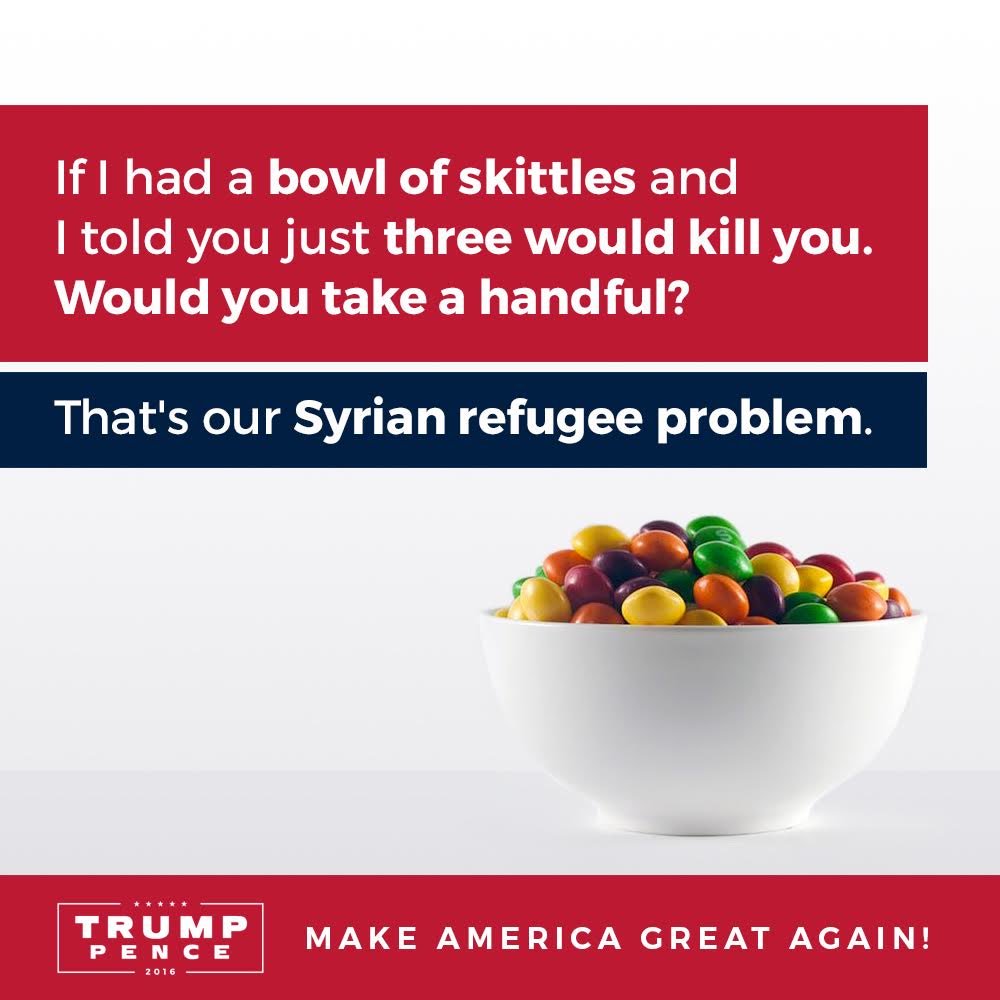 Still 50 more days of this shit.
Predictably, Republican nominee Donald Trump is using the (unrelated) attacks in Minnesota and New York to opportunistically push his "extreme vetting" policies regarding refugees, specifically those from war-torn Syria. Yep, despite the fact that neither attacker was Syrian, Trump continues to target Syrian refugees because he feels they are a "Trojan horse" who will bring in terrorists.
We've played this game numerous times over the past few months, starting with San Bernardino and continuing through Orlando. (Neither of those incidents involved Syrian refugees, with two of the three assailants having been born in the United States.) And we will hear more about this in the debates and on cable news from Trump over the coming weeks.
On Monday night, as his father was railing against refugees, Muslims and calling for mob justice to be implemented on NYC suspect Ahmad Khan Rahami, Donald Trump Jr. sent out the following tweet in which he compared people to pieces of candy:
This image says it all. Let's end the politically correct agenda that doesn't put America first. #trump2016 pic.twitter.com/9fHwog7ssN

— Donald Trump Jr. (@DonaldJTrumpJr) September 19, 2016
Immediately, the tweet was mocked and derided, not only for its inhumanity, bit also for its general stupidity.
This image says it all. In 1939 900 Jews on ship fm Nazi Germany to USA were sent back. 25% died in Holocaust. Not skittles @DonaldJTrumpJr pic.twitter.com/vbvQMFYquF

— Malcolm Nance (@MalcolmNance) September 20, 2016
When Skittles sends its ppl, they're not sending their best. They're sending purple. They're rapists. And some I assume are red too.

— Alex Seitz-Wald (@aseitzwald) September 20, 2016
If I had a basket of deplorables and I told you just three weren't xenophobic douchebags, would you throw these Skittles at all of them? pic.twitter.com/t72Dfxzooo

— shauna (@goldengateblond) September 20, 2016
also more skittles will kill us when Trump deregulates the food safety infrastructure per his campaign

next it will be Starbursts

— Jason Linkins (@dceiver) September 20, 2016
Oh and human beings fleeing oppression and terror aren't skittles. https://t.co/wXK24wvurK

— John Legend (@johnlegend) September 20, 2016
Perhaps the worst thing about all of this is that this was  put together by someone at the Trump campaign. They actually thought this would make a good meme, a good campaign ad. Comparing people who are dying, who are starving, who are feeling absolutely hopeless right now…to rainbow colored candy.
OK then.