Bobby Kennedy's Daughter Outs George H.W. Bush, Says He's Voting For Hillary Clinton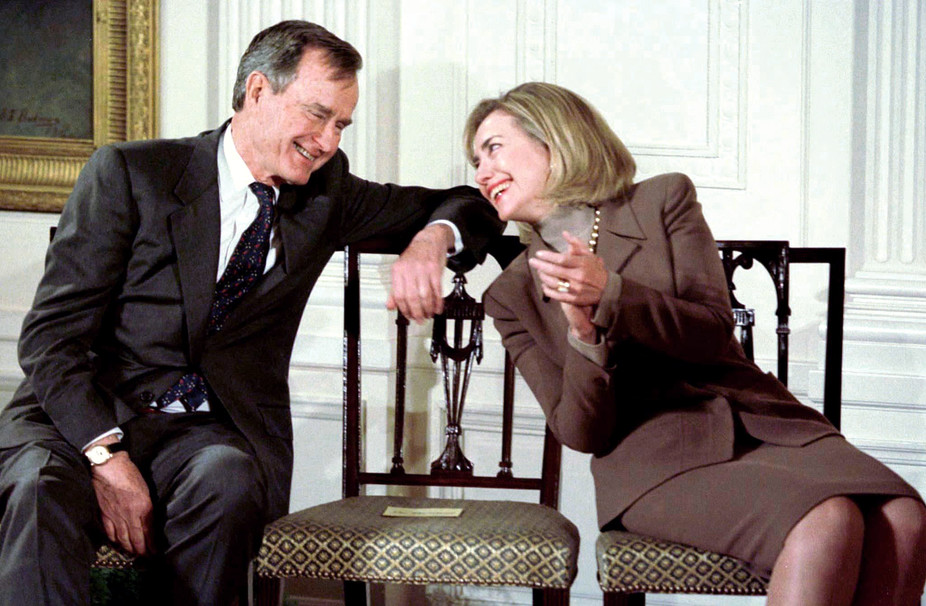 Late Monday evening, Politico's Darren Samuelsohn broke the news that the 41st President of the United States, 92-year-old Republican George H.W. Bush, would break ranks with the GOP and vote for Hillary Clinton in this year's election.
Samuelsohn got the scoop from a Kennedy of all people. Kathleen Hartington Kennedy Townsend, ex-lieutenant governor of Maryland and daughter of Bobby Kennedy, had recently spent time with Bush in Maine. During their visit, she says he told her his preference for Clinton. She later posted a photo to her Facebook page claiming he was voting for Hillary.
Bush's spokesman Jim McGrath gave Samuelsohn a non-denial via email:
"The vote President Bush will cast as a private citizen in some 50 days will be just that: a private vote cast in some 50 days. He is not commenting on the presidential race in the interim."
Which pretty much reads as, yeah, Poppy Bush is with her.
Of course, considering the way GOP nominee Donald Trump treated his son Jeb during the Republican primary while claiming his other son may have been part of an inside job on 9/11, it seemed fairly obvious that Bush wasn't going to be too eager to jump aboard the Trump Train. (Neither Jeb nor Dubya has endorsed or said they'd vote for him.) The two former Bush presidents also skipped out on the Republican National Convention.
At the same time, numerous ex-Bush I and II aides and staffers have come out to fully endorse Hillary Clinton. And it is known that Bill Clinton and H.W. get along pretty well and spent increasing time together in recent years.
Now we wait for the inevitable Trump mean tweet in which he calls the senior Bush a loser who was a disaster for the country.
Image via Washington Post