Hannity Can't Stop, Won't Stop Slap Fighting With #NeverTrump Conservatives On Twitter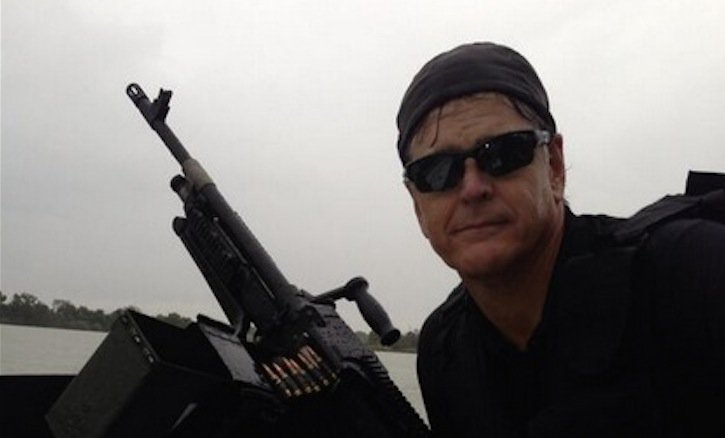 Over the past few weeks, Fox News' Sean Hannity has involved himself in all-bark/no-bite fights with conservatives who have been highly critical of both him and Donald Trump. His public whining started in earnest last month when he went after the Wall Street Journal's Bret Stephens for ridiculing his never-critical coverage of Trump and constantly doing the GOP nominee's bidding. It seemingly hit its crescendo earlier this month when he mean-tweeted National Review's Jonah Goldberg.
That is until Saturday night, when Hannity simultaneously enjoyed a Rascal Flatts concert and drunk tweeted Goldberg's colleague Rich Lowry.
Lowry, who is an editor of the conservative mag, wrote an article in Politico that highlighted Hannity's switching positions on Julian Assange, the founder of WikiLeaks. Two years ago, Hannity slammed Assange for leaking state secrets and wanted the Obama Administration to capture him for espionage. Now, he loves Assange because he published the DNC hacks (that almost certainly came from Russia).
The enemy of my enemy (or more properly, my domestic political opponent) can still be a reprehensible creep, and that's what Assange is.
But Sean Hannity of Fox News has a newfound soft spot for the accused rapist and scourge of America. A couple of years ago, Hannity tore into the Obama administration for not doing more to capture the WikiLeaks founder, and sympathized with the contention that Assange was the equivalent of a terrorist. Now, the host says he was "conflicted" about Assange back then, and he had qualms about his work only because "I believe in privacy."
This makes it sound as though WikiLeaks published a Hulk Hogan sex tape. Instead, Assange dumped, among other things, what the Defense Department called "the largest leak of classified documents in its history." Hannity was outraged a few years ago that the leaks potentially endangered U.S. allies in Afghanistan — the Taliban vowed to track down named U.S. informants — but now hails Assange for exposing "how corrupt, dishonest and phony our government is."
After Lowry posted a link on Twitter, Hannity went on a tweetstorm claiming Lowry was misrepresenting his positions on Assange. He said he was just concerned about Assange in the past regarding him possibly exposing agents and methods but always supported transparency. He further called the National Review a Hillary Clinton enabler due to many of the publication's writer holding a #NeverTrump position.
Rich, if u re going to write about my positions at least get them correct, although NRO is HRC's #1 enabler. https://t.co/G2F97ds6CS

— Sean Hannity (@seanhannity) September 10, 2016
Hannity would then proceed to do his same tired act — telling Lowry that he would hold him PERSONALLY RESPONSIBLE for Clinton's Supreme Court picks and the continuance of Obamacare if Trump loses.
My last point Rich NRO's daily sabotage of DT is aiding HRC. If she wins, YOU too own her Supreme Court appointments https://t.co/G2F97ds6CS

— Sean Hannity (@seanhannity) September 10, 2016
YOU own her refugees, her open borders, Obamacare, CC education, tax increases, energy dependence. YOU OWN IT!! https://t.co/G2F97ds6CS

— Sean Hannity (@seanhannity) September 10, 2016
The fight would continue later on in the evening, with Hannity getting super pissed that Lowry called him out for parroting everything Trump says.
Rich I don't need lectures from U or @JonahNRO On how u justify helping HRC. NRO owns @HillaryClinton #pathetic https://t.co/2aucTNt3w9

— Sean Hannity (@seanhannity) September 11, 2016
Now u lie like HRC. I support his SC justices, extreme vetting, wall, energy, tax and education policies. NRO=HRC https://t.co/k7cPK2cpLp

— Sean Hannity (@seanhannity) September 11, 2016
NRO FOR HILLARY ONLINE!! https://t.co/2ut2nSW7sL

— Sean Hannity (@seanhannity) September 11, 2016
At one point, Business Insider's Josh Barro noticed Sean was posting these tweets while at a concert, which led to mockery from others realizing Hannity was likely drinking.
Wait, Sean Hannity is posting all these MAD ON TWITTER tweets while he is at a concert? hahahahahahaha https://t.co/atOSK4Sjw2

— Josh Barro (@jbarro) September 11, 2016
You know what this election needed? Sean Hannity drunk tweeting in defense of Julian Assange.

— Ben Jacobs (@Bencjacobs) September 11, 2016
VODKA SAYS TWEET LOUDER, @SEANHANNITY

— Rick Wilson (@TheRickWilson) September 11, 2016
At one point, Hannity dismissed another #NeverTrumper from the Twitter fight because he didn't have enough followers.
Bill I would give u the same attention as @JonahNRO and @RichLowry but u need at least 100,000 followers to play. https://t.co/3mKA5P1bOu

— Sean Hannity (@seanhannity) September 11, 2016
In the end, Forbes' Josh Jordan had the perfect response to Hannity's meltdown.
This @seanhannity meltdown is so delicious that I really hope it never ends. pic.twitter.com/kx2SPNL0js

— Josh Jordan (@NumbersMuncher) September 11, 2016