"You're Kidding": Morning Joe Panel Reacts To Gary Johnson Asking "What Is Aleppo?"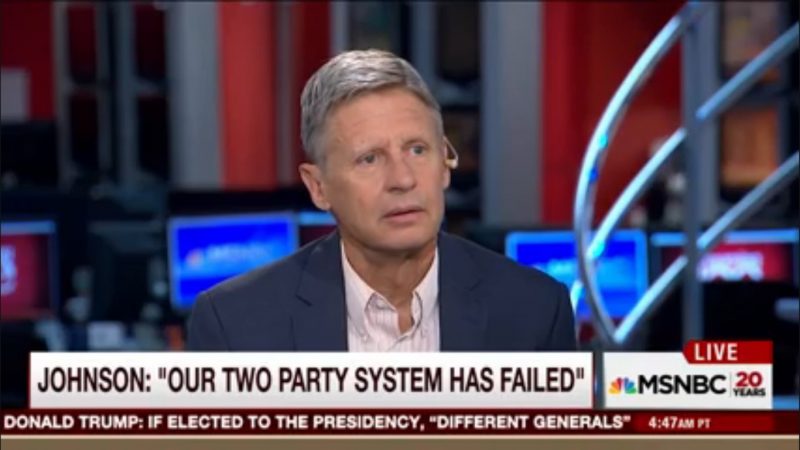 In recent weeks, Libertarian presidential candidate Gary Johnson has begun slightly rising in the polls, exceeding 10% in many of them. In an effort to reach the magical and arbitrary number of 15% in order to make the main debate stage with Donald Trump and Hillary Clinton, Johnson has purchased ads and done numerous interviews. On Wednesday, Mitt Romney broke a two-month Twitter silence by calling for Johnson to be added to the debates.
Well, that momentum came to a crashing halt Thursday morning during an appearance on Morning Joe. Speaking with the panel, Johnson was asked by Mike Barnicle his views on foreign policy. The exchange went as follows:
BARNICLE: What would you do, if elected, about Aleppo?
JOHNSON: Huh?
BARNICLE: Aleppo.
(Silence)
JOHNSON: What is Aleppo?
BARNICLE: You're kidding.
JOHNSON: No.
BARNICLE: Aleppo is in Syria. It is the epicenter of the refugee crisis.
JOHNSON: OK, got it. Got it.
Johnson then proceeded to give a generalized answer on Syria, but the damage was already done. Later on in the conversation, co-host Joe Scarborough pushed Johnson on the issue, asking him if he believed a presidential candidate should think foreign policy is so insignificant that it's cool if he doesn't know anything about Aleppo.
After the interview, the entire panel was just floored regarding Johnson's ignorance on the subject, noting that this was a major, Sarah Palin-esque gaffe that will follow him for the rest of the campaign. Scarborough said it was "depressing" and "staggering" while Barnicle stated he "was stunned." Things got even worse for Johnson when the broadcast aired an iPhone interview with political hack Mark Halperin, showing Johnson sarcastically commenting on his lack of knowledge of Aleppo and Syria.
Below is that weird moment, courtesy of MSNBC:
As one would imagine, the flap immediately took over Twitter. Mostly, people were shocked that someone running for the highest office in the land would be so ignorant of one of the biggest humanitarian crises in recent history.
What is Aleppo? https://t.co/UgBS0UvCyc

— Jake Tapper (@jaketapper) September 8, 2016
What is Aleppo?
No, Gov Johnson, we were looking for "Why the Libertarian Party won't make the debate?" Sorry. pic.twitter.com/SIlfJIKTwG

— Oliver Willis (@owillis) September 8, 2016
"What is Aleppo?"

I'll take "deer in the headlights moments by libertarian candidates" for 200 Alex

— Hal Sparks (@HalSparks) September 8, 2016
Well, it was nice knowing you, Gary. Have fun being the butt of late-night talk show jokes for the next week or so.
Below is video of the exchange with Barnicle: