"Don't Go There!" Finger-Wagging Trump Supporter Scolds Black Woman Over Trump's Racism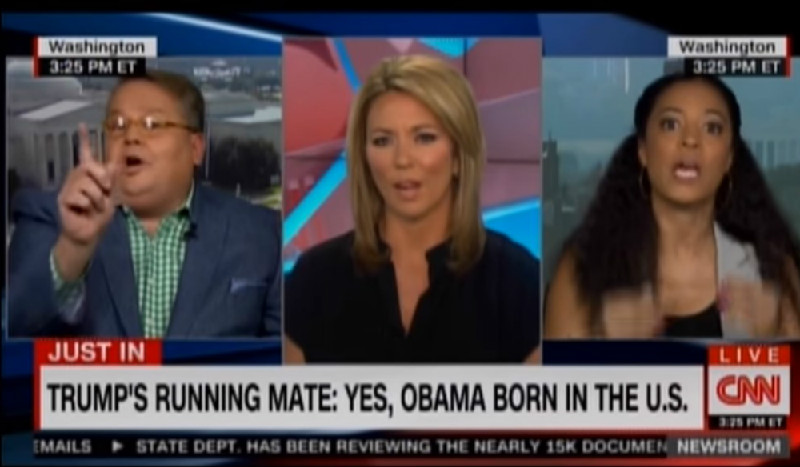 Brooke Baldwin had her hands full Wednesday afternoon.
Besides dealing with crazy-pants Betsy McCaughey and her insistence that Donald Trump not release his tax returns so he can avoid "tax shaming," she also had to deal with a conversation going completely off the rails involving another Trump supporter.
During a panel discussion that included former Trump adviser Barry Bennett and CNN commentator Angela Rye, Baldwin broached the subject of Trump's birtherism. See, running mate Mike Pence stated on Wednesday that he believes the current President of the United States was born in Hawaii, contrary to Trump's long-held position. In response to Baldwin's question about whether Trump should apologize for his birther allegations and admit President Obama was born in America, Bennett agreed…somewhat.
"Well, he probably should, right?" Bennett stated. "It was a mistake to talk about it years ago, but it would probably be a mistake to keep talking about it as well."
Rye felt that the onus was on Trump to prove to African-Americans that he wasn't a racist, and much of that meant he had to deny and apologize for his birtherism. This set Bennett off as he told Rye that it was actually the opposite — you have to prove someone IS a racist. The CNN contributor reply was classic, telling the conservative operative that wasn't the case if you're in the Trump campaign.
After Bennett insisted on knowing what proves Trump is racist, Rye proceeded to name off a number of instances such as his demand the Central Park Five (who were later exonerated) be given the death penalty and his calls for Black Lives Matter protesters to get beat up, for which he'd pay their legal bills.
Bennett refused to admit any of this history proved actual racism, lamenting in a very patronizing tone, "See, that's the problem. That's the problem." When Rye pointed out that many supporting Trump are "racism-deniers" and they always call critics "race-baiters," Bennett flew off the handle.
"Don't go there," Bennett yelled while wagging his finger. "Do not go there. You have no idea what my family looks like. You cannot go there. You owe me an apology." When Rye asked why she should give him an apology, Bennett said she had called him a "racism defender," which is not what she said at all.
The two would bicker back and forth for another minute or so until Baldwin jumped in, exclaiming that we had "62 more days" of this shit, and we need to move on to other subjects.
Below is video of the last part of the segment, courtesy of Talking Points Memo: