Trump Surrogate Says GOP Nominee Shouldn't Release Tax Returns To Avoid "Tax Shaming"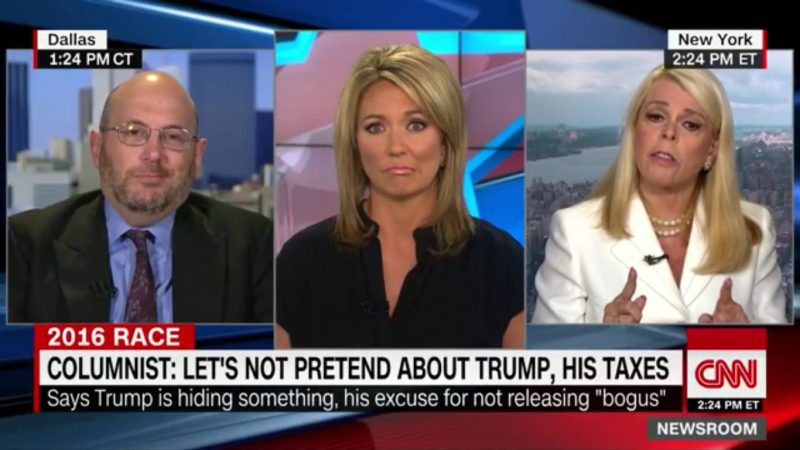 I think we all saw these kinds of segments coming when it was announced last month that serial misinformer Betsy McCaughey had joined the Trump team as an economic adviser and surrogate.
During an appearance on CNN Wednesday, the former New York Lieutenant Governor and creator of the Obamacare death panel myth argued that Donald Trump shouldn't release his tax returns ever. Was it because of the fabled, neverending IRS audit we keep hearing about? Nope. It's because Democrats would use his returns for the purpose of "tax shaming," a malady only very rich people who pay little to no taxes suffer from.
As host Brooke Baldwin moderated a discussion between McCaughey and Newsweek's Kurt Eichenwald, the Trump supporter continued to create dumber and dumber positions regarding the GOP nominee's need to keep his tax returns secret. Claiming the financial disclosures he submitted were plenty, McCaughey told Eichenwald to stop interrupting her and that he was "very rude" when he tried to interject and stop her torrent of bullshit.
Throughout the discussion, McCaughey's stance was essentially 'Trump can't show anything because it would be used against him,' which is pretty much the dumbest argument one can make. She tried to point to Michael Bloomberg not releasing his returns when running for Mayor of New York, only for both Baldwin and Eichenwald to inform her that wasn't the same as running for POTUS, and that a precedent had been set.
After the segment ran, Eichenwald succinctly described his conversation with the crazed Trumpkin.
On @CNN, Trump drooler @Betsy_McCaughey gave this howler for why Trump won't release his taxes: Because then ppl will know what's in them.

— Kurt Eichenwald (@kurteichenwald) September 7, 2016
Indeed.
Below is video of the interview, courtesy of CNN:
Columnist who says Trump's tax excuses are "bogus" has fiery debate with Trump supporter: https://t.co/vXW033C6BJ

— Brooke Baldwin (@BrookeBCNN) September 7, 2016