Trump's Pay-For-Play Donation To Pam Bondi Just A "Clerical Error," Per Rudy Giuliani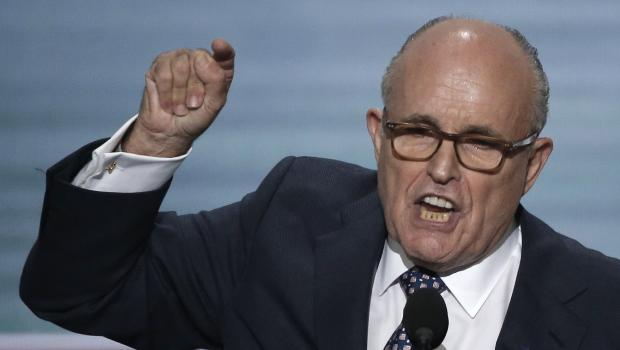 A day after the New York Times' Paul Krugman shamed the mainstream media over their coverage of non-existent scandals surrounding the Clinton Foundation while ignoring real-life "play-for-pay" stories involving Donald Trump, some in the press began taking heed. CNN's Chris Cuomo devoted ample time Tuesday morning on New Day discussing how there is actually "more smoke here" than all of the "optics" stories involving Clinton.
During a media call with Trump adviser Rudy Giuliani, CBS News' Sopan Deb pressed America's Mayor on the matter of Trump paying a $2,500 penalty to the IRS after illegally donating money from his charitable foundation to Florida Attorney General Pam Bondi. The $25,000 contribution, which Bondi personally asked for, came days before she decided not to pursue a Trump University fraud case in her state.
Deb asked Giuliani if he were a prosecutor, wouldn't he at least be concerned with this situation with the facts presented as such. Of course, Mr 9-11 saw nothing wrong, brushing it all off as a clerical error while insisting that Hillary Clinton had committed GREAT CRIMES AGAINST HUMANITY.
Here's the full bit of Giuliani on Bondi/Trump Foundation, laughing it off and calling it a "small matter." pic.twitter.com/kgaiiftm0Z

— Sopan Deb (@SopanDeb) September 6, 2016
The amazing thing here is that the Trump campaign will continue to insist that Hillary is the corrupt one because the media narrative has been set. Sure, while there are actual facts showing Trump influenced numerous attorneys general to render decisions/non-decisions favorable to him, he was just a 'businessman' who played the game, so that doesn't need to be pursued. But, Hillary has been super-duper corrupt her whole life, mostly because we've been inundated with mock investigations from Republicans for decades that have created that impression, and so it is now ingrained.
What will be interesting is if members of the mainstream media decide to buck the narrative their outlets have created and push forward on reporting Trump's instances of pay-for-play. Considering Trump has tried to level these accusations against Hillary, it would be criminal if journalists just let him slide on his own shady dealings. If they are going to dig deep into the Clinton Foundation and report on nothing but innuendo, optics, shadows and clouds, at the very least they can highlight the actual cases of Trump currying favor from elected officials.
Image via CBS News/Reuters