New York Times' Paul Krugman Trolls Own Paper Over "Bizarre Coverage" Of Clinton Foundation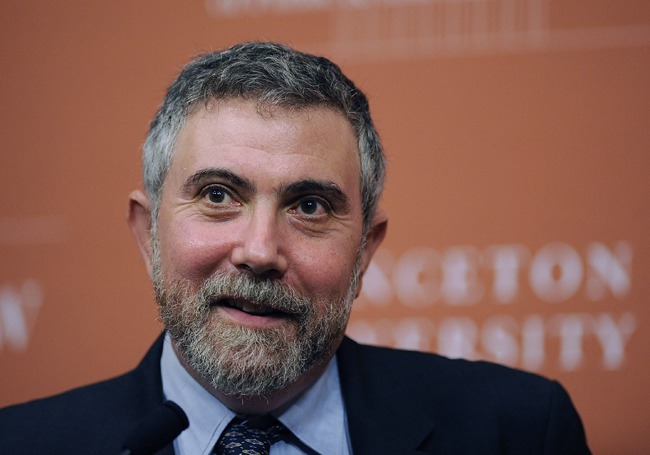 There has been a growing consternation among many media observers and critics that the mainstream media, in its desire to see a close presidential race, is tipping the scales by grading Donald Trump on a curve. Since Hillary Clinton opened up huge leads in national and battlegrounds state polls following the Democratic National Convention and Trump blowing up with unforced error after unforced error, we've seen an increased effort to portray Clinton as an agent of corruption, most typified by the attention paid to the Clinton Foundation in recent weeks.
In his New York Times column Monday, Nobel Prize-winning economist Paul Krugman went after the MSM for reporting on innuendo, perception and optics when it comes to Hillary, despite the actual reporting revealing there is no there there. While he doesn't name his own paper by name, it is evident he is including the NYT in his criticism, tossing not-too-subtle hints throughout the piece.
Comparing the treatment of the former Secretary of State by the press to that of Al Gore in 2000, Krugman notes that Gore was portrayed as dishonest and weasely. Meanwhile, George W. Bush was presented as a straight-talking, no-nonsense everyman, even though on policy, Bush was lying about his middle-class tax cuts and Gore's policy proposals checked out. But, because Gore claimed he invented the internet — he actually didn't say that — the ex-VP was the mendacious one.
Krugman has a bad feeling that this is all happening again and could lead to Trump pulling off a victory a la Dubya in 2000. He then goes on to make the case that while The Donald isn't being treated as an entirely honest truth-teller by the press, they still are letting him slide on the shit they are trying to nail Hillary on — stuff that doesn't hold water to any scrutiny.
In the first shot at his paper, the columnist highlights how Trump is facing little heat over the revelation that he gave Florida Attorney General Pam Bondi $25,000 from his charitable foundation at a time when she was looking at investigating the Trump University fraud case. Trump paid the IRS a $2,500 fine for the illegal contribution and this was an obvious example of the pay-for-play accusations he's been tossing at Hillary.
So, how was this a shot at the NYT? Well, Krugman linked to a story in the Washington Post about Trump paying the penalty because the Times didn't cover it at all. This was noticed by 538's Nate Silver.
Also here, where he links to a WaPo(!) story about Trump U. pay-for-play scandal, which the NYT didn't cover at all. pic.twitter.com/vhBOJK21OJ

— Nate Silver (@NateSilver538) September 5, 2016
Later on in the column, Krugman does it again, this times using some terms that the Times has repeatedly tossed out while covering Hillary. After rehashing the misleading AP story that got Trump and conservatives all hot and bothered about the Clinton Foundation, Krugman wrote the following regarding reporters insinuating scandal when they haven't found anything:
But the prime example The A.P. actually offered was of Mrs. Clinton meeting with Muhammad Yunus, a winner of the Nobel Peace Prize who also happens to be a longtime personal friend. If that was the best the investigation could come up with, there was nothing there.
So I would urge journalists to ask whether they are reporting facts or simply engaging in innuendo, and urge the public to read with a critical eye. If reports about a candidate talk about how something "raises questions," creates "shadows," or anything similar, be aware that these are all too often weasel words used to create the impression of wrongdoing out of thin air.
Krugman is referring to the NYT's habit of using the word "shadows" in its pieces about Clinton, something Talking Points Memo highlighted last week. 
As Silver also pointed out on Twitter, the New York Times hasn't tweeted out Krugman's article from its official account, showing it obviously knows that the entire piece is a hit piece on the paper. Despite the lack of promotion, the article was a top-10 trending topic Monday morning.
Image via Forbes