Donald Trump Brings Jaw-Dropping Political Theater To Mexico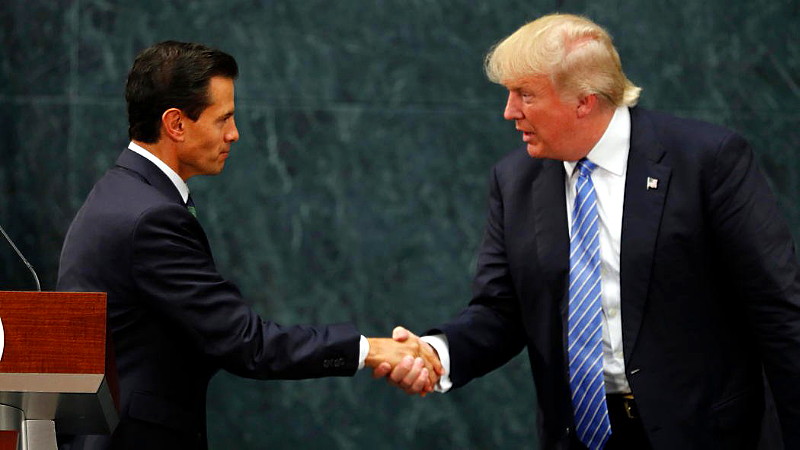 Trump stood quietly in front of his podium on the stage a few feet away from President Enrique Pena Nieto after their surprise meeting concluded in Mexico on Wednesday, as they prepared to make their statements.
Once Trump got his turn, he spoke in quiet tones using note cards to deliver a very different message than what he has been spewing for almost a year about Mexico, Mexicans, rapists, murderers, NAFTA and "the wall."
Gone was the strutting, hand-gesturing, smirking, barking, growly-voiced display he projected right up to the night before at a rally in Everett, Washington.
Gone was the bluster of a presidential candidate that has built his entire campaign around spouting vitriol and throwing red meat to his rabid supporters.
Gone was the arrogant proclamations about ISIS,  mass deportations or about the "big wall" he promised his minions to build and make Mexico "pay for."
Instead, Trump, who stood on that lonely stage deep in the heart of a country populated by Mexican residents who rated his approval at 3 percent — was all talk about partnership and shared responsibility; mutual respect and friendship; humanitarian response to immigrant and how the "spectacular" Mexican people were "beyond reproach."
A report in the New York Times listed the following highlights from Trump's much anticipated meeting with Pena Nieto:
Donald Trump called Mexico's president "a friend" after their meeting.
Mr. Trump said he focused on the shared economic interests and security interests. He said he did discuss his intention to build a wall on the U.S.-Mexico border, but that the two did not discuss who would pay for it. Mr. Trump has insisted that Mexico would pay for it — a deeply offensive proposal to many Mexicans.
While Mr. Peña Nieto spoke, he was cautious not to attack Mr. trump in any way. A translator stood by Mr. Trump the entire time, translating the president's speech, as Mr. Trump tapped his hands against his thighs and nodded slightly.
Mr. Peña Nieto said that there were immigration concerns for both nations, citing the illegal arms and money that flows back into Mexico, from the United States.
Mr. Trump was measured and read from a sheet on the podium nearly the entire time.
Trump has been the master at political theater from the beginning.   Therefore, his critics are already anticipating that a flame-throwing, adoration-seeking, provocateur presidential candidate will show up for his immigration speech to appease his alt-right, extremist supporters in Arizona Wednesday night.
Meanwhile, Trump's droning surrogates, who gushed all day about his Mexico visit and subsequent press conference, said he showed "real leadership", as if opining like a civilized human being for 15-minutes could miraculously erase every insult hurled at Mexicans, Latinos and Hispanics since announcing his White House run.
It truly was enough to make any sane person want to throw a turd pie at the television.
Feature image by Dario Lopez-Mills/AP
***
***Seattle author, Delilah Jean Williams, wrote the award winning, 5-Star rated, Scorched Earth, Alien Wonders published in 2015. If you've ever wondered what aliens would find if they visited Earth a hundred years from now, you're going to love this book. But there's more to the earthly
adventures of this group of space-traveling prairie dog aliens than just seeing what a reckless human race did to their planet.  Just like people, these interstellar voyagers know a thing or two about love, laughter, betrayal and greed that can wreak destruction on a planetary scale. Can the aliens save what's left of the doomed world and guide humanity back to a healthy relationship with their planet? Or is it too late? The answer is inside the pages of Scorched Earth, Alien Wonders… Amazon.com.