Be Our Guest: Cogsworth, Gaston And More Revealed In New Beauty And The Beast Photos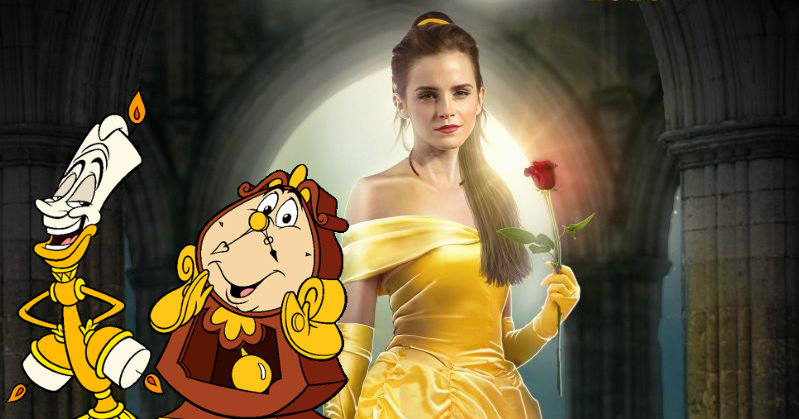 I'll be honest, when Disney first announced their long line-up of remakes, all I saw were dollar signs. In an age where terrible remakes and reboots are too often seen, I found it pretty lame of Disney to stoop to the same level. But once Disney started rolling out remakes of their classic animated films, and they were actually enjoyable, my whole worldview was altered.
Suddenly, I didn't look at remakes and reboots as instant cash-grab trainwrecks. Disney made me realize that remakes can be good, that taking something from the past and adapting it for the present doesn't necessarily mean that it's going to "ruin your childhood."
Of course, just because Disney is doing these remakes well, doesn't mean they aren't being used to make a ton of money. Disney knows that these remakes are instant moneymakers, especially if they keep making them as good as they are. That's why since the release of Maleficent, the movie that arguably launched the Disney remakes (Alice in Wonderland is sort of a remake/ sort of not), we haven't gone a single year without one!
Just this year, Disney released The Jungle Book and Pete's Dragon– two visually stunning remakes I strongly recommend. But the Disney remake train has not stopped rolling, as next year we'll be getting another in the form of Beauty and the Beast.
Beauty and the Beast was announced back in 2015, along with several other Disney remakes. It was actually the one I was worried about the most. While I love the original The Jungle Book, and…well, honestly no one was really writing home about the original Pete's Dragon, Beauty and the Beast is one of my favorite films of the Disney Renaissance.
While I was pretty worried to hear that Disney was remaking such a classic and beloved film, I'm happy to say that everything I've seen about the film so far has me pretty excited. First there was the nostalgia-filled trailer, giving us a great look at Emma Watson as Belle, and now, some new photos of the film have come out. These photos are concept art pieces of Lumiere and Cogsworth, two well-know characters from the original film.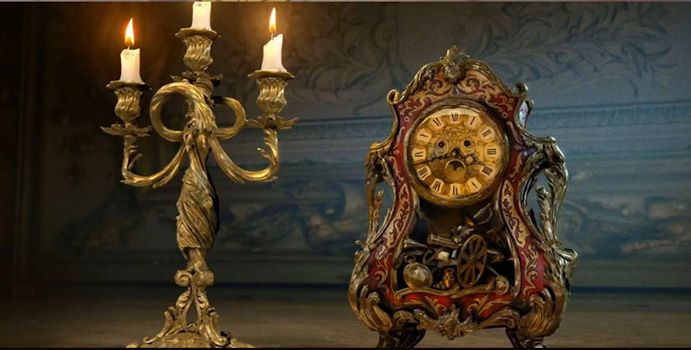 As you can see, the new Beauty and the Beast is ditching the traditional 2D animated style of Lumiere and Cogsworth, and replacing it with modern CGI. This was to be expected, since the remake is live-action and all.
However, if you're a little worried about the look of the characters, there are two things to note. One is that Jack Morrisey,  the producer of the film, mentioned that the concept art isn't entirely representative of the final product, though it probably isn't that far off. Another thing to note is that while they may look a little odd in a still image, Lumiere and Cogsworth may look a lot better in motion.
Disney has done wonders with CGI these days. The Jungle Book was 90% CGI, but it was a visual masterpiece, and while Pete's Dragon wasn't on the same level, it was still incredible to look at. So I think it's safe to say that the CGI in Beauty and the Beast will look pretty damn good when it comes out.
Besides concept art of Lumiere and Cogsworth, we also got our first look at Beauty and the Beast villain Gaston and his short sidekick Lefou- portrayed by Luke Evans and Josh Gad respectively.
Unfortunately, this picture isn't as great a look as the concept art for Lumiere and Cogsworth. You can see Lefou's face, though he's very far away, and Gaston is facing away from the camera. The interesting thing about this picture however, is the setting.
It looks like Gaston and Lefou are in a tavern, similar to the one from the original film. What's more, it looks like Lefou is in the middle of singing (or screaming very loudly). This could mean an updated version of the song 'Gaston' from the original, and that's pretty exciting.
Anyone who's seen Frozen knows that Josh Gad has got some pretty good pipes on him. As for Luke Evans, well, I don't think I've seen him in a musical, but he and Hugh Jackman did do a Beauty and the Beast inspired duet on The Jonathan Ross Show that's pretty incredible:
All in all, I'm looking forward to the new Beauty and the Beast film. If the quality is anything like that of the other Disney remakes, I'm sure I won't be disappointed!
Source: Cinema Blend