New Campaign Manager Kellyanne Conway Insists Trump "Doesn't Hurl Personal Insults"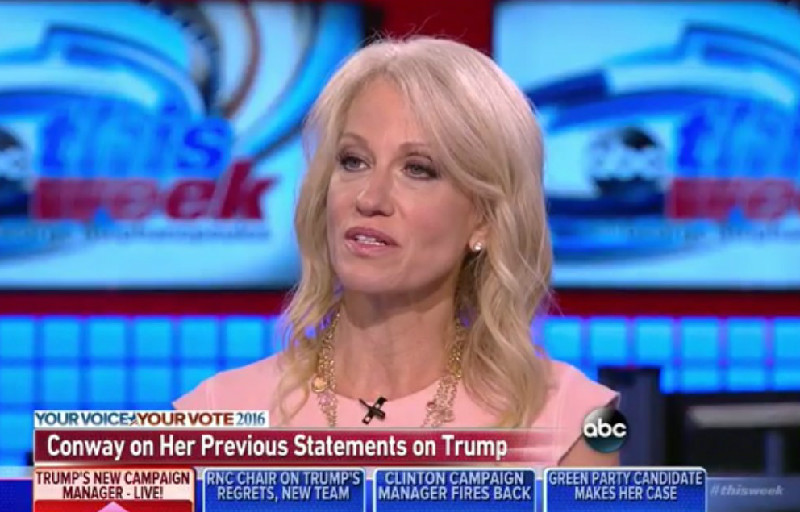 Some things never change. Even though Donald Trump unveiled a new campaign leadership team a few days ago, inserting veteran pollster Kellyanne Conway as campaign manager and Breitbart chief Steve Bannon as CEO, the team is apparently still engaging in one of Trump's favorite pastimes — gaslighting.
During an appearance on ABC's This Week, Conway was confronted with past comments of her's in which she criticized Trump for using crass language and personally insulting others. Host George Stephanopoulos asked if she wanted to take back those comments. At first, she tried to deflect, noting that she "doesn't like when people hurl personal insults" because she's the mother of four kids, stating she would set a "terrible example" if she changed on that.
Obviously, the ABC host pounced, wondering if she thought Trump would change his tone and stop personally attacking his opponents and rivals. Conway's response contradicted everything she said months ago about the real estate mogul:
"He doesn't hurl personal insults. I mean, he just this week — look what he talked about. He's bringing the case right to communities of color in Michigan, and he's speaking to all Americans when he does that. What he's doing is he's challenging the Democratic Party. He's challenging President Obama and Hillary Clinton's legacy."
Let's just dismiss this notion that he spoke directly to communities of color in Michigan. He went to Diamondale, a city with a 1% black population, and his crowd was damn near all white.But, I get it, this is your messaging, Kellyanne. Got to stick to it.
But, really, calling the Democratic nominee "Crooked Hillary" isn't a personal insult? Or labeling his closest GOP rival "Lyin' Ted?" Or the 250 other people, places and things Trump has denigrated on Twitter alone along the way? Those aren't "personal insults?" Alrighty then.
Below is video of the exchange, courtesy of ABC News:
.@KellyannePolls defends campaign's tone: @realDonaldTrump "doesn't hurl personal insults" #ThisWeek https://t.co/YUmjqA2GeL

— This Week (@ThisWeekABC) August 21, 2016