Giuliani Sells Hillary Health Conspiracy: "Go Online And Put Down Hillary Clinton Illness"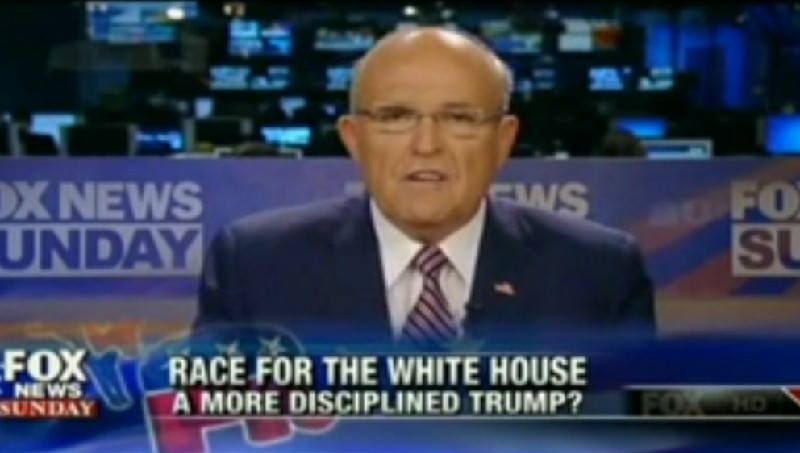 One of the things that have popped up in the Conservative Entertainment Complex over the past few weeks has been renewed claims that Hillary Clinton is suffering from extreme health issues. Fox News' Sean Hannity has been at the forefront of pushing these conspiracy theories, spending entire broadcasts 'analyzing' video of the former Secretary of State and asking doctors to diagnose her based on clips without context. Y'know, REAL journalism.
Despite Hillary's doctor speaking up and saying Clinton is in excellent health, and a number of reporters trailing the ex-First Lady on the campaign trail stating that she appears to be in fine physical shape, Trump's supporters — and The Donald himself — have continued to float out these stories. Trump spokeswoman Katrina Pierson stated as fact during an MSNBC interview that Clinton is suffering from a rare brain disorder. The candidate, supposedly in the middle of a pivot, keeps questioning Hillary's "strength and stamina."
Toss loyal surrogate and adviser Rudy Giuliani into the mix. America's Mayor showed up on Fox News Sunday and straight-up said Hillary must be sick because he read it on the internet.
RUDY GIULIANI: She doesn't need to campaign. She has The New York Times, she has the [New York] Daily News, she has ABC, she has CBS, she has NBC. She has an entire media empire that constantly demonizes Donald Trump and fails to point out that she hasn't had a press conference in 300 days, 200 days, 100 days, I don't know how long. Fails to point out several signs of illness by her. All you got to do is go online. All you have to do —
SHANNON BREAM (HOST): Which her campaign and a number of people defending her saying there's nothing factual to the claims about her health, and that that's speculation at best.
GIULIANI: Go online and put down Hillary Clinton illness and take a look at the videos for yourself.
Yup. If you go online, you'll see a bunch of stuff regarding "Hillary Clinton illness." Part of it is because legit news sources are reporting on the Trump campaign pushing crazy conspiracy theories. Another part is due to outlets like Breitbart, Trump's new campaign partner, publishing story after story on the unfounded claims that they made up. And the rest is fact-checkers debunking the shit.
CNN's Brian Stelter, who has just been beside himself these last weeks ever since Hannity started going all-in with this crap, reacted to Giuliani's comments.
Actual thing Rudy Giuliani said on @FoxNewsSunday: "Go online & put down 'Hillary Clinton illness,' take a look at the videos for yourself."

— Brian Stelter (@brianstelter) August 21, 2016
He also devoted a segment on Sunday's Reliable Sources to further proving these charges false, speaking to an NPR reporter who has been embedded with the Clinton campaign.
Just now on @CNN, I asked @tamarakeithNPR about the @HillaryClinton "secret illness" conspiracy theories… https://t.co/JO8V4TEKGL

— Brian Stelter (@brianstelter) August 21, 2016
Finally, just a bit of advice to Rudy. Sure, you can go online and look up Hillary Clinton health conspiracies. You can also find 9/11 conspiracies that state that you were part of an inside job.