IOC On 32-Year-Old Ryan Lochte's Lies About 'Robbery': "Give These Kids A Break"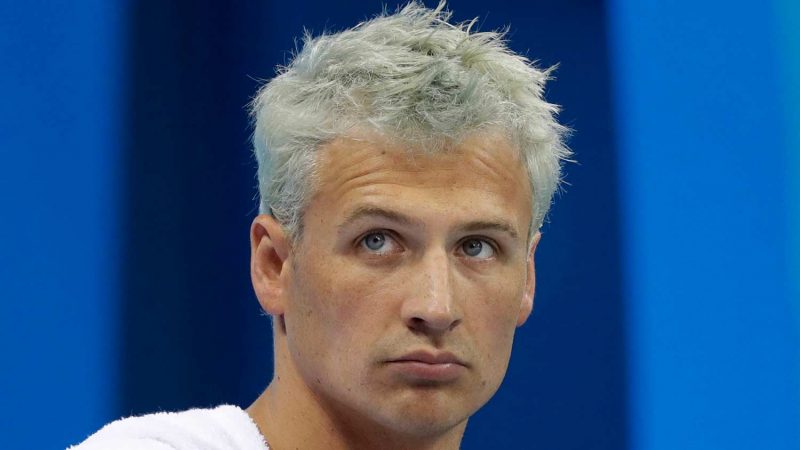 Over the past 24 hours or so, #LochteGate has suddenly become a HUGE story. To recap, American gold medalist Ryan Lochte and three other swimmers went out to a party in Rio De Janeiro to celebrate after finishing up their competitions. Later on, Lochte told reporters that the group was robbed at gunpoint on their way back to the athlete's village. Days later, officials began doubting the tale Lochte spun, saying there were major irregularities.
Since then, Lochte bolted for the States, but the three other swimmers remained in Brazil and were questioned by law enforcement. (Two of the swimmers, Jack Conger and Gunnar Bentz, were taken off of their plane heading to the US.) Since Wednesday night, more of the truth has leaked out, revealing that no robbery ever took place and, in fact, Lochte and his boys actually vandalized a gas station, including urinating on the walls.
According to reports, the swimmers tried to access a bathroom at the gas station, but couldn't open the door. One of them busted the door down, and caused additional damage inside the bathroom. They then tried to flee via their taxi cab, but the security guard on site told the cab driver to stay put. After Lochte and Co. had begun arguing with the guard and possibly threatening him, the guard pointed his gun at them. At that point, the swimmers offered up cash to pay for the vandalizing.
Apparently, this turned into a 'robbery' after Lochte told his mother about the incident. Obviously not wanting to portray himself as an ugly American d-bag, the 32-year-old multi-time Olympic champion lied to cover up his tracks, claiming that a fake policeman stopped their cab and robbed all of them of their cash (but curiously let them keep their passports, cell phones and jewelry). This then turned into an international story, covered breathlessly by the press and presented as part of the narrative that Rio was a disastrous location for the Summer Games.
In response to the realization that Lochte lied his ass off, International Olympic Committee spokesperson Mario Andrada gave just an amazingly jaw-dropping statement to the press Thursday:
Official statement from IOC #Rio2016 spokesman Mario Andrada on #LochteGate. It's amazing. pic.twitter.com/4B03on17QL

— Greg Wyshynski (@wyshynski) August 18, 2016
Yes. You read that right. He labeled a man in his 30s a 'kid.' Essentially, he gave Lochte a pass for reinforcing the stigma that Rio and Brazil are crime-ridden hellholes that prey on tourists and outsiders. The fact is, Rio has already dealt with tons of bad press over the past few months heading into the games. The city has had enough mud flung in its face, it didn't need some privileged American who didn't want to own up to his own assholery making things worse.
So, it makes sense why city and state officials wanted to get the true story out there. They wanted these guys to admit the falsehoods that they perpetuated. Specifically, they want Lochte to face the consequences of his actions, which looks like it won't happen as he high-tailed it out of Brazil just in time.
In the end, this is more a black eye on America than anything else. As we go to Rio and scoop up the most medals and dominate the games, we also have our so-called best and brightest treating its people like dogshit. Why? Because that's how we roll. We're NUMBER ONE, we can do what we want, and their ain't shit you can do about it.
And people wonder why other nations hate us.
Image via AP