Robert Downey Jr. Potentially Returning To TV With 'Perry Mason' HBO Project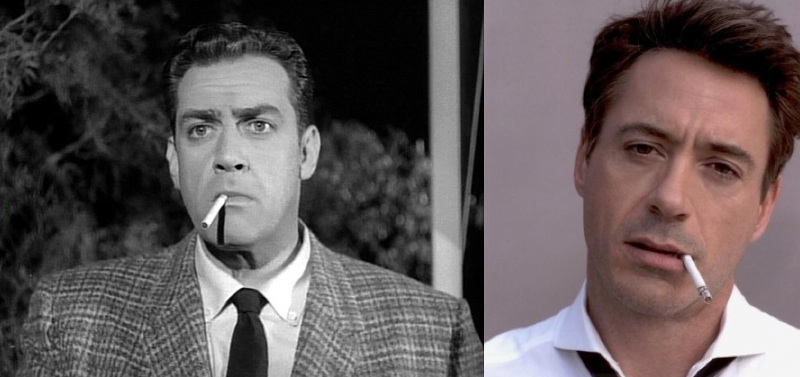 There's a whole generation that is oblivious to the fact that Robert Downey Jr. actually had a career before portraying billionaire philanthropist/superhero Tony Stark. Technically, I'm part of that generation (though I do strongly remember the fever dream that was Shaggy Dog). However, thanks to my job, which kind of requires I know things about movies and television shows, and as an extension the actors that star in them, I do know about RDJ's past attempts at Hollywood stardom.
Before he was capturing hearts while simultaneously turning his into a laser beam (Dr. Evil would be proud), our resident Iron Man was in a little show called Ally McBeal.
Downey Jr. joined the lawyer dramedy, which starred Calista Flockhart (who'd go on to become Supergirl's boss), for the show's fourth season. After the show ended, RDJ stuck to the big screen for future roles. Although he wasn't offered many big film roles for a while, mainly due to his personal issues with addiction.
Things, of course, changed for the better in 2008, when Robert Downey Jr. helped kickstart the MCU and the modern superhero film genre all at once! Since then, he's never returned to television, and despite a couple of roles here and there, pretty much stuck to being the face of the Marvel Cinematic Universe.
All that's changing, it seems, as RDJ is finally returning to television with a brand new project on HBO. The project, which is being noted as a series, will be based on the old Perry Mason legal drama series from 1957, as well as its many TV films.
Robert Downey Jr. has been trying to get a Perry Mason reboot off the ground for a while now. He first tried to pitch it as a movie with Warner Bros. in 2011. News of that project spread quickly, but despite apparent interest, the it seemingly remained in "development hell".
However, Variety, who reported the story, is stating that the Perry Mason project Robert Downey Jr. is currently working on is the same one from Warner Bros.- only envisioned as a series rather than feature length film.
Downey Jr. will reportedly be producing and starring in the series, with True Detective creator Nic Pizzolatto writing. Nothing's been confirmed yet, and both RDJ and Pizzolatto have yet to comment on their project. It makes sense for Perry Mason to be a new series rather than a film though. Not only is the original series much more revered than the movies, but right now, legal shows are in.
With millions of viewers from all over tuning in for shows like American Crime Story, the legal genre has never been stronger. If Robert Downey Jr. is working on a Perry Mason show, I'm sure it would get a lot of people interested.