Trump Campaign Throws Katrina Pierson Directly Under The Bus Over Her Recent Gaffes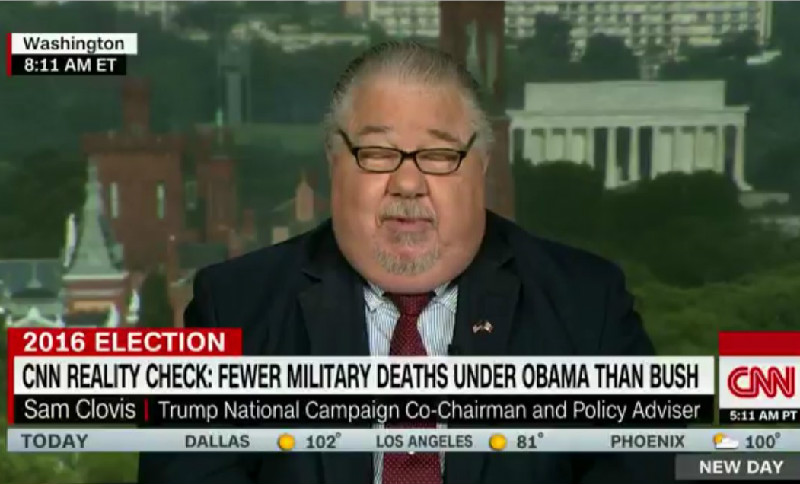 During an appearance on CNN's New Day Thursday, Trump campaign co-chairman Sam Clovis insinuated that campaign spokesperson Katrina Pierson would be either suspended or straight-up shit-canned over her recent slew of gaffes. Over the past few days, Pierson has directly blamed President Obama for a soldier's death that occurred five years before he took office, claimed Khizr Khan is a proponent of Sharia law and stated that tens of thousands of US soldiers have been killed in Iraq and Afghanistan, all demonstrable lies.
Speaking to CNN host Alisyn Camerota, who had to fact-check Pierson live on-air Wednesday over her Khan/Sharia statement, Clovis essentially threw Pierson under the bus while explicitly saying he was doing no such thing. Camerota asked him about Pierson's remarks about the number of American casualties in the Middle East and he agreed that the official representatives from the campaign need to relay facts to the press.
"Well, facts are important to me and I think that, you know, I do my own research. And honestly, I have no idea. I'm not throwing Katrina under the bus, but I have no idea. I didn't hear the report. I didn't see the report. I have no idea where she got her information."
Camerota then inquired on what happens to those who spread falsehoods on television. Do they face consequences? Clovis's answer appeared to confirm that if they hadn't decided to get rid of Pierson already, they were definitely going to consider that later on in the day.
"Well, I think we're fixing it. I guarantee that won't happen again with her. That's for sure. And it won't likely happen with anybody else. Because when you do go out, you have a responsibility — and again, I think as a person who spends a lot of time on your show, I think it's important to come on here and have accurate information and present our case in the best possible way we can.
And I think facts always help you, the truth always helps you. And I think that's where we always ought to be."
That last line is hilarious considering it is coming from a senior staffer of a pathological liar's campaign.
However, considering the reputation the Trump campaign has earned about its tenuous — hell, nonexistent — relationship with the truth, and the negative attention Pierson has received in recent days over her disastrous TV hits, it wouldn't be surprising if Pierson were kicked to the curb. It would at least make Republican leaders feel a little better, as it would show that the campaign is paying attention to public perception.
On the flip side, Trump himself tends to stand by those he feels are loyal to him. Pierson has been a spokesperson since pretty much the beginning of his White House run. So it will be interesting to see where this goes. If you don't see Pearson on television over the next few days, you can be sure that senior staffers won out and she was fired.
Below is video of Clovis's appearance, courtesy of CNN:
"I guarantee you that won't happen again with her" – Sam Clovis on incorrect numbers Katrina Pierson used on @NewDay https://t.co/OLgTclKA2W

— New Day (@NewDay) August 4, 2016