Khan Irony: Dead Soldier's Muslim Mother Outclasses Donald Trump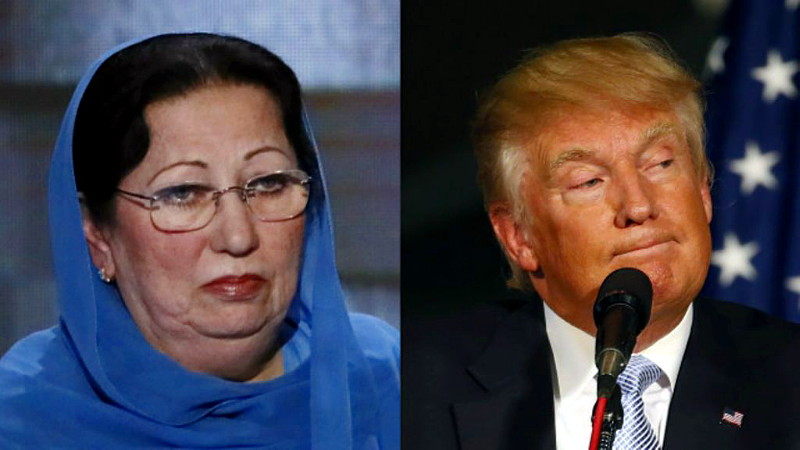 How many times has the phrase, "Just when you think he can't say anything worse," been used to describe some new classless diatribe from Donald Trump, who has disrespected Muslims, women, Hispanics, the disabled and made so many asinine statements they have been too numerous to count?
The latest such verbal calamity from the Republican presidential candidate was started by his criticism of the Khan family; "Gold Star" American Muslims, whose son was killed in the Iraq war.  Donald was indignant about a blistering speech given by the fallen soldier's father, Khizr Khan, during last week's Democratic National Convention.  Khan said Trump had never read the US Constitution and held up his own pamphlet while offering to loan it to a man he described as "unfit" to be president of the United States.
True to form, Trump, not being satisfied with maligning Khan the next day, turned his attention to the man's wife, who stood silently next to him during the speech.
Trump had this thinly veiled insult to Mr. Khan, during a Sunday morning interview with George Stephanopoulos, which implied he wouldn't allow his wife to speak, "If you look at his wife, she was standing there. She had nothing to say. She probably, maybe she wasn't allowed to have anything to say. You tell me."
However, the truth was that Ghazala Khan declined the opportunity to speak when her husband asked if she wanted to say something, because she worried about controlling the grief of losing her son in a car bombing in 2004, when the last time she talked to him was on Mother's Day.
Responding in a Sunday Washington Post Op/Ed, entitled "Donald Trump Criticizes my Silence, But he Doesn't Know the True Meaning of Sacrifice," Mrs. Khan wrote this (in part):
Donald Trump said I had nothing to say. I do.
My son Humayun Khan, an Army captain, died 12 years ago in Iraq. He loved America, where we moved when he was 2 years old. He had volunteered to help his country, signing up for the ROTC at the University of Virginia. This was before the attack of Sept. 11, 2001. He didn't have to do this, but he wanted to.
When Humayun was sent to Iraq, my husband and I worried about his safety. I had already been through one war, in Pakistan in 1965, when I was just a high school student. So I was very scared. You can sacrifice yourself, but you cannot take it that your kids will do this.
We asked if there was some way he could not go, because he had already done his service. He said it was his duty. I cannot forget when he was going to the plane, and he looked back at me. He was happy, and giving me strength: "Don't worry, Mom. Everything will be all right."
When Donald Trump is talking about Islam, he is ignorant. If he studied the real Islam and Koran, all the ideas he gets from terrorists would change, because terrorism is a different religion.
Donald Trump said he has made a lot of sacrifices. He doesn't know what the word sacrifice means.
Indeed, Trump has shown himself to be a shallow, immoral and ridiculously self-serving man, who is lacking in everything the Khan family possess in spades, which is intellectual dignity, bravery and patriotism.
See Khizr Khan's speech here:
Feature image courtesy of BBC.
***
***The author of this article, Delilah Jean Williams, wrote the award winning, 5-Star rated, Scorched Earth, Alien Wonders. It is a light-hearted, eco-adventure, for all ages told from a non-human perspective about a group of animal-disguised aliens sent to Earth to find out if the
remaining humans are savage bastards or a benevolent tribe.  It takes place in a vastly different future after most of mankind has relocated to Mars from their climate-ravaged planet. It can be previewed at Amazon.com