Reince Priebus Tries To Put Positive Spin On Mike Pence Pick, Falls Flat On His Face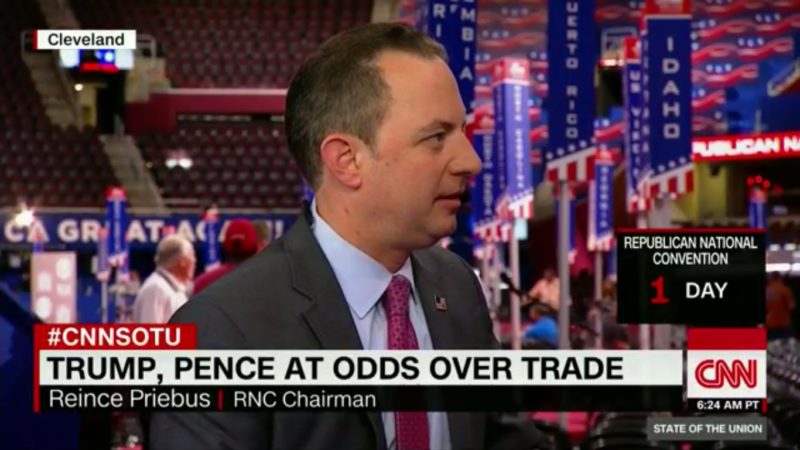 Everything about presumptive GOP nominee Donald Trump picking Indiana Governor Mike Pence as his running mate has been a shitshow. From news that Trump tried to back out of the selection after it had already leaked that Pence was the guy, to the bizarre 'introduction' Trump gave Pence Saturday, to sending Pence to Indiana by himself to be welcomed home, the whole thing couldn't have gone worse.
But perhaps the biggest issue that will haunt the Trump/Pence ticket moving forward is Pence's stances on many of the hot-button issues that have driven the Trump campaign. When Pence was in Congress, he was a loyal backer of George W. Bush's Iraq War, constantly going to bat for him regarding the war on the House floor. The guv is also a supporter of the Trans-Pacific Partnership, in direct conflict with Trump, who has made free trade a centerpiece of his message. You also have Pence criticizing Trump in December over his proposed Muslim ban.
On Sunday, Republican National Committee chairman Reince Priebus appeared on CNN's State of the Union to talk about the selection of Pence as Veep. Speaking with host Jake Tapper, Priebus repeatedly tried — and failed — to spin the Pence pick as a positive. It certainly didn't help him that Tapper was relentless with his questioning and wouldn't let up when he'd try to squirm out of a tough spot.
First, we had Tapper pressing Reince over Trump's apparent flip-flopping on the pick on Thursday night. After Priebus tried to say The Donald just delayed the announcement due to the Nice attack and denying reports that Trump was trying to back out, Tapper reminded him that Trump himself said he hadn't made his final decision.
TAPPER: But we know that, in between the time that he offered the job to Pence and Pence arrived in New York on his plane, Donald Trump went on FOX and said that he had not made his final, final decision.
PRIEBUS: Because Donald Trump — because he wanted to make — he wanted to keep people guessing. He wanted to make it more suspenseful. And the fact that everything was coming down and people were talking, I think that frustrated Donald Trump. But he was with Pence. He knew Pence was the right pick. And that's where his head and heart was at for — for quite some time before that point.
And, honestly, this was as easy as it got for the Baileys-swilling GOP leader. Regarding Trump's proposed Muslim ban and Pence condemning it late last year, Priebus noted that the real estate mogul has changed direction in recent weeks. The CNN anchor had to remind him that the Orange One has repeatedly said that he hasn't backed off that position, leading to Reince struggling to find the right response.
TAPPER: But that proposal that you just enumerated is different than what he said in December.
PRIEBUS: Right.
TAPPER: And he has said that he has not backed off or changed his position.
PRIEBUS: No, no, no. He has pivoted to this position.
TAPPER: That's your interpretation. That's not his interpretation.
PRIEBUS: It's what I have seen him say in person at events.
TAPPER: I agree that it seems like a pivot or a change.
PRIEBUS: Right.
TAPPER: But he says he hasn't changed.
PRIEBUS: He — he — no, he has said he has changed.
Elsewhere in the interview, Tapper brought up Pence's support for the Iraq War, which Trump has labeled as a "big, fat mistake." He wanted Priebus to answer if this ticket was one that would support that war or not. the back and forth they had over the competing stances on the war lead right into a discussion on TPP.
PRIEBUS: You would have to ask them. I mean, look, I think that what it does show is that Donald Trump is willing to be challenged by other people. It shows that he's not looking for someone — for yes-people around him. And he's also willing — he also wants to show the American people that he is going to put a person on the ticket that doesn't agree with him on everything. I think that shows a lot of maturity. I think it shows an understanding of the electorate
and an understanding of what the job is to defeat Hillary Clinton. I think it's very good.
TAPPER: Except that — I guess the question is, does it muddy what Donald Trump stands for? Because I think what a lot of voters who voted for him find appealing is the fact that he opposed the war in Iraq — or he says he did, anyway, although there is very little evidence that he did before it actually happened. But that said, let's just say he is anti-Iraq War, and Pence was pro. Trade is another big issue where Donald Trump is attracting a lot of voters. He said about the Trans-Pacific Partnership: "The Trans-Pacific Partnership is another disaster done and pushed by special interests who want to rape our country, just a continuing rape of our country" — very strong
words, some might say offensive, rape victims.
Priebus probably wished they hadn't segued into TPP because Jake absolutely ate his lunch during the discussion. He tried to frame Trump's position on trade as just wanting to make better deals with our already existing arrangements and that Pence isn't "wildly crazy" for TPP like everyone thinks. Tapper wasn't really having it.
PRIEBUS: You would be surprised. This is a not a — this is a split issue in our party. Not everyone is crazy about TPP. I can tell you, these delegates aren't crazy about TPP. I can tell you, a lot of the base in our party isn't crazy
about TPP. Some of other folks in Washington…
TAPPER: Yes, but your vice president is.
PRIEBUS: Listen, not — not — not as wildly crazy as you may think.
TAPPER: "Trade means jobs, but trade also means security."
PRIEBUS: Understood.
TAPPER: "Thetime has come for all of us to urge the swift adoption of the TPP."
PRIEBUS: Listen, this is not…
TAPPER: Which Donald Trump thinks is rape.
PRIEBUS: No, listen — well, that's true. And what I'm saying to you is that some folks in our party like TPP.
Some don't. The fact that we have two people together that have a different opinion on TPP is not — is not some sort of stunning, startling news. Now, overlaying all of this, Donald Trump's basic position on trade is that he wants to cut better deals. He wants to look at the deals that are in place.
TAPPER: That's everybody's position.
PRIEBUS: And he wants to do a better job. But that's his job.
TAPPER: Everybody wants better deals.
All I have to say is "Oof." Pretty sure Priebus just poured himself into a cheap bottle of hooch after this interview. If anyone is looking forward to the end of this election season, it is Reince.