How Did Trump Celebrate Primary Win? By Doubling Down On JFK Conspiracy, Of Course!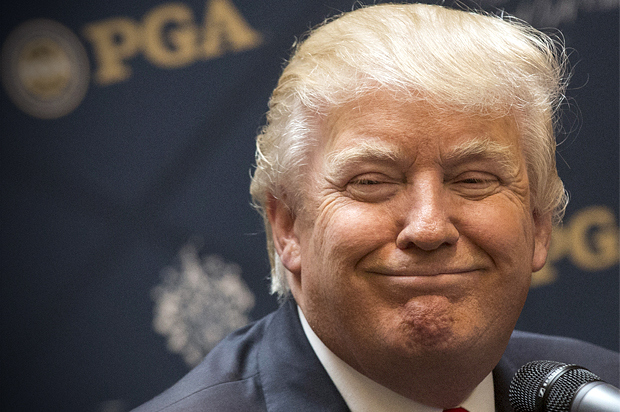 After a commanding win in Indiana's GOP primary Tuesday night, genetically mutated Oompa Loompa Donald J. Trump secured the Republican nomination for the White House when Ted Cruz, and later, John Kasich dropped out of the race. Naturally, he called into a number of morning news shows on Wednesday, because that's what he wants to do, and the networks bend over backwards to accommodate him.
Now, considering the nomination is his, and he has no other Republicans left to vanquish, you'd think he'd finally pivot to this 'presidential' mode we've been hearing so much about lately. But, Donald being Donald, that just wasn't going to happen. So, what we got was the ex-Wrestlemania participant proudly doubling down on his Tuesday morning proclamation that Ted Cruz's father was involved in John F. Kennedy's assassination.
Phoning into ABC's Good Morning America, host George Stephanopoulos brought up Trump's unsubstantiated claims that Rafael Cruz was associated with Lee Harvey Oswald shortly before Oswald shot JFK. Obviously, when Trump did this on Fox & Friends on Tuesday morning, he was implying that Cruz was also involved in the assassination of the president. This is how he answered George when the anchor asked if he felt Rafael Cruz deserved an apology:
"No, all I was doing was referring to a picture that was reported in a magazine, and I think they didn't deny it. I don't think anybody denied it. Now I don't know what it was, exactly, but it was a major story in a major publication and it was picked up by many other publications."
After Stephanopoulos highlighted that it was the National Enquirer and even the main source of the story said they couldn't verify Cruz was in the picture in question, Trump pointed out how often the Enquirer gets things right and how he was just passing along info.
"The National Enquirer gave you John Edwards; it gave you O.J. Simpson; it gave you many, many things. I mean, you can't knock the National Enquirer. It's brought many things to light, not all of them pleasant…I'm just referring to an article that appeared. I mean, it has nothing to do with me."
The celebrity billionaire also said that he didn't think Rafael Cruz had denied his involvement with Oswald. Of course, the elder Cruz did that right away, but who cares about facts, amirite?
It should be noted that the Enquirer formally endorsed Trump in March. Shortly after that endorsement, the rag posted a story claiming Cruz had five mistresses. That story popped up right after Trump retweeted an unflattering picture of Heidi Cruz.
Anyway, this is the guy the Republican Party is tossing out there to be the leader of the free world. Good job, GOP voters! Good job!
WATCH: "It gave you John Edwards… O.J. Simpson… You can't knock National Enquirer." – Trump on citing the paper https://t.co/LRSPbWMVbn

— Good Morning America (@GMA) May 4, 2016