Melissa Harris-Perry: MSNBC Is Only Interested In Airing "Horse-Race Election Coverage"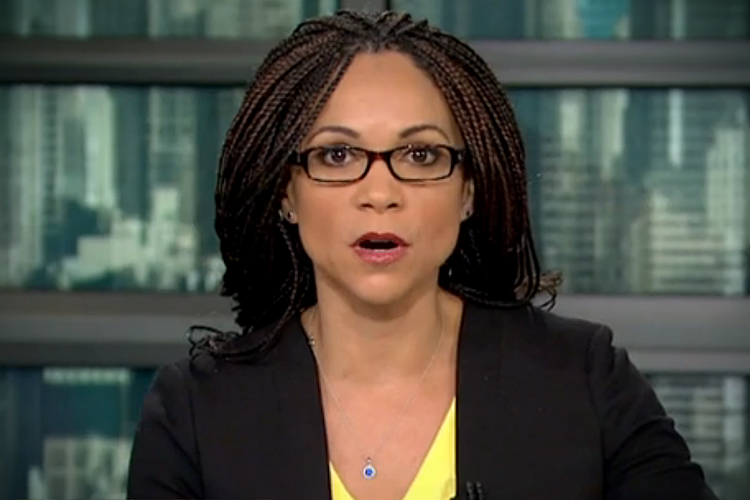 It has now been a few weeks since Melissa Harris-Perry essentially walked away from MSNBC after the network had pre-empted her weekend program numerous times in favor of live election coverage. Harris-Perry precipitated the divorce by publishing a memo she emailed to her staff indicating that she wouldn't be showing up to work anymore due to her treatment at the hands of MSNBC.
Since MHP's public departure from the network, MSNBC has taken heat over its movement to a more white, less diverse channel, with the news that Alex Wagner would not be given a promised weekend show and the benching of weekday morning anchor Jose Diaz-Balart in favor of Steve Kornacki. While the network explained this away as a move towards comprehensive election coverage in the much-watched White House race, many noticed that recent hires by the network had mostly been white and those who were axed or demoted largely were people of color.
Harris-Perry appeared on Democracy Now! Thursday to discuss her feelings about the ugly breakup with MSNBC with hosts Amy Goodman and Nermeen Shaikh. She expressed disappointment at the network's rebranding to bland "horse-race election coverage" while simultaneously ignoring the political and social implications of this race. It was also upsetting that her program was just looked as space to cover the same stuff they were doing elsewhere on the network.
"So, the show had a certain kind of branding. We did certain kinds of work. We brought particular voices. We had a perspective and a point of view, and we had a lot of editorial control. That had been true for four years. But over the course of really the months that began in 2016, we had moved to kind of—and I want to be clear: I think the word "politics" is the wrong word. It was horse-race election coverage. Right? Which is not the same thing, from my perspective, as "politics." I wasn't prepared to simply do horse-race election coverage. And so, I had not been invited to host my show nor to even anchor during my hours for weeks. After some other media outlets asked questions about that, I was then invited back, not, again, to host my show, but to anchor 10:00 a.m. to noon, Saturday and Sunday. I felt that doing so would have been to signal to the audience that everything was fine. And everything was not fine. Therefore, it was important to actually not be there, so that it would be a clear and visible signal that everything was not fine."
Later in the interview, MHP revealed that one of the last straws was when she was told to nix any discussion of Beyonce's Super Bowl performance in order to maintain the focus on the election, even though #NerdLand would be expected to cover this due to the cultural impact.
MELISSA HARRIS–PERRY: Yeah. Well, so, Beyoncé dropped "Formation" the night before the Super Bowl. For us, that was kind of right in the wheelhouse of all the things we cared about. "Formation" took up the issue of Hurricane Katrina. And, of course, as you know, I lived in post-Katrina New Orleans. My husband is an advocate and civil rights attorney who did a lot of post-Katrina work in New Orleans. And, of course, our show had been thinking about New Orleans for a long time—and, frankly, thinking about Beyoncé for a long time. So we immediately knew that we wanted to address this video, address the popular culture questions, address the racial questions, address the Black Lives Matter imagery that emerged as a result. And we were told not to do so.
AMY GOODMAN: What do you mean? Who told you not to do so?
MELISSA HARRIS–PERRY: The sort of senior—what's the word? He wasn't—he's not a producer on our show, but he was—he's the person, Chris Peña, who was sort of over what happened on the weekends. And he simply came in and said, "No, you can't do it." And so there was a back-and-forth struggle for a few hours.
AMY GOODMAN: I mean, in terms of ratings, dealing with Super Bowl and dealing with Beyoncé, I can't imagine you couldn't—that there would have been a bigger audience for anything else. But also, I mean, the Black Panther imagery, the—
MELISSA HARRIS–PERRY: I don't think it's about ratings, though. This was never said to me in any way as being primarily a ratings question. It's really a direction question. It was a—and I want to be really clear about something: I think, in an organization built on hierarchy, that those at the top have every right to change direction. And so, one of the things that I think has gotten lost is, as though I have an argument with the directional change. Now, I do, in the sense that that isn't the direction I wanted to go in, but that isn't really where the—sort of where the fight broke out. I'm the leader of an organization; I've changed direction in my organization.
The issue was that there was a directional change that was not being communicated either to me as an employee or, even more importantly, to my audience. And so, what happened was, we were simply disappeared, with no communication to the audience, and then I was going to sort of reappear as though everything was fine. That, for me, was what was unacceptable. So, the email communication that was leaked was about me explaining to my team why I was making their life harder by not coming back to host. And clearly, the portions of it that ended up in The New York Times were the most inflammatory or potentially inflammatory portions relative to race, which is the point at which I made a decision to leak the entire letter, so that people could read the entire email and make a decision on their own about what they thought I was saying, one way or another. But the issue wasn't that MSNBC made a decision to go a new direction. That's their right. It's their channel. It was that they weren't communicating it.
MHP ended the interview by talking about how she could have been used for more interesting political coverage and analysis by the network, being that she has a Ph. D. in political science and had been utilized in that capacity by MSNBC before. However, they just weren't interested in using her, which is why she told them she would no longer be their "little brown bobble head."