Melissa Harris-Perry Tells MSNBC She's No Longer Going To Be Their "Little Brown Bobble Head"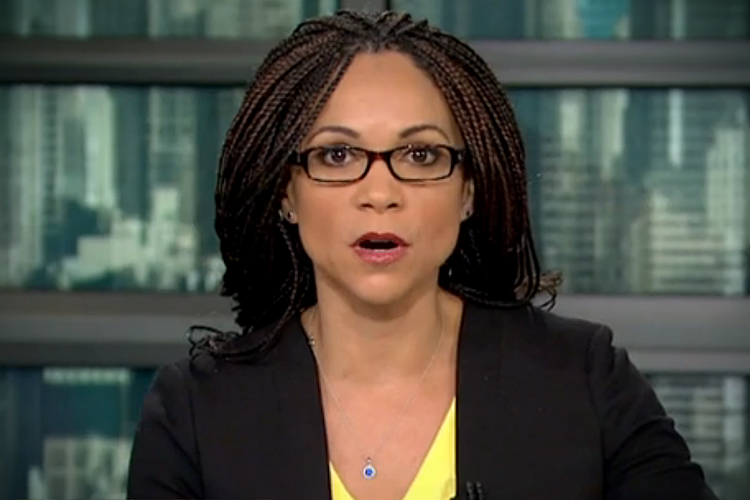 On Friday, the New York Times reported that Melissa Harris-Perry, who hosts a two-hour MSNBC program on Saturday and Sunday mornings, has effectively walked on both her show and network. The reason — she is tired of not only having her show be pre-empted for election coverage, but that MSNBC has also decided to not utilize her while turning to a range of less-experienced pundits and reporters in her stead. Also, that the editorial content of her program has been taken away from her.
After the NYT obtained a copy of an email she sent to her staff, Harris-Perry spoke with the paper, providing her side of the story. She let the paper know that the network had not been forthright with her about the show's future, and that she had not actually made an appearance on air for weeks as her show was not aired in place of live election coverage. Despite her having a doctorate in political science, doing election coverage with the network for eight years and having a show there for four, she was not asked to participate in the recent broadcasts from New Hampshire or South Carolina.
She noted that she was asked to work this weekend as MSNBC covers the Democratic primary in South Carolina. However, based on the way her programs as of late have been treated, she objected to being used primarily as filler.
She said that last month the onscreen branding for her show was replaced by MSNBC's slogan, "The Place for Politics." With the election heating up, her show was pre-empted each of the last two weeks, and for the most recent edition, on Super Bowl Sunday, she was told to talk mostly about the election. Ms. Harris-Perry, who is under contract, said that she was told this was how it was going to play out for the "foreseeable future."
[…]
"It is perfectly fine, 100 percent reasonable and perfectly acceptable for MSNBC to decide they no longer want the M.H.P. show," she said. "But they should say that, they should cancel the show, they should stand up. And maybe it would be rewarded with huge ratings, but they shouldn't kill us by attrition and take us off the air without telling anybody, including us. That for me is what's painful and difficult."
In an effort to let her fans know what she sent to her staff, she allowed former MHP Show producer Jamil Smith to post her email to Medium. While she told the NYT that she doesn't believe there is a racial component to this current issue with the program, her letter indicates otherwise. Specifically, she hints that MSNBC execs see her as just a "token" and they do not take her show — which largely focuses on issues and topics important to the African American community — seriously.
Here is the reality: our show was taken — without comment or discussion or notice — in the midst of an election season. After four years of building an audience, developing a brand, and developing trust with our viewers, we were effectively and utterly silenced. Now, MSNBC would like me to appear for four inconsequential hours to read news that they deem relevant without returning to our team any of the editorial control and authority that makes MHP Show distinctive.
The purpose of this decision seems to be to provide cover for MSNBC, not to provide voice for MHP Show. I will not be used as a tool for their purposes. I am not a token, mammy, or little brown bobble head. I am not owned by Lack, Griffin, or MSNBC. I love our show. I want it back. I have wept more tears than I can count and I find this deeply painful, but I don't want back on air at any cost. I am only willing to return when that return happens under certain terms.
Undoubtedly, television nurtures the egos of those of us who find ourselves in front of bright lights and big cameras. I am sure ego is informing my own pain in this moment, but there is a level of professional decency, respect, and communication that has been denied this show for years. And the utter insulting absurdity of the past few weeks exceeds anything I can countenance.
She also points out in the letter her anger over being placed on the sidelines while the network brings in "novices" and "certified liars" — would love to know who she's talking about — to discuss the election.
I have stayed in the same hotels where MSNBC has been broadcasting in Iowa, in New Hampshire, and in South Carolina, yet I have been shut out from coverage. I have a PhD in political science and have taught American voting and elections at some of the nation's top universities for nearly two decades, yet I have been deemed less worthy to weigh in than relative novices and certified liars. I have hosted a weekly program on this network for four years and contributed to election coverage on this network for nearly eight years, but no one on the third floor has even returned an email, called me, or initiated or responded to any communication of any kind from me for nearly a month. It is profoundly hurtful to realize that I work for people who find my considerable expertise and editorial judgment valueless to the coverage they are creating.
Meanwhile, MSNBC responded with a statement, stating that the network is disappointed in her reaction.
"In this exciting and unpredictable presidential primary season, many of our daytime programs have been temporarily upended by breaking political coverage, including MHP. This reaction is really surprising, confusing and disappointing. Joy Reid hosts from SC this weekend."
You have to like how they mentioned Reid will replace MHP this week, making sure everyone knows that there will be a black woman there.
Of course, in recent months, MSNBC has changed its direction, focusing more on inside Beltway baseball and live 'breaking news' coverage while simultaneously eliminating the liberal opinion programs that had previously been its identity. In doing so, they made the network a lot whiter, as Reid and Alex Wagner had their daily shows canceled and Al Sharpton was shuffled off to Sunday mornings. (The Cycle was also axed, which was headed up by Toure.)
In their places, MSNBC not only went more 'centrist', but also more white. Chuck Todd was brought back on a daily basis. NBC News' Kate Snow was tapped to oversee a block of live coverage. And, in one of the strangest moves yet, they started re-broadcasting Bloomberg's With All Due Respect, hosted by milquetoast Beltway lifers Mark Halperin and Jon Heilemann, in Sharpton's old slot.
Now, the network has to deal with the fallout of Harris-Perry airing its dirty laundry for all to see. With news already out there that network employees are pissed over Morning Joe's cozy Donald Trump relationship and pro-Trump coverage, this is one of the last things the cable news channel needs. But, they have no one to blame but themselves.