Defending Trump's Campaign Manager, Ben Carson Accuses CNN Host Of Committing Crimes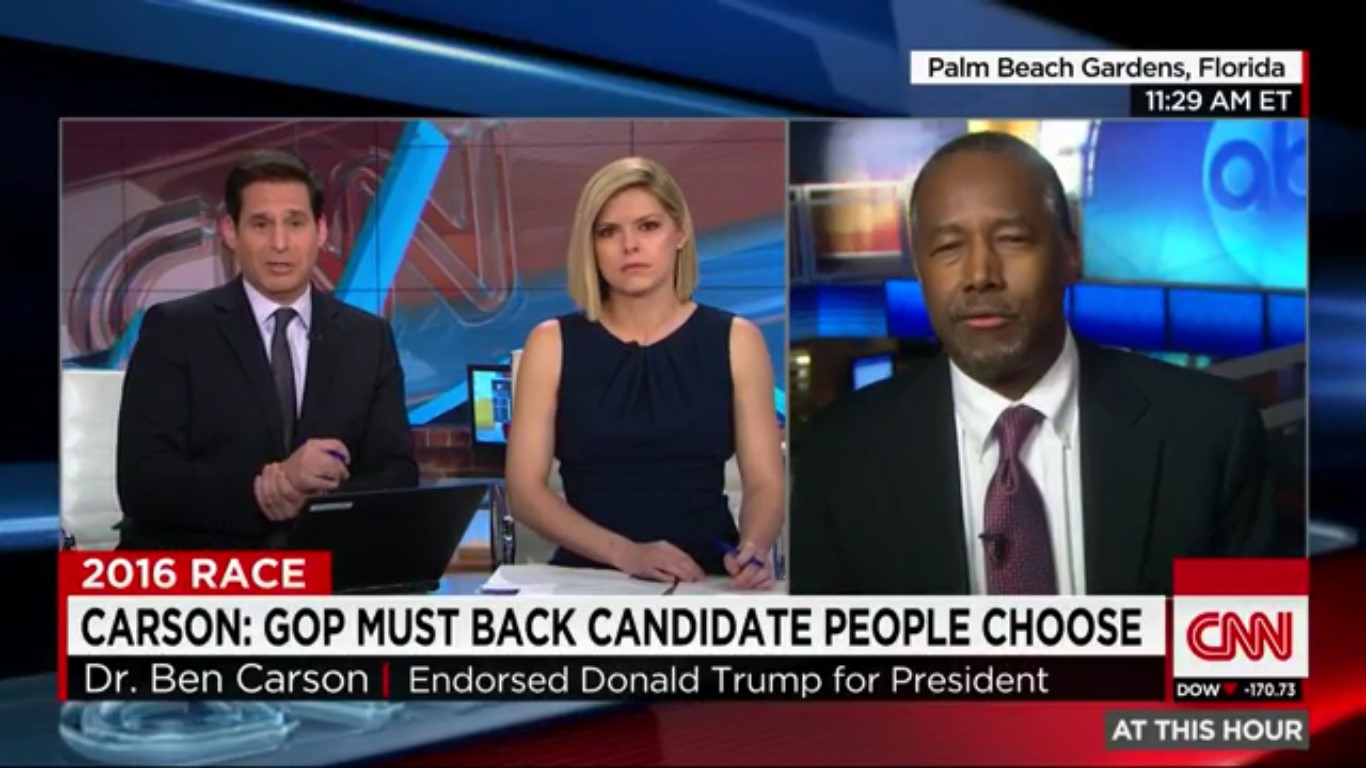 Ben Carson is the gift that just keeps on giving.
Since ending his White House campaign/direct mail scam, the good doctor has taken on a new role — Donald Trump surrogate. Of course, in typical Carson fashion, he has completely bungled this new responsibility. Shortly after endorsing Trump, the retired neurosurgeon hinted that he was promised a Cabinet position in a Trump Administration, leading to a watchdog group to call for an investigation. He's also bungled many other interviews on behalf of Trump, at one point saying The Donald "has some major defects."
On Thursday morning, Carson continued his streak of striking out when he appeared on CNN to speak with hosts Kate Bolduan and John Berman. At one point, Bolduan asked Carson if Trump campaign manager Corey Lewandowski should step down due to his arrest for simple battery. After saying that Lewandowski dhouldn't be "demonized," Berman jumped in and said he'd been arrested, and that's the reason many people think he should resign or be fired.
In keeping to form, Carson went off on a weird tangent, because that's what a Ben Carson does. After saying that a lot of people have been arrested, the sleepy-eyed belt-buckle stabber accused Berman of committing crimes himself. "You've probably been charged with with something too," Carson said, unironically. "Maybe with a misdemeanor or something. It doesn't mean that you are an evil horrible person."
The CNN host immediately pointed out that he's never been charged with a crime. Carson followed that up with a claim that "that's the problem we have in America today," which makes about as much sense as Ben Carson being the one-time frontrunner in the Republican race.
Below is video of the exchange, courtesy of CNN:
Ben Carson on Trump campaign manager: "I don't see any reason … that we should demonize him" https://t.co/DJmIRolqEU https://t.co/iHbVnGNdPh

— CNN Politics (@CNNPolitics) April 7, 2016