John Kasich To Fox News: "There's No Way I Would Team Up With Donald Trump"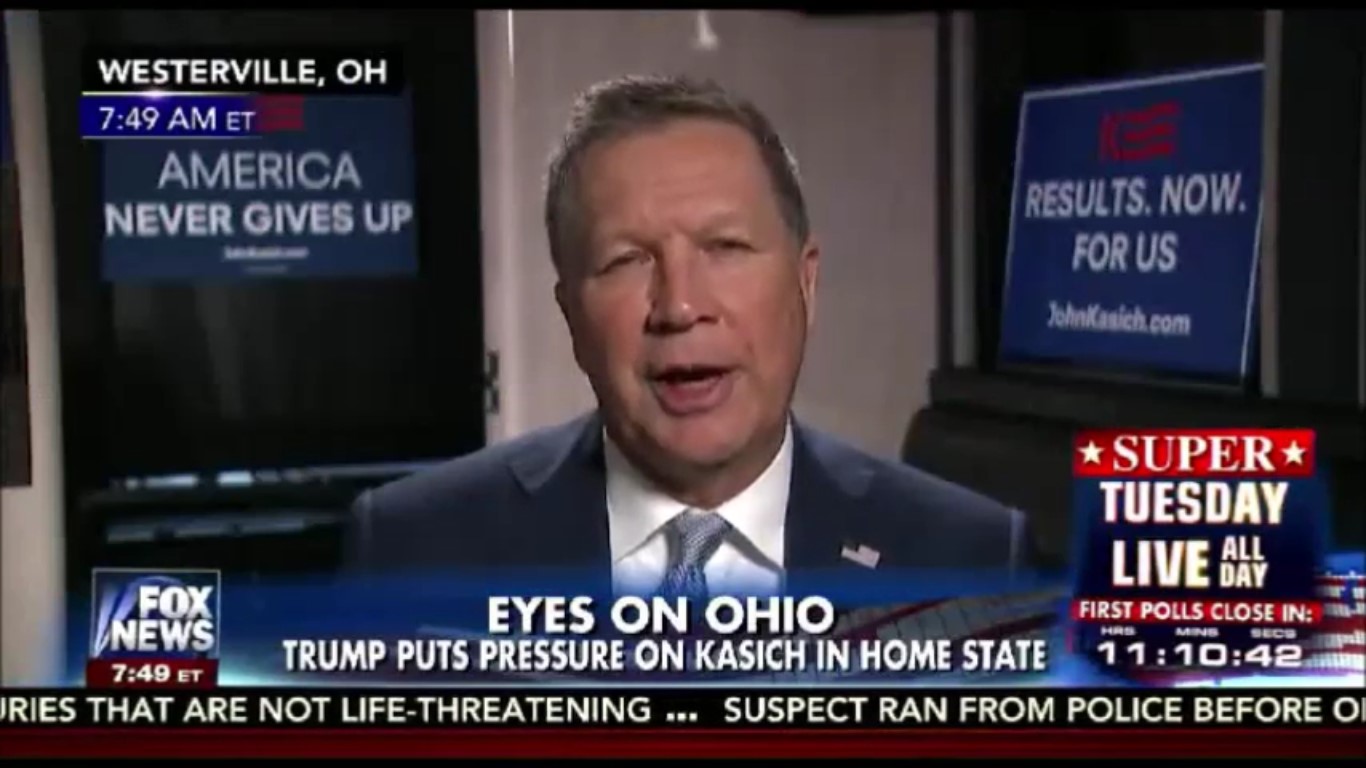 One theory that's been tossed around by political pundits over the past couple of months has been that Republican Presidential candidate and Ohio Governor John Kasich might be positioning himself to be Donald Trump's Vice-Presidential pick. The idea has been kicked around on cable news and in opinion articles due to Kasich's refusal to mix it up with Trump on the debate stage while largely remaining quiet about the frontrunner on the campaign trail.
However, over the past couple of days, with the pivotal winner-take-all Ohio primary fast approaching, Kasich has shifted course and has vehemently (for him) denounced Trump's rhetoric and divisive campaign tactics. After violence broke out at Trump rallies, Kasich criticized the former reality TV star for creating a chaotic environment. In subsequent interviews, he echoed Marco Rubio by saying he's not sure he can support Trump as the GOP nominee, despite his previous vow to do so.
During an interview on Fox & Friends Tuesday morning, he stated outright that there is no way he'd ever join forces with Donald Trump. He also told the hosts that he will win Ohio and that he'll be the eventual GOP nominee because of his positive campaign.
"There's no way I would team up with Donald Trump," Kasich told perennially confused looking host Brian Kilmeade. "No way, forget it."
"I'm going to be the nominee because we're going to win Ohio, we're going to move across this country with a positive attitude of bringing people together with a record that I've had both in Washington and Ohio," he continued. "A positive record of bringing people together and reminding us that we're Americans first before we're anything else. We'll fix these things that haunt us and bother us today. I can promise you that."
Recent polls show Kasich, who is viewed favorably in the state, with a small lead over Trump in Ohio. He's also been making progress in Illinois, which votes on Tuesday.
"There's no way I would team up with Donald Trump." @JohnKasichhttps://t.co/hlW7ngdf9d

— FOX & Friends (@foxandfriends) March 15, 2016